Atlanta Special Events & Attractions
There is no shortage of attractions in downtown Atlanta -- and the number keeps growing.
The Georgia Aquarium
opened in 2005 and has brought a huge influx of people into downtown Atlanta. That also means more people are visiting the World of Coke Museum
(where you can view exhibits and learn about the entire history of Coke
), Underground Atlanta

(
a shopping-dining area located in a historic railroad area
), Centennial Park
, and CNN headquarters
. All of these destinations are located next to the city's premier convention center,­ the Georgia World Congress Center.

©2006 Atlanta CVB
The Georgia Aquarium has become one of Atlanta's hottest attractions.

Neighborhoods should not be overlooked when searching for special attractions. They all have distinct personalities -- from funky, free-spirited Little Five Points to laidback Decatur and Virginia Highlands. Each neighborhood has specialty shops, restaurants, and outdoor cafes.

Late spring and early summer is festival time in Atlanta. The unofficial kickoff is the arts and music festival, known as the Atlanta Dogwood Festival. Held in Piedmont Park in mid-April, it's the city's celebration of spring. After that, there is an almost weekly assortment of festivals
in all of the neighborhoods on the eastside
.

Some (like the Inman Park Festival) are larger and draw people from throughout Atlanta, while others (like the Oakhurst Festival) draw mostly from surrounding neighborhoods. The Inman Park Festival, usually the last weekend in April, is a favorite because, in addition to arts and crafts, it has a wildly creative parade featuring everything from kazoo bands to pets dressed as clowns.



Insider's Guide: The Best of Special Events & Attractions in Atlanta



Yes, it's been hyped a lot, but the Georgia Aquarium really is something to behold. One tank alone holds more than six million gallons of water. When you venture into the tunnel under it, you feel as if you're scuba diving. As popular as it's become, the crowds can be horrendous. Get a reservation through the aquarium's Web site (
www.georgiaaquarium.org
) and secure a morning booking.

Those traveling with children will find a gold mine of hands-on activities and fun at three theme parks located just outside of downtown Atlanta. Six Flags Over Georgia
(275 Riverside Parkway
) is located west of Atlanta and features typical amusement rides, games, and musical shows for the entire family. Six Flags Whitewater
(north of Atlanta at Exit 265, off of Interstate 75
) is 20 minutes northwest of Atlanta and offers a maze of various water slides, a 735-foot-tunnel raft ride, pools, and a wildwater lagoon for kids of all ages.


The American Adventures Park (north of Atlanta at Exit 265, off of Interstate 75
) features a variety of amusement rides and games -- such as bumper cars, treetop swings, and a foam funhouse -- designed specifically for children 12 and younger. Be aware that each of the three parks can take a full day to explore and thoroughly enjoy.

From late spring through early fall, going to a concert at Chastain Park is a favorite pastime for Atlantans. Located in a historical neighborhood in the northern section of Atlanta, this 50-year-old stone amphitheater is the perfect intimate setting for listening to music. You can book tickets through Ticketmaster
, or your hotel concierge can help you find tickets in the section that has tables.

Bring a picnic basket filled with goodies and wine, and don't forget the candles. Food and drinks are available for sale at the park. Some concert-goers even have their evening catered, complete with linen table clothes and silver candelabras. This type of special touch requires advanced planning, and you can find help from Eatzi's Easygoing Gourmet (404-237-8646).

If you like old movies, summer offers two great opportunities. The historic
­Fox Theatre
, reminiscent of a Moorish Temple, complete with a ceiling painted to look like the sky (twinkling stars included), throws an old-fashioned movie night complete with sing-a-longs. In June, Piedmont Park is the site of Screen on the Green
, a free showing of the classics. Again, bring a picnic basket with goodies, wine, and a blanket. Get there early, though, to secure a good spot.


History lovers may want to visit the
Jimmy Carter Presidential Library and Museum
on Freedom Parkway. Carter was the 39th president of the United States and the only president from Georgia. His library, containing documents and artifacts, is located in a peaceful garden setting that covers 35 acres. The library works directly with the adjoining
Carter Center
, which is a nonprofit public policy center founded by Jimmy and Rosalynn Carter to fight disease, hunger, and poverty, and advance peace throughout the world.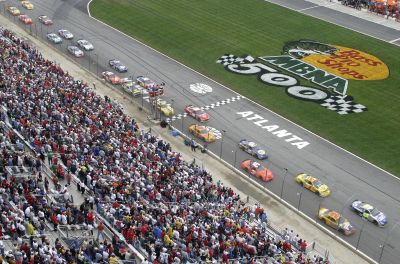 ©2006 Atlanta CVB
If you want to add a little adrenaline to your visit,
schedule it around a NASCAR race at Atlanta Motor Speedway.

For NASCAR fans, Atlanta Motor Speedway
, just 45 minutes south on Interstate 75, is a great venue
. A tornado almost destroyed the grandstand in the spring of 2005, but it reopened a year later. Luxury condominiums are located on-site for true race fans who want to be close to the track.

Also during the summer months, the speedway hosts Friday Night Drags, which are street-style drag racing on the one-eighth-mile Atlanta Motor Speedway pit road. The events are held twice monthly and are open to any automobile and any licensed driver.

Those who love being in the outdoors will find hiking, rock-climbing, canoeing, fishing, biking, and picnicking opportunities at the Chattahoochee River National Recreation Area, located along the Chattahoochee River north of downtown Atlanta. You can explore 50 miles of hiking trails, two bike trails designed for recreational bikes or mountain bikes, or climb various heights of rock.

Another option is to explore 48 miles of the river by rafting, canoeing, kayaking, or motor boating. Be aware that the boat ramp locations, where you enter and leave the river, might be temporarily closed at various times for a yearlong river access construction project that is scheduled to end in the summer of 2007.

For an updated construction schedule, check the park's Web site,
www.nps.gov/chat/ramp_construction_schedule.htm
. No equipment or clothes are available for rent inside the park, but several commercial businesses located nearby have been given permits to do so. Pick the right equipment in advance of your trip by going to the park's Web site,
www.nps.gov/chat/permit.htm
.

Travelers who love arts and culture will find plenty to do in Atlanta. For a complete look at the city's arts-and-culture scene, go to the next page.


Advertisement