Although Atlanta prides itself on its history, it's very much focused on the future. Call it Southern with an international flair. Don't let the relaxed atmosphere, polite culture, and historical landmarks fool you. A special energy exists in this premier city of the South. Whatever your interests, they're likely to be satisfied in Atlanta.

While most people visiting Atlanta are directed to Buckhead for shopping and nightlife, downtown has become a big draw following the 1996 Olympics. But don't stop there. You'll find interesting neighborhoods throughout the city -- each with its own distinct personality. As a whole, they give Atlanta its unique character.

Beautiful City Skylines Image Gallery


©2006 Atlanta CVB
The Braves, who play baseball at Turner Field,are one of Atlanta's many sports attractions.
See more pictures of city skylines.


The Best of Atlanta
On the surface, Atlanta seems very laid back. But while people visit historic sites and new attractions, there's a hum of business in the background. The international headquarters for Coca Cola, CNN, Home Depot, The Centers for Disease Control and Prevention, UPS, and Delta Airlines are housed in this city.
Despite this high-powered business atmosphere, Atlanta takes great care to maintain its Southern charm. It's a big city without the big-city attitude. Newcomers and visitors often note how friendly and helpful the citizens are. And unlike Chicago, New York, or Los Angeles, it's easy to take in Atlanta's sights without feeling closed in by crowds.
The 1996 Olympics were a turning point for Atlanta, triggering an overhaul of many buildings and a much-needed cleanup of some blighted areas. The Olympics also ignited an influx of tourism, and the city continues to grow as a vacation destination, thanks to an array of attractions, happenings, and sporting events.
Atlanta's charm is that visitors can be as relaxed or busy as they choose to be. And anyone who decides to veer off the beaten path will not be disappointed by the city's culture, history, and architecture.

Fast Facts & Info

Geography and landscape: Atlanta is nicknamed "Hotlanta," in part due to its warm climate. Temperatures regularly climb into the 90s throughout the summer. The warm climate does have advantages. Visitors may be surprised to find a city that's lush and green, with small parks dotting the neighborhoods. Atlanta's answer to Central Park -- the 180-acre Piedmont Park in Midtown -- draws runners and those who want to enjoy the outdoors. It's little wonder Atlanta is called a "city among the trees."


©2006 Atlanta CVB
Atlanta is known for its lush vegetation, and the city's beauty
is on full display at the 180-acre Piedmont Park.

Crisscrossed by Peachtree and Nancy Creeks, the city is dissected by the Chattahoochee River, which runs northwest and serves as a geographical marker for getting around town.

Atlanta is actually the second-most elevated city in the United States, behind Denver. Atlanta borders the foothills of the Appalachian Mountains, and its neighborhoods become more rolling the farther north you travel. The city also lays claim to two small mountains -- Kennesaw to the north and Stone Mountain to the east. Stone Mountain is the largest outcropping of granite in the world.

General orientation: To find your bearings in Atlanta, picture a big (peach) pie. Interstate 285, known as the Perimeter, circles the city, while north-south Interstates 75 and 85 and the east-west Interstate 20 split it into sections. All three interstates cross paths in downtown, often creating traffic bottlenecks.

No grid system exists for streets and no apparent rhyme or reason explains street placement, so traveling around the city can be confusing. There are 26 streets named Peachtree in Atlanta, but the main Peachtree artery winds from downtown to the north. Most directions are given in conjunction to Peachtree Road or Piedmont Avenue, which both start at the City Center.

Most of the attractions that draw visitors are located within the Perimeter and north of Interstate 20, but a good portion of the 4.7 million residents of Metro-Atlanta live in the sprawling communities to the north and east of the Perimeter.


Safety: Atlanta has taken great care in recent years to make visitors feel secure. Generally, it has succeeded -- most areas are safe during the daylight hours. Police on bicycles patrol parks and the downtown area to make their presence known. But as in any other large city, you need to remain aware of your surroundings, especially after dark.

Once shunned, downtown has become a more popular and safer place for tourists, thanks to Centennial Park and the Georgia Aquarium. Neighborhoods north of downtown -- such as Decatur, Virginia-Highlands, Midtown, and Vinings -- don't have large crowds and can be good alternatives for exploring. Buckhead is hopping at any hour, but take special care in the bar area near Peachtree and Roswell Road. It has developed a reputation for being rowdy late at night.

Climate/weather: Atlanta's climate is considered temperate. Summers are hot and humid with temperatures in the 80s to low 90s, but mild autumns, winters, and springs make up for the heat. The winter mercury hovers mostly in the 40s and 50s, and while snow is not out of the question, it is extremely rare. The city is at its best in late March to early April, when the dogwood trees and azaleas are in full bloom and the temperatures are in the 60s and 70s.

Getting in and around Atlanta sometimes can be tricky, so you'll want to look at the next section of this guide. There, we'll provide helpful hints for touring the city.

Advertisement
Getting In, Getting Around Atlanta
First-time visitors to Atlanta might find the city somewhat difficult to navigate, but the following tips should make it a bit easier to get around.



From the Airport





Car rental:

All of the major rental car companies have a presence at Hartsfield-Jackson Atlanta International Airport.
Several rental car companies have counters located near the airport's baggage claim areas, and buses will take travelers to individual parking lots to pickup their rented vehicles. Interstate 85 is easily accessible from the airport -- head north to get to the downtown area.

Atlanta drivers are known for their speed and their lack of patience, so be prepared to be aggressive behind the wheel. If you're going into the city between 7:30 and 9:30 am, expect traffic to move slowly. Expect the same if you try to drive back to the airport between 4 and 7 pm.

©2006 Atlanta CVB
Five Points, one of Atlanta's MARTA
stations, is conveniently located
near most of the downtown hotels.

During baseball season, check the Atlanta Braves schedule so that you can plan accordingly to avoid traffic on Interstate 75/85 while passing Turner Field
on game days
.



Public transportation:

The Metropolitan Atlanta Rapid Transit Authority (MARTA) system's north-south railway line begins at the Hartsfield-Jackson Airport. For $1.75 per ride, you can use MARTA
to get to downtown or to Buckhead, which is the last stop where tourists are most likely exit. Most downtown hotels are within walking distance from the Five Points and Peachtree Center Stations.


Atlanta LINK is another option, offering shuttle service to downtown (roundtrip $29), Midtown (roundtrip $33), or Buckhead (roundtrip $37).



Taxi:

The taxi stand at the Hartsfield-Jackson Airport is located near the baggage claim areas in both the north and south terminals. Expect to pay flat fees to downtown ($30), Midtown ($32), or Buckhead ($38). Metered rates for destinations outside the business districts are $2.50 for the first 1/8 mile and 25 cents for each additional 1/8 mile.



Driving In





Rush hour:

Because all the main highways -- Interstate 75, Interstate 85, and Interstate 20 -- converge in downtown, the traffic almost always moves slowly. For about two miles through the heart of the city, Interstates 75 and 85 become one 12-lane monstrosity called "The Connector." The rush-hour slowdown starts at 7:30 am and lasts until after 9 am, with the largest backups generally occurring along the Connector, south of downtown.

From 4 to 6:30 pm, the same bottleneck occurs on the Connector heading north. High-occupancy lanes are available on all interstates through downtown to encourage ridesharing, but those lanes aren't widely used. The place to absolutely avoid in either morning or afternoon rush hour is the section where Interstate 285 and north Interstate 85 meet, an area appropriately called "Spaghetti Junction."



Rules of the road:

Southern Hospitality takes a backseat with Atlanta drivers. The key to survival is getting access to a good map before hitting the road and committing directions to memory. Be aware that interstate lanes shift repeatedly and become exit-only lanes with no warning, so keep looking ahead for those yellow "exit-only lanes."

It's not unusual to see cars zooming by at 70 to 80 mph on the interstates. Speed limits also are often ignored on surface streets, which means you can expect some impatient glances or horn-blowing if you're lost or driving slowly.

A major sewer-upgrade project is under way, so many of the city's major arteries are undergoing construction. Peachtree Road, between 3rd and 14th streets, has construction restrictions through the end of 2006; the same goes for West Peachtree Street between North Avenue and 12th Street. The entire Virginia Highlands neighborhood is having its sewer mains replaced, and all the streets will undergo construction at one point or another through March 2007. To review construction schedule updates, check
www.vahi.org/pdfs/WaterMain.pdf
.



Getting Around





Public transportation, fares:

The MARTA train service offers limited routes, but it can be convenient if you want to avoid traffic to get to major areas of interest, such as downtown and Lenox Square. For those not familiar with traveling via a city bus, Atlanta's MARTA buses are probably not the place to start--schedules can be confusing to read. The Buckhead area has its own free bus service, called BUC
, and a trolley service is available on a more limited basis
.

A new trolley service
is in place in downtown Atlanta, connecting Centennial Park, the Aquarium, and Underground Atlanta for $1.50 per ride
.



Taxis:

Hailing cabs is generally not an option in Atlanta. While most of the larger hotels have cabstands, it's best to call ahead if you plan to get around by taxi. Some options for quick, courteous service are Atlanta Taxi Service (404-367-9762), Yellow Cab of Georgia (404-522-0200), or Buckhead Safety Cab Co. (404-233-1152). Metered rates for outside the business districts are $2.50 for the first 1/8 mile and 25 cents for each additional 1/8 mile.



On foot:

The city is divided into many distinct regions, most of which are pedestrian-friendly. That said, you need to drive, find a cab, or use MARTA to get to many neighborhoods. Downtown is very accessible for pedestrians, as are the neighborhoods of Virginia Highlands, Little Five Points, Decatur, and Midtown.



By bike:

Atlanta isn't bike-friendly -- although in theory, anyway, a bike path runs from Stone Mountain through to the west side of town.
The Atlanta Bicycle Campaign
is trying to create more awareness and encourage drivers to share the road
with bicyclists. At present, however, biking on Atlanta's busy streets can be dangerous and extremely stressful.

Now that you know how to get around Atlanta, we'll tell you what to see and do. We'll start on the next page with special events and attractions.

Advertisement
Atlanta Special Events & Attractions
There is no shortage of attractions in downtown Atlanta -- and the number keeps growing.
The Georgia Aquarium
opened in 2005 and has brought a huge influx of people into downtown Atlanta. That also means more people are visiting the World of Coke Museum
(where you can view exhibits and learn about the entire history of Coke
), Underground Atlanta

(
a shopping-dining area located in a historic railroad area
), Centennial Park
, and CNN headquarters
. All of these destinations are located next to the city's premier convention center,­ the Georgia World Congress Center.

©2006 Atlanta CVB
The Georgia Aquarium has become one of Atlanta's hottest attractions.

Neighborhoods should not be overlooked when searching for special attractions. They all have distinct personalities -- from funky, free-spirited Little Five Points to laidback Decatur and Virginia Highlands. Each neighborhood has specialty shops, restaurants, and outdoor cafes.

Late spring and early summer is festival time in Atlanta. The unofficial kickoff is the arts and music festival, known as the Atlanta Dogwood Festival. Held in Piedmont Park in mid-April, it's the city's celebration of spring. After that, there is an almost weekly assortment of festivals
in all of the neighborhoods on the eastside
.

Some (like the Inman Park Festival) are larger and draw people from throughout Atlanta, while others (like the Oakhurst Festival) draw mostly from surrounding neighborhoods. The Inman Park Festival, usually the last weekend in April, is a favorite because, in addition to arts and crafts, it has a wildly creative parade featuring everything from kazoo bands to pets dressed as clowns.



Insider's Guide: The Best of Special Events & Attractions in Atlanta



Yes, it's been hyped a lot, but the Georgia Aquarium really is something to behold. One tank alone holds more than six million gallons of water. When you venture into the tunnel under it, you feel as if you're scuba diving. As popular as it's become, the crowds can be horrendous. Get a reservation through the aquarium's Web site (
www.georgiaaquarium.org
) and secure a morning booking.

Those traveling with children will find a gold mine of hands-on activities and fun at three theme parks located just outside of downtown Atlanta. Six Flags Over Georgia
(275 Riverside Parkway
) is located west of Atlanta and features typical amusement rides, games, and musical shows for the entire family. Six Flags Whitewater
(north of Atlanta at Exit 265, off of Interstate 75
) is 20 minutes northwest of Atlanta and offers a maze of various water slides, a 735-foot-tunnel raft ride, pools, and a wildwater lagoon for kids of all ages.


The American Adventures Park (north of Atlanta at Exit 265, off of Interstate 75
) features a variety of amusement rides and games -- such as bumper cars, treetop swings, and a foam funhouse -- designed specifically for children 12 and younger. Be aware that each of the three parks can take a full day to explore and thoroughly enjoy.

From late spring through early fall, going to a concert at Chastain Park is a favorite pastime for Atlantans. Located in a historical neighborhood in the northern section of Atlanta, this 50-year-old stone amphitheater is the perfect intimate setting for listening to music. You can book tickets through Ticketmaster
, or your hotel concierge can help you find tickets in the section that has tables.

Bring a picnic basket filled with goodies and wine, and don't forget the candles. Food and drinks are available for sale at the park. Some concert-goers even have their evening catered, complete with linen table clothes and silver candelabras. This type of special touch requires advanced planning, and you can find help from Eatzi's Easygoing Gourmet (404-237-8646).

If you like old movies, summer offers two great opportunities. The historic
­Fox Theatre
, reminiscent of a Moorish Temple, complete with a ceiling painted to look like the sky (twinkling stars included), throws an old-fashioned movie night complete with sing-a-longs. In June, Piedmont Park is the site of Screen on the Green
, a free showing of the classics. Again, bring a picnic basket with goodies, wine, and a blanket. Get there early, though, to secure a good spot.


History lovers may want to visit the
Jimmy Carter Presidential Library and Museum
on Freedom Parkway. Carter was the 39th president of the United States and the only president from Georgia. His library, containing documents and artifacts, is located in a peaceful garden setting that covers 35 acres. The library works directly with the adjoining
Carter Center
, which is a nonprofit public policy center founded by Jimmy and Rosalynn Carter to fight disease, hunger, and poverty, and advance peace throughout the world.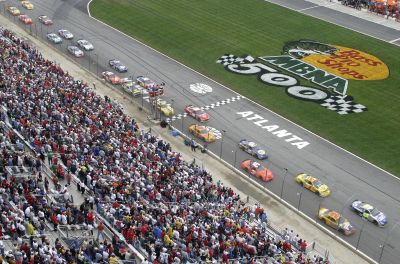 ©2006 Atlanta CVB
If you want to add a little adrenaline to your visit,
schedule it around a NASCAR race at Atlanta Motor Speedway.

For NASCAR fans, Atlanta Motor Speedway
, just 45 minutes south on Interstate 75, is a great venue
. A tornado almost destroyed the grandstand in the spring of 2005, but it reopened a year later. Luxury condominiums are located on-site for true race fans who want to be close to the track.

Also during the summer months, the speedway hosts Friday Night Drags, which are street-style drag racing on the one-eighth-mile Atlanta Motor Speedway pit road. The events are held twice monthly and are open to any automobile and any licensed driver.

Those who love being in the outdoors will find hiking, rock-climbing, canoeing, fishing, biking, and picnicking opportunities at the Chattahoochee River National Recreation Area, located along the Chattahoochee River north of downtown Atlanta. You can explore 50 miles of hiking trails, two bike trails designed for recreational bikes or mountain bikes, or climb various heights of rock.

Another option is to explore 48 miles of the river by rafting, canoeing, kayaking, or motor boating. Be aware that the boat ramp locations, where you enter and leave the river, might be temporarily closed at various times for a yearlong river access construction project that is scheduled to end in the summer of 2007.

For an updated construction schedule, check the park's Web site,
www.nps.gov/chat/ramp_construction_schedule.htm
. No equipment or clothes are available for rent inside the park, but several commercial businesses located nearby have been given permits to do so. Pick the right equipment in advance of your trip by going to the park's Web site,
www.nps.gov/chat/permit.htm
.

Travelers who love arts and culture will find plenty to do in Atlanta. For a complete look at the city's arts-and-culture scene, go to the next page.


Advertisement
Atlanta Arts & Culture
Those who previously criticized Atlanta for its lack of culture are eating their words these days. The Atlanta Opera and Atlanta Symphony are both making marks on the world stage, and the critically acclaimed
High Museum of Art
has undergone a major renovation and expansion, more than doubling its size to 312,000 square feet.

©2006 Atlanta CVB
The renovated High Museum of Art has been
a major part of Atlanta's cultural emergence.

The city proudly supports an eclectic assortment of art galleries of various sizes and focus, including a sizeable number that exclusively feature African-American art and reflect the city's large black population.

Photography is a favorite art form in the city, largely thanks to part-time resident Elton John. An avid art collector, John's personal curator is Jane Jackson, who sold her own gallery to administer his private collection, which is periodically shown at the High Museum. The Atlanta Celebrates Photography Festival takes place every October to educate the public about photography as art.



Insider's Guide: The Best of Arts & Culture in Atlanta




Mason Muir Gallery may take some searching to find, but it's become popular as both a gallery and an event destination. The large, open gallery is tucked in a warehouse area on Armour Drive, right off Monroe Drive and Interstate 85. It mostly features established and emerging Atlanta-based artists. Artwork in the gallery includes monumental sculpture, painting, photography, and creations on paper in a range of styles.

A fun way to experience the High Museum is to take in its jazz event every third Friday of the month. On those days, the museum is open until 10 pm.

Speaking of Fridays, the
Fernbank Science Museum
features "Martinis and IMAX" every Friday night from 5:30 to 10 pm. Dining tables are set up in the museum's atrium near the dinosaur statue. Participants who stroll to the back of the atrium will discover a beautiful view of the Fernbank's grounds filled with trees, colorful plants, and hiking trails.

Atlanta also plays host to the
National Black Arts Festival
, which is a year-round cultural celebration of African-American music, dance, theater, film, literature, and the visual arts. In connection with the celebration, the NBAF is involved in year-round educational and humanities programs for children and families.

To find out what Atlanta has to offer in the way of architecture and landmarks, go to the next page.

Advertisement
Atlanta Architecture & Landmarks
People like to say Atlanta has risen from the ashes twice. Much of what General Sherman didn't burn during the Civil War was lost in a great fire in the early 1900s. A building boom in the 1980s sparked the current array of ultra-modern buildings that now give Atlanta a distinct skyline.

©2006 Atlanta CVB
Thanks to a spate of new construction, Atlanta has a striking skyline.

Actually, Atlanta has several skylines. The most notable are downtown and Midtown, which are located about a mile apart. Regardless of the direction you enter Atlanta, you will get an impressive view of the growing number of unique structures that rise above the treelines.

While internationally noted architects such as Michael Graves, Richard Meier, and Frederick Law Olmstead have made their marks here, Atlanta gives bragging rights to locally born and educated John Portman. Portman has been credited with shaping much of the area by designing the Famous Glass Cylinder of the Westin Peachtree Plaza, The Merchandise Mart, Peachtree Center, and the Sun Trust Building.



Insider's Guide: The Best of Archicture & Landmarks in Atlanta



The best view of Midtown Atlanta is from Piedmont Park. Sit in the Park Tavern (500 10th St at the corner of 10th and Monroe) and enjoy watching the evening unfold as skyscraper lights turn on.

The Grand Dame of Atlanta architecture continues to be the Westin Peachtree Plaza. Built in 1976, the shining round glass structure was for years the tallest building in the Southeast, at 73 stories. While other buildings are now taller, the shimmering glass cylinder still stands out among the crowd.

As for neighborhoods, a teardown trend has resulted in what locals ruefully call "McMansions." These oversized single-family homes are sprinkled among 1,900 smaller, quaint bungalows for which the area is known. The Victorian neighborhoods of Inman Park and Grant Park survived both of Atlanta's major fires, so visiting these areas is like stepping back in time.

These days, many people come to Atlanta simply to shop. In the next section, we'll detail the shopping options in Atlanta.

Advertisement
Atlanta Shopping
Lenox Square and Phipps Plaza are known around the world, offering both ultimate bargains and designer goods. It's not out of the question to be walking down the marbled corridors of Phipps and see celebrities finding a little retail therapy. The multistoried mall -- with its glass elevators, skylights, and sweeping grand staircase -- has an atmosphere of exclusivity that makes its well-heeled customers feel right at home. But much of the appeal of Lenox Square and Phipps Plaza is their central location and easy access.

©2006 Atlanta CVB
Most of your shopping needs can be satisfied at Lenox Square.

There are several other shopping alternatives, including the upscale Perimeter Mall, located north of downtown. In Buckhead, you can find one-of-a-kind stores such as The Monkey Basket
, whose clothing and other items are adorned with monkeys.

It's fun simply to explore the eclectic assortment of specialty shops in Atlanta's various neighborhoods. The side streets of Buckhead feature one-of-a-kind stores. If funky and unusual is more your style, head to the Little Five Points neighborhood, where you can find everything from vintage clothes and tattoos to environmentally friendly clothing.



Insider's Guide: The Best of Shopping in Atlanta



For those into home design, Miami Circle i
s the place to be. The street features shop after gallery after design store. Choose from a place like Curran Designer Fabrics (which features its own unique line of fabrics) or Thames Valley Antiques (which sells classical 18th and 19th century English furniture) or the ever-popular Gables (home of marvelous country French antiques and accessories).

The best bargains can be found in the Chattahoochee Warehouse District. Located on several smaller streets off Chattahoochee Avenue and Howell Mill Road, it can be difficult to find, but its discounts make it well worth the hunt.

You will be amazed at the variety of fresh produce, bakery, seafood, and international foods offered at discount prices at the DeKalb Farmer's Market (3000 E. Ponce De Leon Ave, Decatur; 404-377-6400). Walk through the 140,000 square feet of booths and counters to discover such gems as cheeses from around the world, tank after tank of live seafood, hundreds of cakes and pastries like guava-filled croissants and Black Forest brownies, freshly made sausage and rosy Black Angus fillets, and an extensive wine and beer selection. The cafeteria serves up quick, healthy lunches; you won't go wrong with such unique creations as the wild rice salad with cranberries. Just make sure to bring plenty of cash because credit cards are not accepted.

After you've finished shopping, you might want to go out and paint the town. For tips on nightlife and entertainment in Atlanta, see the next page.


Advertisement
Atlanta Nightlife & Entertainment
They don't call this city "Hotlanta" simply because of the weather. The nightlife is pretty hot, too. The bars in Buckhead are legendary; during major events or conventions, the crossroads of Peachtree, Paces Ferry, and Roswell Road are packed with people bopping from bar to bar. Within a half-mile radius, you can find everything from upscale martini bars and Irish pubs to pool halls and dance clubs. In fact, Buckhead has become so popular that concerned residents fought for, and got, an ordinance forcing the bars to shut down at 3 am.


©2006 Atlanta CVB
Phillips Arena, located in the heart of Atlanta,
draws the biggest acts in entertainment.

If the bar scene isn't your thing, there is always a live performance to be found. Downtown's Phillips Arena, the Gwinnett Center, Hi-Fi Buys Amphitheater (formerly known as Lakewood Amphitheater), and Chastain Park usually feature the biggest performers.
Depending on the season, you can experience world-class performances in the arts. Or if you just want to enjoy a movie, Phipps Plaza offers a 14-theater complex right in the heart of town.



Insider's Guide: The Best of Nightlife & Entertainment in Atlanta



If you want to hear music in an intimate setting, make your way to Eddie's Attic
in Decatur (515 North McDonough St). Groups like the Indigo Girls, John Mayer, and Cigar Store Indians have played there in the past. It's almost like listening to music in your own living room, and you can mingle with the artists after their sets.

The decor hasn't changed in 20 years, but the legendary Johnny's Hideaway
(3771 Roswell Road) is still the best bet for "big kids" who want to dance. Seemingly always open, the music ranges from Frank Sinatra to pop music. Once in a while, the disc jockey will even throw in a waltz.

For the best sports bar, visit Frankie's at The Prado
and try some tasty wings (5600 Roswell Road). Go for a pint of Guiness at one of the city's best Irish pubs, Prince of Whales (1144 Piedmont Ave). The premier brew pub, Park Tavern
(500 10th St), pays homage to the designer of Piedmont Park with its signature Olmstead Amber brew.

If you'd rather taste a variety of wines, head to the best wine bar around, Eno
(800 Peachtree St). It offers a wine tasting every Wednesday night.

The Down and Dirty martini is the drink to whet your whistle while listening to jazz tunes at Beluga
(3115 Piedmont Road). The most unique drink combos can be found at the Lobby Bar at the Glenn Hotel (110 Marietta St). Your best bet is the peach julep.

If you are interested in having a good laugh, visit the The Punchline
(280 Hildebrand off Roswell Road, Sandy Springs). This is the place that helped launch comedian Jeff Foxworthy.

Test your sleuthing skills and see if you can solve a murder by dessert at Agatha's Murder Mystery Theater
(161 Peachtree Center). Dinner theater doesn't get any better than this.

If you're looking for a livelier experience, enjoy some sushi and a sake martini while blending in with the beautiful people at the trendy singles bar, Phipps Plaza
(3500 Peachtree Road). If the singles scene isn't your thing, you can enjoy an intimate setting while listening to the best outdoor music venue at Chastain Park.


In the mood for billiards? Visit one of the top pool halls in the city, Twains
(211 E. Trinity Place, Decatur). This is not your typical grungy pool hall -- it offers a good selection of tables and a better selection of beer.

While most drive-in movie theaters have closed, you can experience this uniquely American thrill one more time at the Starlight Drive-In
(2000 Moreland SE). An old-fashioned drive-in with six screens, this place doubles as a flea market during daylight hours. If you'd rather experience movies with all the modern comforts, visit the Regal Hollywood 24 (3265 Northeast Expressway, Chamblee), which features all-stadium seating.

If you're looking for things to do that are slower paced, Atlanta has that covered, too. Go to the next page to discover the best ways to relax and unwind in this Southern city.


Advertisement
Relaxing & Unwinding in Atlanta
As bustling as Atlanta can be, you also can relax and unwind. Thanks in part to so much green space, it provides myriad places to take a load off and soak up the atmosphere.

Day spas are almost a requirement for anyone dealing regularly with Atlanta's traffic and fast pace. You can also lose yourself on the various golf courses or tennis courts dotting the landscape.

Insider's Guide: The Best of Relaxing & Unwinding in Atlanta

Again, Atlanta's varied neighborhoods offer a wide range of relaxation possibilities. Find a nice seat at a cafe in Virginia Highlands (Moe's and Joe's, 1033 N. Highland; Murphy's, 997 Virginia) or in the Decatur neighborhood (Sage, 121 Sycamore S; Java Monkey, 205 Ponce de Leon Ave) and just pass the time people-watching. Two other great people-watching locations are Centennial Park Downtown and the Courthouse Square in Decatur. There is a constant flow of passers-by in both spots, and the fountains in Centennial Park are a big draw for seeing kids chase the dancing waters.


©2006 Atlanta CVB
If you're looking for a peaceful way to while away the hours,
stake claim to a patch of grass at Centennial Park.

If you enjoy tennis, Atlanta has 180 public tennis courts at 55
parks
. The largest is the Bitsy Grant Tennis Center at Atlanta Memorial Park (2125 Northside Dr), which includes 13 soft courts and 10 hard courts that are available on a first-come, first-served basis. Another option is the centrally located Piedmont Tennis Center, which has 12 clay courts in the heart of Piedmont Park (400 Park Dr NE).

To melt away your aches and pains, try one of the spas in Atlanta. Two suggestions are Spa Sydell
and Natural Body -- y
ou can't go wrong with either spa.

For those who want a little more direction when sightseeing in Atlanta, see the next page to find out about organized tours.

Advertisement
Atlanta Organized Tours Overview
With so much to see in Atlanta, it's probably smart to be part of a planned tour. You can go the more traditional route by taking a bus tour or put your feet in motion with a walking tour. One warning for those who want to go it with their feet: There is a lot of ground to cover.

Here is a list of organized tours in Atlanta:

Atlanta Bus Tours
There are several bus-tour options, including the well-known Grayline Tour, Atlanta Tours, and the Metro Tour Shuttle, which all hit on the high points of downtown and the historic areas of Buckhead and Midtown. If you want to plan your own tour and have some fun with it, you can charter the ever-popular Disco Party Bus and set your own agenda.
Atlanta Walking Tours
The best walking tours are arranged through the Atlanta Preservation Society, which has a variety of options, including the Sweet Auburn/Martin Luther King Neighborhood, Downtown, Grant Park, and Frederick Law Olmstead's Druid Hills. (Olmstead designed Atlanta's Piedmont Park and New York's Central Park.)
Atlanta Carriage Rides
If you want a romantic tour of the downtown, a carriage ride might be the answer. You won't be disappointed if you try the Gentle Giant.
Atlanta Specialized Tours


Tour packages are so varied that you are sure to find one or more that suit your interests. Below are several to consider.
The African American Tour-The Soul of America Tour specializes in the African-American history of Atlanta.


If you've already toured downtown Atlanta by bus, try a different point of view with Segway Tours. Segways are self-balancing scooters that save your legs from the wear and tear of walking.



The Oakland Cemetery Tour offers special guidance through the oldest and most ornate cemetery in Atlanta.





©2006 Atlanta CVB
The Martin Luther King monument is a popular tourist destination.


Martin Luther King Center Tours offer a lesson in civil rights history. You will visit both the

King Center and the Ebenezer Baptist Church where Dr. King preached.


The CNN Center Studio Tour offers a behind-the-scenes look at CNN assembles its news and puts it on the air.


Behind the Scenes at The Georgia Aquarium

offers limited tours to groups of 20. This tour gives you a look at how the world's largest aquarium operates and keeps its thousands of residents healthy.
Before you get too deep into planning a trip to Atlanta, you obviously will need to find a place to stay. We have some suggestions in the following section.
Advertisement
Atlanta Hotels Guide
The luxury hotel chains have a presence in Atlanta. The Mobil Four-Star The Ritz-Carlton is situated in trendy Buckhead (3434 Peachtree Rd). Meanwhile, the Mobil Five-Star Four Seasons Atlanta (75 14th St) has a prime location in Midtown to go with its first-class service.


©2006 Ritz-Carlton Hotels
Situated in Buckhead,
the Ritz-Carlton is known
for its elegant setting
and upscale clientele.

Atlanta's burgeoning reputation as a business and travel center has left hotels competing with one another to offer the best service and the most amenities. Even some of the smaller hotels are vying to be included on "best of" lists.

The Glenn Hotel (110 Marietta St) in downtown is a boutique hotel with a specialty bar and a rooftop garden that has become a favorite hangout for many Atlantans. The rooms are small but unique, and the trendy atmosphere makes it seem like the place to be.

The Mobil Four-Star Ritz-Carlton Buckhead is also a place where people go to be seen. The lobby bar is huge and is always packed with locals and the occasional celebrity. And, of course, anyone staying at the Ritz-Carlton is treated to luxurious accommodations.

If you are leaning toward a bed and breakfast, the best bets are in Midtown or the historic Inman and Candler Parks. A favorite is the King-Keith at 889 Edgewood Avenue. One of the most photographed homes in Atlanta, this Queen-Anne-style home is at the heart of a national historic district for those who want to walk and see the neighborhood architecture.

Another grand option is the Ansley Inn at 253 15th St NE in the heart of Midtown. It's a 100-year-old, 22-room English Tudor mansion that features crystal chandeliers, massive fireplaces, and oriental rugs. This elegant inn is conveniently located within walking distance to MARTA and most Midtown attractions.

Atlanta's Apparel, Gift and Merchandise Marts have quarterly events that bring thousands of buyers to the city. Couple that with a wide variety of conventions and you might find yourself among a lot of conventioneers during your visit. If you have a particular time frame for visiting, you may want to check with your hotel to make sure you won't be there with 30,000 cardiologists or fabric manufacturers. That said, most hotels offer weekend packages that will include tickets to events and/or the Georgia Aquarium.

While New Year may seem like a fun time to visit, the city is usually packed with sports fans who are in town for the Peach Bowl and a host of other events. The key, then, is to plan accordingly.

In addtion to lodging, food is a key part of a visit to any city. We'll provide an overview of Atlanta's dining options in the following section.
Advertisement
Atlanta Restaurants Guide
One might assume that a Southern city would be known for Southern cooking, but that is not the case in Atlanta. (Unless you're talking barbeque, but that's a whole other story.) The city considers itself to be cosmopolitan and international when it comes to dining. "Fusion" is the buzzword for what you'll find on many menus.

Atlanta has many world-class steak and seafood restaurants. But because the city is such a cultural melting pot, it's easy to get authentic and sumptuous of every variety -- from Ethiopian to Indian to Thai.

A crossroads of the main arteries of Piedmont, Peachtree, and Roswell roads has helped Buckhead evolve into a dining
mecca. Nevertheless, Midtown and Decatur both offer appealing alternatives with a more laidback atmosphere.

A landmark for 20 years, the Mobil One-Star Colonnade (1879 Cheshire Bridge Rd, NE ) is the epitome of Southern "a meat and three" dining. Customers are mostly local regulars, and the are, from fried chicken to grilled steak, is as close to home-cooked as you'll find.

For barbeque, the name says it all: Fat Matt's Rib Shack (1811 Piedmont Rd). It's barbeque at its most basic. Pulled pork sandwiches are divine, but go for the ribs. There are none better for miles.

©2006 Atlanta CVB
If chili dogs, orange drinks, and onion rings
are your thing, a trip to The Varsity is in order.

Another landmark is the Mobil One-Star The Varsity
(61 North Ave, NW). Billing itself as the World's Largest Drive-in, this monument to chili dogs and big orange drinks has the best onion rings around. Carhops greet each customer with a demanding, "What do ya have? What do ya have? What do ya have?" This may not be an elegant dining experience, but it definitely is one of the most memorable.

For endless suggestions on how to top your burger, go to The Vortex
(438 Moreland). Walk through the laughing-skull door and pay attention to the descriptions on the menu. They are as irreverent as the eatery's overall attitude. Hamburgers are half-pounders that come with every topping imaginable. You can, of course, get fries with your burger, but go for the delicious tater tots instead.

For fine dining, turn to the Mobil Three-Star Bone's
(3130 Piedmont Ave). This steakhouse consistently ranks as among the best in the United States. The steaks, lamb chops, and even lobster are unbeatable, and its decor is reminiscent of a businessman's club of the mid-1900s, with white linen table clothes and cartoon caricatures of local celebrities on the walls. Save room for dessert and try the warm pecan pie with praline sauce and vanilla ice cream.

If you wanted to be entertained while eating, the Mobil Two-Star Imperial Fez can't be topped (2285 Peachtree Rd). Sit on the floor and enjoy great Moroccan food while belly dancers entertain or entice you to join. Choose from a five-course menu of dine a la carte on honey or Cornish hens with couscous.

You can continue to treat your taste buds to international cuisine with the string of Korean, Vietnamese, and Latin American restaurants offered along Buford Highway (Route 13), which is about 20 minutes northeast of downtown Atlanta. The Havana Sandwich Shop
(2905 Buford Highway) has been dishing up Cuban meals for the last 25 years. To add some variety to your lunchtime, try the Cuban sandwich of shredded pork with a side of black beans, fried plantains, and yucca.

Another gem worth exploring is the Penang Restaurant (4897 Buford Highway, 770-220-0308), which offers a menu of Malaysian dishes with a blend of Thai, Chinese, and Indian influences. You should try the beef rendang stewed in coconut milk and the lemon grass and noodle soup. You can top it off with a peanut pancake, which is a dessert to sooth your palate after a spicy meal.

The folks at Il Localina Italian Restorante (467 Highland Ave) will welcome you like family; owners Giovanni and Gale will even let you sample daily fresh pasta creations like three-cheese ziti or linguini marinara. Stick around long enough and suddenly disco music will play, complete with a mirror ball to get you up and dancing just before Frank Sinatra and Dean Martin songs resume.

The minimum of 15% is standard tipping in most restaurants. Check your bill if you have a party of six or more because many restaurants will automatically add 18%.

Reservations are helpful in almost all cases. Reservations at mainstays like Mobil Four-Star Bacchanalia (1198 Howell Mill Rd, NE) and Mobil Three-Star Pano's & Paul's (1232 W Paces Ferry Rd) should be made well in advance. Dining early, between 5:30 and 8 pm, can usually help get you into the more popular restaurants, but expect crowds and a little waiting period for your table on Fridays and Saturdays.

Now you know about everything Atlanta has to offer -- from great food to a plethora of special events and attractions. But what are the best ways to take it all in? Go to the next section for some suggested itineraries.


Advertisement
Suggested Itineraries for Visiting Atlanta
We've told you all about the things to do in Atlanta -- from seeing the unique marine life at the Georgia Aquarium to scoping out the artwork at the Ann Jackson Gallery. Now it's time to put the sights, sounds, and tastes of Atlanta into logical groupings. In this section, we'll provide suggested itineraries that will enable you to hit on the highlights in your areas of interest -- including special events and attractions, arts and culture, architecture and landmarks, shopping, nightlife and entertainment, and relaxing and unwinding.


1-, 2-, and 3-Day Suggested Itineraries for Atlanta's Special Events and Attractions



There is no shortage of must-see attractions in Atlanta. There also is no shortage of must-do special events. Here are some ideas for getting the most out of your trip:



1 day:

If you only have one day in Atlanta, start off in downtown.
The Georgia Aquarium
needs a minimum of two hours, so try to make reservations and get there when it opens at 9 am. Then walk north through Centennial Park
, where visitors enjoy a steady schedule of activities, such as music in the park from noon to 1 pm every Tuesday and Thursday from April through September. Even if you just feel like taking a rest, it's always fun to watch kids playing in the fountains, shaped like Olympic rings.

Learn the behind-the-scenes mechanics of how a major network covers global news events with a 50-minute tour of the CNN Center. Then walk three blocks to Underground Atlanta for insight into the city's history. When you pop out the other end, you'll be able to view the world's largest collection of soft-drink memorabilia at the World of Coke Museum. Afterward, journey to the top of the Westin Peachtree Plaza and check out its revolving Sun Dial Restaurant, which has a spectacular 360-degree view of the city for its customers. Make sure to try some Georgia mountain trout or spiced pumpkin ravioli while you take in a complete view of the city's skyline.



©2006 Atlanta CVB
A tour of the CNN Center gives visitors an inside
glimpse at the iconic news network.


2 days:

Atlanta's history is so rich that you can easily spend at least one day visiting various sites. Start at the Martin Luther King Center and visit Ebenezer Baptist Church for an education on Civil Rights history. While in the area, wander through the Victorian neighborhood of Inman Park, with all of its historical markers, before heading to Oakland Cemetery. Dating back to 1850, the cemetery in known for its ornate tombs. Noteworthy tombs or headstones include six Georgia governors, Gone With the Wind author Margaret Mitchell, and golf great Robert T. (Bobby) Jones.



Follow the Boulevard south to the historic Grant Park neighborhood and take a stroll through the park itself. Cyclorama, located next to Zoo Atlanta, is a cylindrical painting depicting the Battle of Atlanta,
that's been on display since 1863. When you're through, walk over to
Zoo Atlanta
and have a look at the pandas. Lun Lun and Yang Yang are one of just four pairs of pandas in zoos in the United States.



3 days:

Start the day at The Ted, the locals' nickname for Turner Field.
Turner Field offers extensive tours in which guides take you to a skybox, the press box and stands, and the team's dugout and locker rooms. It's a great chance to see the inner workings of a sports facility. Then swing by the Mobil One-Star The Varsity Drive-in for lunch and load up on a chili cheese dog and onion rings before taking a drive to Stone Mountain Park.
This 3,200-acre park offers a massive outcropping of granite that's adorned with a carving depicting Civil War generals. Hike the area, climb or ride up the mountain, or just hang around and enjoy the laser light show each evening.


1-, 2-, and 3-Day Suggested Itineraries for Atlanta's Arts and Culture



Whether you have a little or a lot of time to spend in Atlanta, there is enough arts and culture to keep you occupied. Here are some activities to consider when planning your stay:


1 day:
The High Museum of Art
is Atlanta's premier museum and is definitely worth a stop. Your tour of the museum might take a while because the place is over 320,000 square feet. The permanent exhibit alone has more than 11,000 items, including Monets, Battistas, Tanners, and Closes. Furthermore, visitors can always find featured exhibits and lecture series. The museum has formed a partnership with the Louvre in Paris and will be featuring exhibits from the Louvre through 2009.

For unique artistic gifts, check out the museum's gift shop. Afterward, head north on Peachtree and make a left onto Bennett Street to explore a series of small galleries and shops. In the evening, try to find tickets to a performance of the Atlanta Opera or Atlanta Symphony.

©2006 Atlanta CVB
The critically acclaimed Atlanta Symphony
provides a perfect way to spend an evening.

2 days:

The fabulous
Fox Theatre
is amazing for live performances, but if you can't experience a play or a concert, at least take the tour of the venue and the adjacent Egyptian Ballroom. The Egyptian is a favorite location for weddings, proms, and even corporate events because of its classic architecture and exotic decor. Afterward, make your way to the
Michael C. Carlos Museum
, located on Emory University's campus.
Often overlooked, the Carlos exhibits feature ancient art from Egypt, Greece, Rome, and the ancient Americas. It is the largest collection of this type in the Southeast and is well worth a stop.



3 days:

It's road-trip time. Get a car for the day and head 20 minutes up Georgia 400 off Interstate 85 and take Holcomb Bridge road over to Historic Roswell. At the convergence of Highway 9 and Canton Street, you'll find a host of galleries that range from photography at the Ann Jackson Gallery on Canton to works by local artists at the Raiford Gallery.


1-, 2-, and 3-Day Suggested Itineraries for Atlanta's Architecture and Landmarks



Atlanta is an architectural treasure, featuring a mix of historic and modern buidlings. If you follow these suggested itineraries, you'll be sure to see the city's most notable sites.



1 day:

Walking around downtown Atlanta can give you a full mixture of architectural types. Atlanta's original name was "Terminus" because of its railroads, and the area around Underground Atlanta was at the heart of it all. Now a struggling below-ground retail area, the six block stretch of sunken cobblestone streets gives visitors a sense of Atlanta's past.

When you come up top, walk over to Atlanta's modern City Hall (68 Mitchell St) and look for the phoenix carvings decorating the tiled walls. This motif is appropriate considering the city seal is a phoenix rising from the ashes, which is symbolic of the city surviving two major fires in its early history.

Explore the century-old gold-domed State Capitol Building (206 Washington St) before meandering through the Fairlie-Poplar District, which combines buildings from the early 1900s with modern structures. When you get hungry, treat yourself to the international cuisine offered in a formal rooftop setting at the Mobil Three-Star Nikolai's Roof
(255 Courtland St). This is the place to try piroshkis filled with beef tenderloin, pheasant, and lobster, or orange sorbet flavored with a splash of caramel vodka, as you look over downtown Atlanta.

©2006 Atlanta CVB
If history is your thing, stop by the 100-year-old State Capitol Building.

2 days:

Start your second day in Inman Park to take in some classic Victorian homes. A drive down Edgewood or Euclid Avenue will take you along tree-lined streets and past houses that look like they should be atop weddings cakes. A favorite is the Callan Castle, on the corner of Euclid and Elizabeth Streets, which was built by the founder of Coca Cola, Asa Candler. It's a perfect setup before taking a drive along Peachtree Street.

From Ponce de Leon Avenue heading north, you'll see the fabulous Fox Theatre, which hosted the world premiere of

Gone With The Wind

in 1939. Today, it's the premier performance arena in Atlanta. If you have time, visit the restored home of Margaret Mitchell, who wrote

Gone With the Wind

, at 10th and Peachtree. Mitchell's home contrasts the gleaming skyscrapers that fill out the rest of the neighborhood in Midtown.



3 days:

One of the most amazing arrays of residential architecture in the Southeast, if not the entire United States, can be found in Buckhead. Juxtaposed with the high-rise buildings on Peachtree are homes ranging in architectural style from Georgian and Italian to Tudor and pseudo Southern Plantation. As you view homes nestled in large, wooded lots, there will be "ooing" and "ahhing" at every turn.

Tour buses frequent the rolling neighborhood, but it's a scenic drive if you'd rather explore on your own. Visit the Atlanta History Center
(3120 Slanton Dr) and enjoy the elegant Swan Coach House or get a sense of farm life in the 1800s with the Tulley Smith Farm, which was relocated to the center's grounds.


1-, 2-, and 3-Day Suggested Itineraries for Atlanta's Shopping



When it comes to shopping, Atlanta features everything from behemoth department stores (Bloomingdales) to offbeat shops (Mitzi and Romano). Below, we'll tell you how to plan your shopping expeditions.



1 day:

If you have limited shopping time in Atlanta, you really should spend it exploring Lenox Square and Phipps Plaza. Lenox Square is a bit more down to earth, with Macy's, Bloomingdales, and Neiman Marcus department stores as its anchors. Phipps Plaza is a tad more upscale, featuring stores like Saks Fifth Avenue, Tiffany's, Versace, and Jimmy Choo.

©2006 Atlanta CVB
Phipps Plaza is a shopping hotspot that shouldn't be missed.

There are also several unique shops located in the Around Lenox shopping area. You can also head to the New Atlantic Station's live-work-play development off of the Connector at 17th Street. Dillard's is the largest store, but there are other fun shops like White House/Black Market, Ann Taylor, and Banana Republic.
2 days:
Start the morning in the Virginia Highlands neighborhood and enjoy its eclectic shops and restaurants. First developed in the early 1900s, the neighborhood's architecture helps create a relaxed shopping atmosphere as you stroll along Highland and take in such fun stores as Mitzi and Romano clothing and shoes or Metropolitan Home and Gift Store.
If all of that shopping makes you hungry, restaurants such as Murphy's or Atkin's Park are good places to stop. When you've had your fill, make your way to the nearby Little Five Points. Even if the vintage shopping and urban clothes don't appeal to you, it's a good spot for people-watching.
3 days:
Start by doing a bit of gallery shopping. Take in the ever-varied Miami Circle to look for everything from designer fabrics to antique furniture, then head to the Chattahoochee Warehouse District off Howell Mill Road. It truly is a warehouse area, so it is a bit difficult to find, but deals can be found at Ballard's Backroom (1670 DeFoor Ave, NW) or AJ Shoe Warehouse (1178 Ellsworth Industrial Boulevard). Male shoppers can find suit bargains at K & G Men's Center (1750-A Ellsworth Industrial Boulevard).
1-, 2-, and 3-Day Suggested Itineraries for Atlanta's Nightlife and Entertainment
If you're a creature of the night, Atlanta will keep you busy into the wee hours. The city has turned into a nightlife and entertainment mecca, so you'll probably need help sifting through all of the options. Here are our suggested itineraries:
1 day:
Be entertained by just experiencing an inside look at the fabulous and historic
Fox Theatre
. Then head to the Mobil One-Star Colonnade (1879 Cheshire Bridge Road, NE) for the epitome of "a meat and three vegetables" dining experience. Order anything fried and it will be the next best thing to Southern home cooking. But make sure to save some energy for the evening. Start off at Happy Hour at Twist (located in Phipps Plaza, 3400 Peachtree St), then head to the Punchline Comedy Club for some down-home laughs.



2 days:

You'll need to sleep in after the previous night's festivities, so get some rest and then head to Six Flags Over Georgia
. The park has 10 roller coasters, including the appropriately named Goliath. The steel monster soars 200 feet above the park and loops through an area 8.5 acres in size. You also can venture to Six Flags Whitewater Atlanta
and dive 90 feet down the "Cliffhanger" water slide or float around in the tidal wave body flume.

In the evening, check out the concert schedule and take in some live music at either Smith's Olde Bar (1580 Piedmont Ave) or Eddie's Attic (515 North McDonough St, Decatur). Or you can enjoy a cocktail while watching a movie at the Buckhead Backlot (3340 Peachtree Road, NE).



3 days:

Visit the Little Five Points neighborhood for the best spot in the area for people-watching. Between the tattoo parlors and body piercing, you'll see just about anything. Once the sun goes down, you must visit Johnny's Hideaway just to experience it. You will see people of all ages enjoying the mix of tunes -- from modern music to Big Band -- and filling up every square inch of the dance floor.

End your evening by walking next door to that glowing yellow beacon advertising the Waffle House. The restaurant chain started in Atlanta, so it's a fitting tribute to end your stay. Try the world-famous hash browns "smothered and covered" in cheese and onions or one of the golden crispy pecan waffles.


1-, 2-, and 3-Day Suggested Itineraries for Relaxing and Unwinding in Atlanta



For those who want to take a more low-key approach, Atlanta has that covered, too. Here are some suggested itineraries that will help you find some peace and tranquility:



1 day:

While in downtown Atlanta, you can leisurely enjoy the views without stepping into a hectic pace. Make your way to Centennial Park and check out the fountains and statues. The main library of the Atlanta System
(One Margaret Mitchell Square) is a good place to visit because it has a gallery and a gift shop. Then go to the largest number of tennis courts in the city, offered at the Bitsy Grant Tennis Center at Atlanta Memorial Park. To quench your thirst, it's worth the trip to travel to the Virginia Highlands neighborhood to visit Manuel's (602 North Highland). It's a legendary hangout for politicians and journalists.



2 days:
Piedmont Park
is a good way to start the morning. The 180-acre park has footpaths and a lake and affords a beautiful view of the Midtown Skyline. On the park's north end, you'll find the
Atlanta Botanical Garden
. Featuring indoor and outdoor exhibits, the garden always has something green and beautiful in bloom. Finish your day by heading to the laidback Virginia Highlands neighborhood to enjoy one of its many restaurants, such as Cajun-inspired Fontaine's or Highland Tap Steak House.

©2006 Atlanta CVB
A walk through Piedmont Park isn't complete without a stop
at the lush Atlanta Botanical Garden [above].

3 days:

You can go as leisurely as you please at the Bobby Jones Golf Course (384 Woodward Way NW), which is named for Atlanta native and golfing great Robert Trent Jones. Or drive on Interstate 85 for about an hour to get to Chateau Elan
for a round at one of the finest courses in Georgia. The bonus is that the Mobil Three-Star Chateau Elan also is a winery with a resort and spa attached that will enable you to continue to relax and unwind.

Regardless of your tastes -- whether you like spas, nightlife, or museums -- Atlanta has something for everyone. Take a trip to Atlanta and find out why it has become the centerpiece of the South.


©
Publications International, Ltd.





ABOUT THE AUTHOR:





Janice McDonald

may have traveled the world as a CNN producer for more than 20 years, but she always came back to Atlanta. She's logged time in more than 70 countries and all seven continents. Now an independent writer, Janice writes for a wide variety of travel publications and is a contributing editor for

Travelgirl Magazine

.

Advertisement