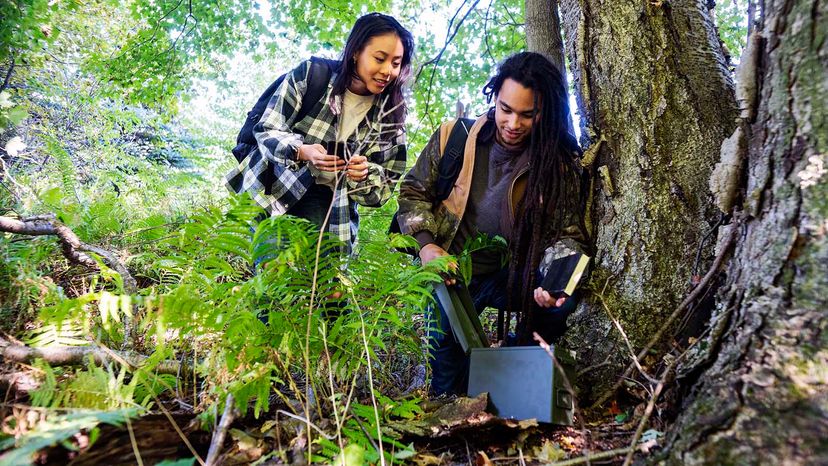 Treasure hunters have been searching for "Fenn's Treasure" for nearly a decade. One lucky hunter found it, according to Forrest Fenn's website announcement.
Fertnig/Getty Images
Perhaps thousands of people have searched for a bronze chest full of gold and gemstones hidden in the Rocky Mountains between Santa Fe, New Mexico, and the Canadian border hidden by a reclusive millionaire adventurer. At least four people died in their quest for the treasure.
But it's all over now. "Fenn's Treasure" has been found. The 89-year-old adventurer named Forrest Fenn, who created the treasure hunt, announced the news on Sunday, June 7, 2020, via his website. "I do not know the person who found it, but the poem in my book led him to the precise spot," Fenn wrote. Fenn told the Santa Fe New Mexican the treasure was confirmed by a photograph the lucky finder sent him.
The treasure hunt began when Fenn published a poem containing clues to the chest's location in 2010.
The Man Who Started It All
Forrest Fenn, the man who started the hunt, lives in Santa Fe, New Mexico. He was a fighter pilot in the Vietnam War and later amassed his wealth as a dealer in art and antiquities.
The treasure hunt was a modified version of an earlier idea. Fenn was diagnosed with terminal kidney cancer in 1988 and had planned to die peacefully in the woods with his treasure. But when his cancer went into remission, he put his plans on hiatus, eventually writing the poem that described his ideal resting place, which is where he hid the treasure. The poem appeared in a self-published memoir called "The Thrill of the Chase." Fenn told Business Insider that the chest wouldn't be found by accident; only a treasure hunter who correctly interpreted the clues would find it.
Several treasure hunters went missing while attempting to find the chest, including hunter Jeff Murphy of Batavia, Illinois. Murphy disappeared from Yellowstone National Park in the summer of 2017. Murphy had been hunting for the treasure for a few years and had been in contact with Fenn before his search. He was reported missing when he didn't check in with his wife, and his remains were found on June 9, 2017. The death was ruled accidental — Murphy is believed to have lost his footing in the mountains, resulting in a 500-foot (152-meter) fall.
Fenn offered to help pay for a helicopter to aid in the search for Murphy. Fenn told the Washington Post that he had never been in the part of the park where the accident occurred, and repeatedly said at that time, the treasure was not in a dangerous place. He told HowStuffWorks that he believed most searchers were being responsible.
"Most people do not disregard their safety when they search, and I get emails every day that say that," Fenn said in 2018, via email. "Even those who were lost didn't think they were overextending themselves at the time. Two of them had successfully visited the same location several times. We have emphasized safety all along the way and I think it has had a positive effect."
Still, several other hunters ended up missing, as well, including:
Paris Wallace, lost in summer 2017 in New Mexico

Eric Ashby, lost in summer 2017 on the Arkansas River in Colorado

Randy Bilyeu, lost in early 2016 outside Santa Fe, New Mexico

Mike Petersen, summer 2017, Yellowstone National Park

Jeff Schultz, April 2016, Arizona
Of course, it turns out the treasure was not in Yellowstone, and not even a national park. "It was under a canopy of stars in the lush, forested vegetation of the Rocky Mountains and had not moved from the spot where I hid it more than 10 years ago," Fenn wrote on his website. Good thing because it is illegal to remove anything from a national park, which would cause complications in legally claiming the treasure if it was found there.
Kathy Kupper, a public affairs specialist for the National Park Service, told us in 2018 that if the treasure was found on park land, only Fenn could claim it.