Arches National Park
PO Box 907
Moab, UT 84532-0907
435-719-2299
Chiseled by the powerful forces of wind and water, Arches National Park contains the planet's most remarkable collection of natural sculpture. Remotely located about 240 miles southeast of Salt Lake City, the park contains more than 2,000 sandstone arches. But these spectacular sandstone portals are only part of Arches' stunning landscape. Plan to spend several hours exploring the natural rock garden -- or spend a night beneath the stars at Devils Garden Campground.
Entrance Fees: $10/vehicle for seven days or $5/individual for seven days
Visitor Centers: The visitor center is open daily, except December 25.
Other Services: One campground
Accommodations: Devils Garden Campground. Open year-round. Reservations recommended. 877-444-6777.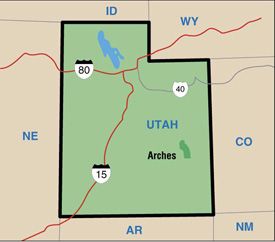 Visiting Arches National Park
A fantasyland of rock, Arches National Park is filled with giant balanced rocks that look as though they are about to teeter and fall. There are pedestals and spires that resemble a child's drip castles enlarged to enormous scale. Glistening slickrock domes are inlaid with swirls of stone cut by red sandy washes and dotted with wildflowers in spring. These formations sparkle and shimmer beneath an enormous blue sky.
Arches is perched atop the Colorado Plateau, a high desert region stretching from western Colorado across southern Utah and northern New Mexico to Arizona. This area is one of the most sparsely populated region of the contiguous 48 states, but it contains the nation's greatest wealth of national parks. It is a place teeming with scenic treasures almost beyond belief: mountains, gorges, rushing rivers, great canyons, escarpments, buttes, spires, pinnacles, and endless stretches of desert landscape.
If you're planning to visit Utah, a trip to Arches is well worth the time it takes to get there. You'll witness firsthand the unusual landscapes that have been backdrops for some well-known movies. To read about the most impressive sights (and to learn which movies Arches has been in), go to the next page.