Just south of Boston, in the small city of Quincy, is the Adams National Historical Park, former home to five generations of the Adams family, including two Presidents. Unlike most presidential homes, "The Old House," as the Adamses called it, never passed out of family hands, and its furnishings never had to be sought out or replaced.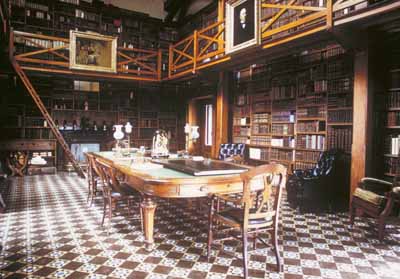 © National Park Service
One of the 22 rooms in the Adams National Historical Park mansion includes
the impressive Stone Library, added by John Quincy Adams' son, Charles Francis.

Included in the 14-acre park are the modest birthplaces of father-and-son Presidents, John Adams and John Quincy Adams. John Adams bought the 22-room mansion, the centerpiece of the park, in 1787, after he had become a successful lawyer and politician. He helped draft the Declaration of Independence and later served as the American envoy to Great Britain. After serving as George Washington's Vice President -- a job he described as "...the most insignificant office that ever the invention of man contrived or his imagination conceived" -- he became the second President of the United States.
During John Adams' diplomatic missions, his son, John Quincy, gained a firsthand education in foreign affairs, serving as an interpreter for the foreign service in Russia when he was only 14 years old. In 1825, when he was 58 years old, he became our nation's sixth President.
Other Adamses that called "The Old House" home included Charles Francis Adams, who served as U.S. Minister to Great Britain, and writers Henry Adams and Brooks Adams. Throughout the years, family members enlarged the mansion and filled it with acquisitions from trips and missions around the globe. Rangers lead visitors through a number of the rooms, including John Adams' study, which he used during the summers of his presidency and where he later composed many of his letters to Thomas Jefferson. It was in this room also that he died on July 4, 1826 -- on the fiftieth anniversary of Independence Day and just hours after Jefferson himself passed away.
John Quincy's son, Charles Francis, added the impressive Stone Library, filled to the brim with the books, papers, and mementos of the family. On opposite ends of the room stand the desks used by John Adams when he was President and John Quincy when he was a state representative. Dominating the room is an oak library table at which generations of Adamses sat to read, write, and study. On the fireplace mantel are John Quincy's "Household Gods" -- the busts of classical authors.
This one site, officially established in 1946, helps bring to life the fascinating story of one of our country's most influential early families. As an added attraction, a walk through the grounds reveals one of the best-kept eighteenth-century formal gardens in New England.
Stone Library Gems

On display at the Stone Library are books that testify to John Quincy Adams' long crusade against slavery.
In 1839, John Quincy argued on behalf of a boatload of slaves who had mutinied aboard the ship taking them to Haiti. He won their freedom, and in thanks they presented him with an inscribed Bible, now on display at the library.
The library also contains John Quincy's copy of Poems on Various Subjects, Religious and Moral (1773) by ex-slave Phillis Wheatley, considered the first African-American poet.
Adams National Historical Park Information

Address: 135 Adams St., Quincy, MA
Telephone: 617/770-1175
Hours of Operation: Daily, 9 a.m. - 5 p.m. April 19 - November 10
Admission: Adults $5; Ages 15 and Under are Free; Family Pass $10
Learn more about these other national historic sites:
Find out more about travel destinations in North America:
ABOUT THE AUTHOR:
Eric Peterson is a Denver-based freelance writer who has contributed to numerous guidebooks about the Western United States.
Advertisement