Acadia National Park
PO Box 177
Eagle Lake Road
Bar Harbor, ME 04609-0177
207-288-3338
Just an hour's journey from Bangor International Airport, Acadia National Park is located off the central coast of Maine. Visitors will find plenty to do, whether they choose to absorb Acadia's history and charm at the museum, explore the lakes on a boat cruise, or wander the carriageways on foot.
Entrance fees: $20/vehicle for seven days or $5/individual for seven days
Visitor centers: Winter Visitor Center is open year-round except January 1, Thanksgiving Day, and December 24 and 25. Hulls Cove Visitor Center is closed November 1 through April.
Other services: A museum and two campgrounds
Accommodations:
Blackwoods Campground. Open year-round. Reservations recommended. 800-365-CAMP.

Seawall Campground. Open from mid-May through mid-September. First-come, first-served.

Camping on Isle au Haut. Open from mid-May through mid-October. Requires a special use permit. 207-288-3338.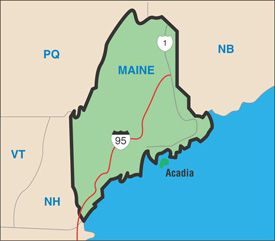 Visiting Acadia National Park
Both dramatic and sublime, Acadia National Park is a nearly perfect summation of the Maine coast. Completely surrounded by the sea, the park's glacier-scoured interior consists of lovely valleys, lakes, and peaks. As you might expect from a tract of land with wetlands as well as forests and mountains, Acadia houses an abundance of wildlife, including some unusual mammals, fish and birds.
Acadia National Park is a stunning coastal retreat that offers great opportunities for outdoor recreation and it's one of the best cliff diving spots around. Check out this great cliff diving article and amazing video from Discovery's Fearless Planet to learn more about this exciting adventure sport.
The park provides many opportunities for active learning and exploring throughout the year. Click to the next page for some sightseeing ideas.