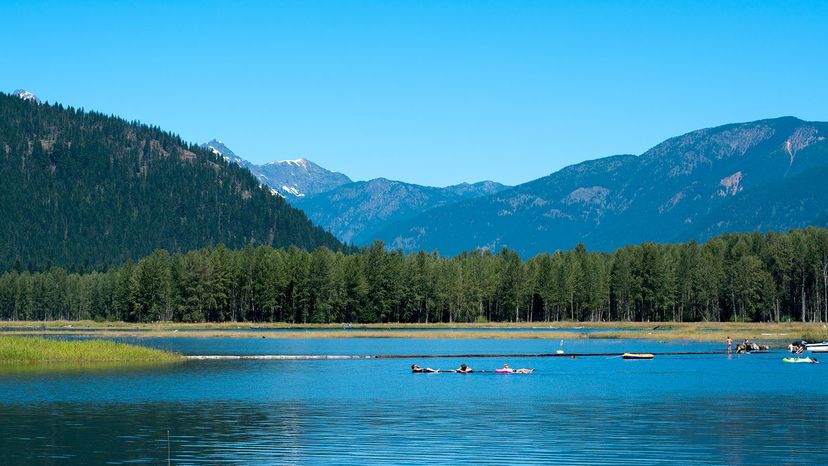 Visitors enjoy the beauty of Hozomeen, at the northern end of Ross Lake NRA, in North Cascades National Park, Washington, one of the least-visited national parks.
NPS Photo/Deby Dixon
Editor's Note: Due to the COVID-19 pandemic, some of these parks are not completely open. Check the park websites before planning any vacation.
At the peak of the summer season, Yellowstone National Park (4.3 million annual visitors) more closely resembles Manhattan gridlock than an oasis of natural solitude. When the autumn leaf colors are at their most vibrant, Great Smoky Mountains National Park (11 million yearly visitors) is jammed with excited peepers, the most visited park in the U.S. But not all of America's 58 national parks are subjected to floods of human beings — in fact, some of them see hardly any visitors at all.
There are varying reasons that the seven least-visited parks see so few visitors. Some are hard to get to. Others have inhospitable climates part of the year. But they all offer majestic solitude for outdoors lovers who prefer fresh air over car fumes. We've listed the seven least-visited national parks in the U.S., using visitation statistics from the 2017 season. Chelsea Sullivan, spokesperson from the park service's office of communications, gave us the lowdown on these parks and what they have to offer.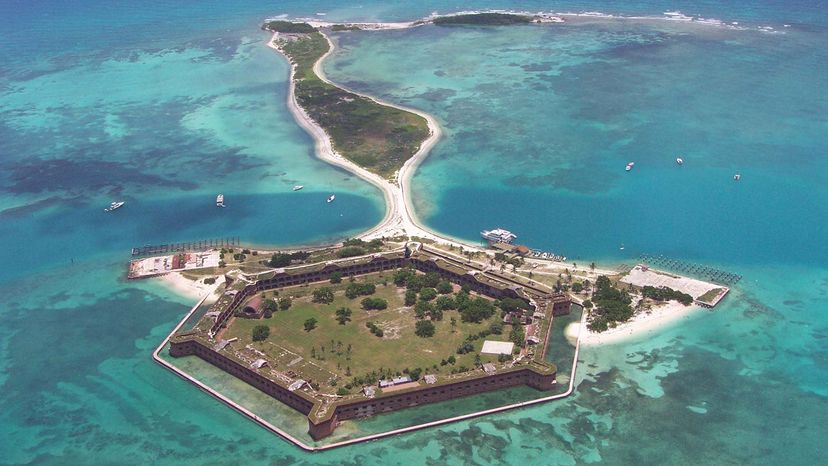 An aerial view of Fort Jefferson at the Dry Tortugas National Park, off Key West, Florida.
National Parks Service
For a park that has "dry" in the name, it's a bit of misnomer. Dry Tortugas is a park that's totally surrounded by water. Located about 70 miles (112 kilometers) west of Key West, Florida, you can't get there by car or by foot. Instead, it's accessible only by a daily concession ferry, private and charter boats, or by seaplane. Those who make the trip to the seven islands and their coral reefs are rewarded with sightings of abundant wildlife and a chance to explore Fort Jefferson, a massive 19th-century 16-million brick fort that was built to beat back pirates in the Caribbean. The fort is best known as the place of imprisonment for Samuel Mudd, the doctor who set the leg of John Wilkes Booth after he assassinated President Abraham Lincoln.
Air taxi or boat are really your only options for reaching Alaska's Katmai National Park and Preserve, which is southwest of Anchorage. That's the primary reason that fewer than 38,000 people visited in 2017, along with the fact that once you arrive, there are only 6 miles (9.6 kilometers) of road or trails. The rest is volcanic remains and rough wilderness filled with massive brown bears, wolves and other Alaskan treasures.
North Cascades National Park is less than 2.5 hours by car from Seattle. But the snows there are so heavy that administrators close a portion of the road between Ross Dam Trailhead and Lone Fir Campground in winter. As those jagged, steep peaks become jammed with snow, avalanches become common, making this 500,000-acre (202,343-hectare) wilderness a no-go zone for most folks until the safety of the summer warmth arrives. Then, it becomes a wonderland of boating and camping and enjoying jaw-dropping beauty (see our main photo).
Established during World War II, Isle Royale National Park is on an island smack in the middle of Lake Superior, and it's entirely closed during winter, two reasons that visitor numbers are so low. The park encompasses about 210 square miles (543 square kilometers) of land and also includes 685 square miles (1,665 square kilometers) of surrounding waters. Well-known for its isolated moose and wolf populations, the park is also renowned for a 40-mile trail (along with 36 wilderness campgrounds) that hikers from all over the world travel to see.
There are no roads to Lake Clark National Park and Preserve, which, like Katmai National Park, is located in the wild lands of the Alaskan Peninsula. And as with Katmai, you'll need a boat or plane to get here. The visitor center is only open in the summer, so you could conceivably have the entire park to yourself if you're courageous enough to tackle this bear-heavy land in the winter — which is most of the year.
You can leave the Jeep at home before you head out for Kobuk Valley National Park in Alaska. There are no roads to this park in the virtually deserted north-central part of the state. Instead, you'll need a bush plane pilot to get you to the sprawling sand dunes and caribou migration areas. In winter, the visitor center is shuttered, but you're free to wander the trail-less wilderness on your own. As the website puts it, "Traveling to Kobuk Valley National Park and Kotzebue is very different than visiting a park or town on a road system. This will be a chance to test your moxie and have a great adventure."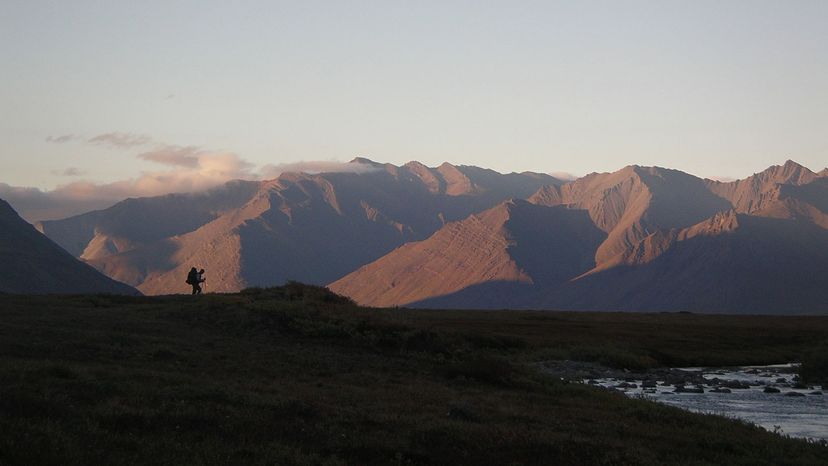 A lone hiker takes in the vast landscape of the Gates of the Arctic, the least-visited national park in the U.S.
National Parks Service
Just northeast of Kobuk Valley you'll find Gates of the Arctic National Park and Preserve, a sprawling landscape (8.4 million acres or 3.4 million hectares) free of roads and trails. As America's northernmost national park, it's appropriately the least visited, with an average of 30 visitors per day — and of course, hardly any of them visit in winter. To get here you can hire an air taxi, or if you're truly adventurous, hike in on foot. Because this area is so isolated, you need solid outdoors and survival skills to navigate the area safely, or you can pay for a guided trip and put your life in the hands of truly experienced backcountry types.