1
Forrest Fenn's Grand Prize
A real-life treasure chest stuffed full of gold coins and nuggets is rumored to be hiding somewhere in the Rockies, courtesy of one Forrest Fenn.
Dougal Waters/DigitalVision/Getty Images
Advertisement
Rare is the treasure that somebody went out and hid just for the fun of it. Right at this very moment, Americans of every background are trying to find a king's ransom in the Rocky Mountains. Most of them won't succeed; no one has thus far. Still, a few explorers have come tantalizingly close to the bounty that they seek without even knowing it.
Forrest Fenn is a millionaire Vietnam veteran and a dealer of artifacts. In 1988, he was diagnosed with kidney cancer and told his days were numbered. However, Fenn didn't go gently into that good night. He's still alive and well today, but the cancer scare inspired him to do something rather outlandish.
In 2010, Fenn filled a bronze chest with hundreds of golden coins and nuggets. Altogether, the items are worth between $1 million and $5 million. He then proceeded to hide the loot somewhere in the Rockies.
Clues regarding the chest's location were hidden within a cryptic poem in "The Thrill of the Chase," Fenn's self-published memoir. Once the book came out, it was off to the races. In an interview with ABC's "Nightline," Fenn guessed that roughly 350,000 people have gone looking for the treasure. And in 2017, he acknowledged some close calls. At a presentation in the Santa Fe Center for Contemporary Arts, Fenn said that a few participants in the hunt unwittingly ventured within 200 feet (61 meters) of the chest.
He insists that the treasure isn't hiding in a dangerous spot. Nevertheless, at least four explorers have died while pursuing it. Last year, the New Mexico State Police chief asked him to call the whole thing off. As of right now though, the booty's still at large.
(If you're interested in reading more about Fenn's treasure, you might like this HowStuffWorks story on it, too: "Are People Dying to Find Fenn's Treasure?")
Related Articles
Sources
Burnett, John. "Seeking Adventure And Gold? Crack This Poem and Head Outdoors." NPR Weekend Edition Sunday. March 13, 2016. (March 21, 2018) https://www.npr.org/2016/03/13/469852983/seeking-adventure-and-gold-crack-this-poem-and-head-outdoors

Charney, Noah. "The Ghent Altarpiece: the truth about the most stolen artwork of all time." The Guardian. Dec. 20, 2013. (March 21, 2018) https://www.theguardian.com/artanddesign/2013/dec/20/ghent-altarpiece-most-stolen-artwork-of-all-time

The Editors of Encyclopaedia Britannica. "Zhoukoudian." Britannica. March 24, 2009. (March 21, 2018) https://www.britannica.com/place/Zhoukoudian

History of Ireland. "1921 – Sir Arthur Vicars Was Assassinated in Kilmorna, Co Kerry by the IRA." (March 21, 2018) https://stairnaheireann.net/2015/04/14/1921-sir-arthur-vicars-was-assassinated-in-kilmorna-co-kerry-by-the-ira/

Keane, Caomhan. "How were the Irish crown jewels stolen from Dublin Castle?" Irish Examiner. July 3, 2014. (March 21, 2018) https://www.irishexaminer.com/lifestyle/features/how-were-the-irish-crown-jewels-stolen-from-dublin-castle-274074.html

KRQE Media. "Man lashes out at State Police Chief over call to end treasure hunt." June 21, 2017. (March 21, 2018) http://www.krqe.com/news/man-lashes-out-at-state-police-chief-over-call-to-end-treasure-hunt_20180104024722158/900212570

McNearney, Allison. "The Scandalous Mystery of Who Stole the Irish Crown Jewels." Daily Beast. Oct. 15, 2016. (March 21, 2018) https://www.thedailybeast.com/the-scandalous-mystery-of-who-stole-the-irish-crown-jewels

Perry, Marvin. "Western Civilization: A Brief History, Volume I: To 1789." Cengage Learning. Jan. 1, 2012. (March 21, 2018) https://books.google.com/books?id=U2pnv0Aoh2EC&dq=solomon%27s+temple+destroyed+586+bc&source=gbs_navlinks_s

Peterkin, Tom. "New suspect in century-old theft of Irish gems." The Telegraph. Dec. 26, 2007. (March 21, 2018) https://www.telegraph.co.uk/news/uknews/1573650/New-suspect-in-century-old-theft-of-Irish-gems.html

Pinero, Antonio. "How King Herod Transformed the Holy Land." National Geographic. (March 21, 2018) https://www.nationalgeographic.com/archaeology-and-history/magazine/2016/11-12/king-herod-judaea-holy-land-rome-new-testament/

The Religious Literacy Project. "Destruction of the Second Temple in 70 CE." Harvard Divinity School. (March 21, 2018) https://rlp.hds.harvard.edu/faq/destruction-second-temple-70-ce

Sandell, Clayton, Michelle Kessel and Connor Burton. "People continue to seek reported hidden treasure in the Rocky Mountains, despite fatal attempts." ABCNews. Jan. 12, 2018. (March 21, 2018) http://abcnews.go.com/US/people-continue-seek-reported-hidden-treasure-rocky-mountains/story?id=51766060

Savage, Maddy. "Million-euro makeover for Belgium's Ghent Altarpiece." BBC News. Oct. 11, 2012. (March 21, 2018) http://www.bbc.com/news/world-europe-19885610

Schmalzer, Sigrid. " The People's Peking Man: Popular Science and Human Identity in Twentieth-Century China." May 15, 2009. (March 21, 2018) https://books.google.com/books?id=d10bJBvgjLkC&pg=PA37&dq=andersson+peking+man+1926&hl=en&sa=X&ved=0ahUKEwivp6Ddpd7ZAhVDZKwKHavMB1sQ6AEINDAC#v=onepage&q=andersson%20peking%20man%201926&f=false

Simon, Emily T. "Ghent Altarpiece is window into history of art." The Harvard Gazette. April 24, 2008. (March 21, 2018) https://news.harvard.edu/gazette/story/2008/04/ghent-altarpiece-is-window-into-history-of-art/

Stevenson, Robert Louis. "Treasure Island." The Literature Page. 1882. (March 21, 2018) http://www.literaturepage.com/read/treasureisland-199.html

Steves, Rick and Gene Openshaw. "Rick Steves Belgium: Bruges, Brussels, Antwerp & Ghent." Avalon Publishing. June 13, 2017. (March 21, 2018) http://bit.ly/2HOUN8o

Tercatin, Rosella. "Can Vatican display shed light on the fate of the Menorah?" The Times of Israel. May 14, 2017. (March 21, 2018) https://www.timesofisrael.com/can-vatican-display-shed-light-on-the-fate-of-the-menorah/

Wayman, Erin. "The Mystery of the Missing Hominid Fossils." Smithsonian.com. Dec. 7, 2011. (March 21, 2018) https://www.smithsonianmag.com/science-nature/the-mystery-of-the-missing-hominid-fossils-1985559/

WGBH Educational Foundation and Clear Blue Sky Productions. "Origins of Humankind." 2001. (March 21, 2018) http://www.pbs.org/wgbh/evolution/humans/humankind/k.html

Ying, Wang and Raymond Zhou. "Mystery of the missing bones." The Telegraph. Oct. 3, 2016. (March 21, 2018) https://www.telegraph.co.uk/news/world/china-watch/culture/mystery-of-the-missing-bones/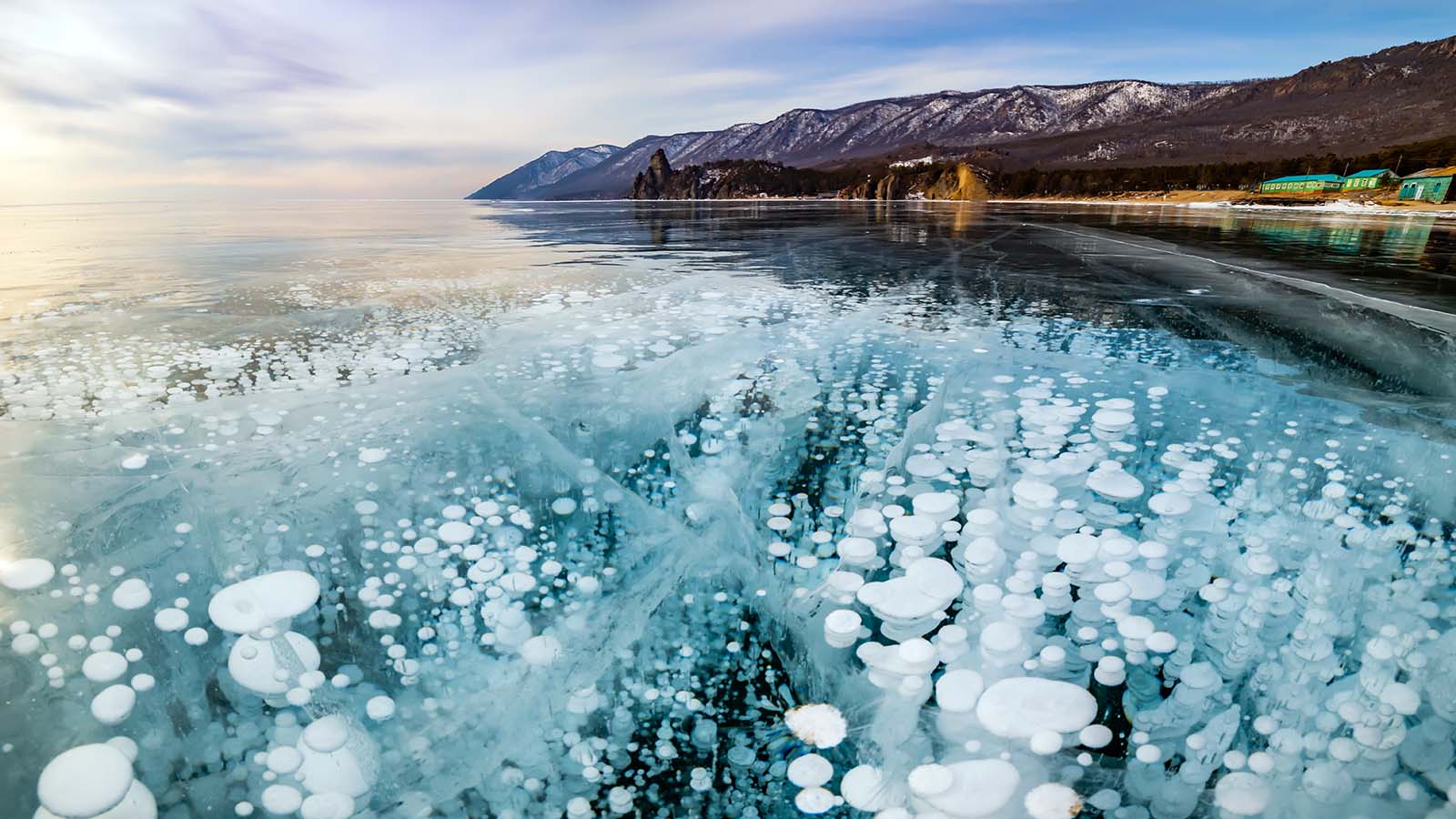 Up Next
Lake Baikal is a massive, ancient lake in Siberia. It's home to nearly 4,000 different species, earning it the nickname the 'Galapagos of Russia.'
---