If you like your adventure mixed with a little danger and some risk to life and limb -- well, the rainforest canopy has that too, even the carefully controlled parts of it put aside for tourists. For instance, on May 27, 2012, an American tourist and a guide were surfing a zip line at Mindo Ropes & Canopy in Ecuador when the line slackened and both riders fell 130 feet (39.6 meters) to the ground. The tourist was killed and the guide was seriously injured.
This was hardly the first time a fatal zip line accident had occurred. In March 2008, a 44-year-old tourist from Texas was riding a zip line in the Honduras rainforest canopy when it snapped and she fell to her death. (Once again, the guide riding with her survived the fall.) In May of 2004, a British woman was seriously injured in a fall from a zip line in Queensland, Australia.
These accidents aren't terribly common, but they're a reminder that not only is the rainforest canopy fraught with potential danger, but not all sites that offer canopy rides for thrill seekers are as carefully regulated and controlled as, say, Disneyland. If you're looking for some rainforest adventure, you shouldn't let these incidents frighten you unnecessarily, but don't blindly leap off a canopy platform onto a zip line thinking that nothing can possibly go wrong. Everything in life is risky, even driving your car to the nearest grocery store, but it's up to you to decide just how much risk you're willing to take and what experiences you're willing to take it for. It's a long fall from the rainforest canopy to the ground and a ride on a zip line through that canopy might well be the biggest thrill of your life. But there's always a tiny chance that it could be the end of it.
Author's Note: 5 Amazing Rainforest Canopy Adventures
I've written about the rainforests before in a book about endangered species. With 50 to 75 percent of all species on Earth living in the rainforests, it's an environment that needs to be both studied and protected, because it's being torn down at a frightening rate to make room for cattle ranching. I had never given much thought, however, to just how scientists manage to study what happens in the rainforest canopy, one of the least accessible environments on Earth for human beings -- and it had never occurred to me that tourists could visit the canopy for their own rainforest adventures.
Someday I'd love to walk along one of those canopy walkways. And if I'm feeling particularly brave I might try surfing one of those zip lines -- but I'll be sure to research the safety record of the company offering the ride before I do.
Related Articles
Save the Rainforest One Click at a Time
Sources
Butler, Rhett A. "Rainforest Canopy: Research & Study." Mongabay. (June 15, 2012) http://rainforests.mongabay.com/0402.htm

Dendronautics. "Exploration of the rain forest canopy using airships and other methods." (June 15, 2012) http://www.dendronautics.com/page3.htm

Elder, Jerry L. "6 Amazing Rainforest Treetop Walks." WebEcoist. (June 15, 2012) http://webecoist.momtastic.com/2009/07/15/6-amazing-rainforest-treetop-walks/

Fenolio, Dante. "The French Canopy Raft Program in Madagascar." Anotheca. (June 15, 2012) http://anotheca.com/wordpress/2009/05/30/the-french-canopy-raft-program-in-madagascar-part-1-the-program-the-project/

Govisitcostarica.com. "Costa Rica Canopy Tours." (June 15, 2012) http://www.govisitcostarica.com/category/outdoorRecreation/canopyTours.asp

Hallé, Professor Francis. "Canopy Exploration in Tropical Rainforests." BWA. (June 15, 2012) http://www.bwa.co.za/Articles/Canopy%20exploration%20in%20tropical%20rainforests.pdf

Hays, Jeffrey. "Studying the Rainforest and the Value of New Jungles." Facts and Details. (June 15, 2012) http://factsanddetails.com/world.php?itemid=1297&catid=52&subcatid=329

Jungle Surfing. "Jungle Surfing Canopy Tours." (June 15, 2012) http://www.junglesurfing.com.au/

Maher, Joe. "Canopy Access: Beyond Basic Single Rope Technique." Caves.org. (June 15, 2012) http://www.caves.org/section/vertical/nh/55/CanopyAccess.pdf

Mongabay.com. "What Is the Canopy?" (June 15, 2012) http://kids.mongabay.com/elementary/004.html

Nadkami, Nalini. "Use of a Portable Platform for Observations of Tropical Forest Canopy Animals." Biotropica. (June 15, 2012) http://academic.evergreen.edu/n/nadkarnn/cv/pdfs_science/Use_of_a_Portable_Biotropica_1988.pdf

Pike, John. "King of the Swingers." Business Library. (June 15, 2012) http://findarticles.com/p/articles/mi_hb3120/is_9_80/ai_n32106757/

Potter, Michael. "Roatan Zip-Line Tragedy Raises Questions." Cruise Critic: Cruise Reviews & News. (June 15, 2012) http://www.cruisecritic.com/news/news.cfm?ID=2469

Rainforestskywalk.com. "Tamborine Rainforest Skywalk." (June 15, 2012) http://www.rainforestskywalk.com.au/pages/thewalk.html

Slate, Robin. "Mindo Canopy Accident, Ecuador." Ecuador and Galapagos Island Travel News Bulletin. (June 15, 2012) http://www.sangay.com/travelnews/mindo-canopy-accident-ecuador/

Squires, Nick. "British jungle surfer plunges 65ft from rainforest canopy." The Telegraph (UK). (June 15, 2012) http://www.telegraph.co.uk/news/uknews/1463364/British-jungle-surfer-plunges-65ft-from-rainforest-canopy.html

The World Geography. "10 Amazing Treetop Walks Around the World." Alizul. (June 15, 2012) http://alizul2.blogspot.com/2012/04/10-amazing-treetop-walkways-around.html

Wildlife Extra. "Canopy Raft Program discoveries and photos from Madagascar." (June 15, 2012) http://www.wildlifeextra.com/go/news/madagascar-canopy.html#cr

Wright, Herbert. "Madagascar's tree-top science." Wired UK. (June 15, 2012) http://www.wired.co.uk/magazine/archive/2010/07/start/madagascars-tree-top-science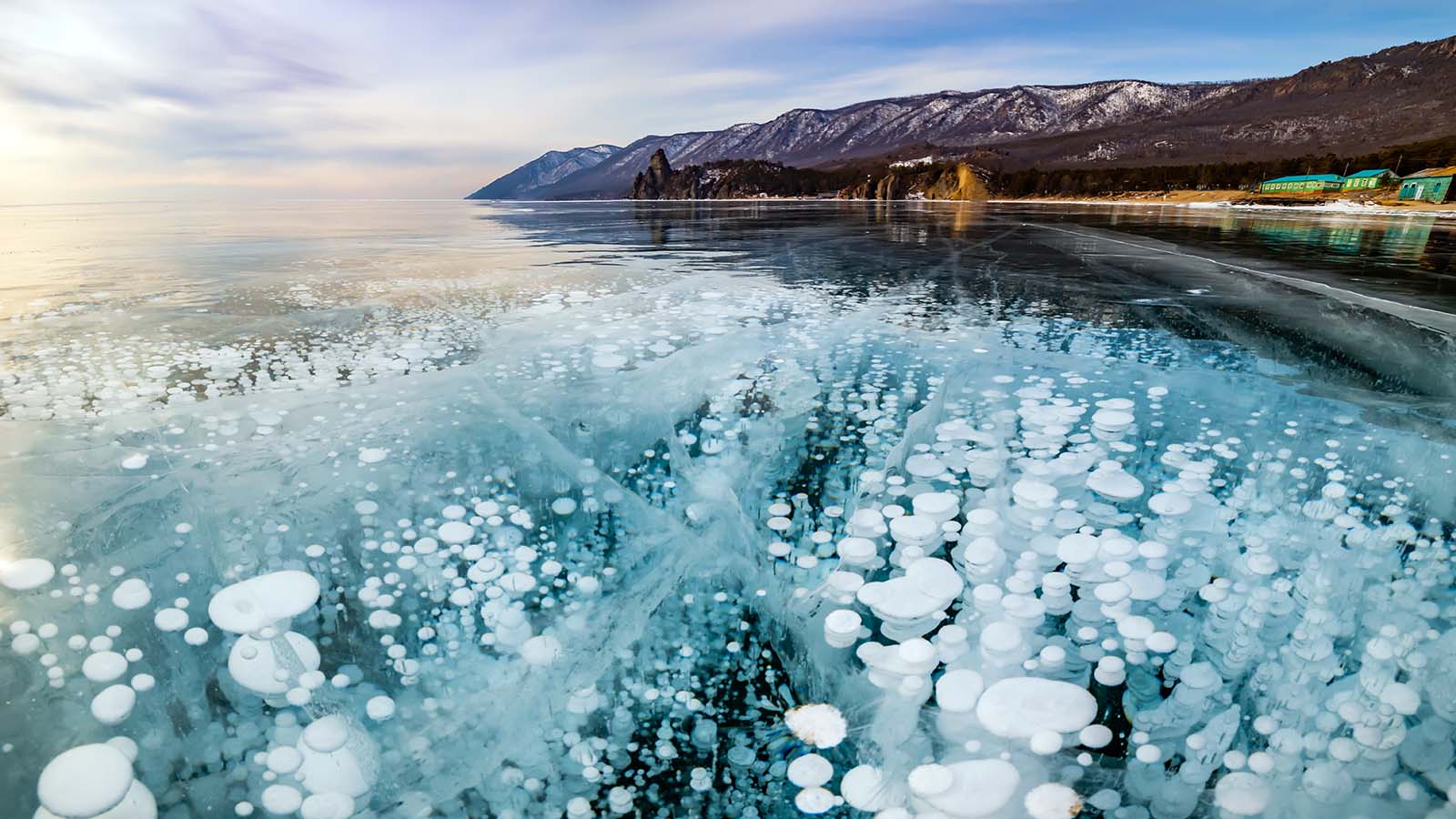 Up Next
Lake Baikal is a massive, ancient lake in Siberia. It's home to nearly 4,000 different species, earning it the nickname the 'Galapagos of Russia.'
---