Here's a little trivia: Passionate kissing burns two calories per minute. That means that the couple who set the Guinness world record for longest kiss -- at 30 hours, 39 minutes, 27 seconds -- potentially burned about 7,356 calories between the two of them just by playing a really, really long game of tonsil hockey. They would have burned the same amount of calories going on a romantic six-hour jog.
­It's an interesting bit of kissing statistics, but most couples don't kiss for the exercise (or for a shot at the smooching world record). People kiss to churn up the little butterflies in their stomachs, to swirl their minds into a delightful oblivion -- even if just for a moment.
The perfect kiss can happen anywhere when the right people are involved. But let's face it -- some spots are especially good at seducing people into lip-locks. The couple that set the kissing world record stole their day-long kiss in the city of New York. What other romantic spots trigger kissing? And why does a ghost town make our list?
22
American Camp, San Juan Island, Washington
Duck out of sight into secluded, sheltered coves or hide together in the tall grass. No one will see you, except for perhaps one of the rabbits. American Camp at the windswept southern end of San Juan Island doesn't let up on spectacular scenery or hidden spots. Find your own little beach and savor views of the Olympic Peninsula and Cascade Mountains. Between kisses, watch for orcas breaching in Puget Sound.
21
Barboursville Vineyards, Virginia
Raise a toast to the state motto -- "Virginia Is for Lovers" -- at this vineyard and winery nestled in the foothills of the Blue Ridge Mountains. As if sipping wine at a lovely vineyard wasn't enough to captivate your romantic attention, there are also enchanting ruins to explore. The remains of an early 19th-century mansion designed by Thomas Jefferson are tucked away in the boxwoods.
20
McDonald Observatory, Texas
Like everything else in Texas, the night sky is big... and up in these parts it's darker than cowboy coffee -- choice conditions for stargazing and kissing. At this remote observatory, starry-eyed lovers intent on romance can look toward the heavens for some unexpected celestial surprises but also find earthly delights. Relish romantic moments far from civilization (the nearest major town is 160 miles away), and be sure to wish upon a lone star.
19
Landsford Canal State Park, South Carolina
It's not Venice, and canoes aren't gondolas, but you can glide along with the same romantic notions at this charming state park. Canoe the Catawba River canals or simply stroll along the riverside trails. Whichever mode of transport suits your style, the surroundings won't cease to amaze. Stone bridges, canal locks, and an old mill add a touch of history, while the rare spider lilies that bloom along the rocky shoals give a sense of the exotic.
18
Providence Athenaeum, Rhode Island
Amidst the library stacks, there's romance and history . . . but not just in the books. Edgar Allan Poe spent hours hidden away in this 1838-era building reading poems to his love, Sarah Whitman. Choose your favorite love poem and tuck back into the stacks together for some riveting recitation of passionate passages.
17
McConnell's Mill Bridge in McConnell's Mill State Park, Pennsylvania
Back in horse-and-buggy days, a young fella could steal plenty of kisses as he and his sweetie rode underneath a long covered bridge, hence the nickname "kissing bridges." Pennsylvania boasts 213 such bridges, and a favorite is McConnell's Mill Bridge spanning scenic Slippery Rock Creek. At 96 feet long, there are plenty of kisses to be had while slowly traveling through.
16
The Richland Carousel, Ohio
Love makes the world go 'round, so keep on spinning by kissing aboard one of the carousel's ornate animals. This indoor merry-go-round keeps hearts and hands toasty in the winter, and when things heat up in the summer, an airy breeze cools lovers as they twirl into the sunset.
15
Lake Metigoshe, North Dakota
Straddling the U.S.-Canadian border, Lake Metigoshe is as far north as you'll get in the state... making it the prime place to watch the northern lights dance or the Milky Way sparkle while bundled together in a blanket. There are no crowds to interfere with romance and no bright city lights to hinder stargazing.
14
White Sands National Monument Moonlight Walk, New Mexico
Moonlight has never before exerted such an attraction for lovers. When the moon's out in full force, these gypsum sand formations -- the largest in the world -- glow. Stroll hand-in-hand under the brilliant New Mexico night sky and steal a kiss under the approving eye of the man in the moon.
When it comes to wooing your beloved, Cape May delivers all that's needed. During the day, stroll together through the area's numerous gardens and wildlife sanctuaries or beachcomb for Cape May's famous "diamonds" -- pieces of quartz polished by the waves. Savor the romance with a horse-drawn carriage ride through the gaslit streets of the old Victorian town.
12
Pitcher Mountain Trail, New Hampshire
Grab a small jug of New Hampshire's famous cider in nearby Stoddard, then stroll past blueberry fields and grazing Scottish Highland cattle to reach the summit of Mount Pitcher. The bald, flat mountaintop boasts the "softest rock in New Hampshire" for picnics and offers head-twirling views of the Presidential Range, the Berkshires, and Vermont foothills. The 15-minute hike is easily accessible, and encountering another couple is considered a crowd.
Spark the romantic kindling in this tiny, fiery desert state park, located an hour from Las Vegas. Hide in the narrow arroyos, cuddle underneath overhanging rock formations, or spread out on the slickrock with only lizards to keep you company. There are numerous hiking trails, many with peekaboo views of Lake Mead.
10
Meadville Ghost Town, Nebraska
No spooks out here, just simple solitude, a slice of history, and a charming general store. Meadville isn't exactly easy to reach, but therein lies its quiet allure. Once you've made it, explore the blacksmith shop, farmhouse, and the 1890 cabin used by newlyweds in the days before honeymoon suites. At the renovated general store -- the only business for miles -- warm up by the wood-burning stove, sip wine, and share an old-fashioned smooch.
9
Ruins of Windsor, Mississippi
Hauntingly romantic and oh-so-southern, the largest antebellum mansion in Mississippi still captivates lovers despite its ruined status. Twenty-three massive Corinthian columns are all that remain of this Civil War survivor. (A careless smoker caused the mansion's demise in 1890.) Stroll the lush grounds together and imagine days "gone with the wind"... and fire.
8
Haakwood State Forest Campground, Michigan
Howl at the moon and snuggle under the stars for a bit of rugged romance in this remote part of the state. For a taste of civilization, hop into the car and drive along Lake Michigan's coastline to watch the sun's last show of the day.
7
Cumberland Falls, Kentucky
Bring a flashlight, hold hands, and venture deep into the woods to cast your eyes upon a romantically rare and unforgettable moonbow. A moonbow is a lunar rainbow that occurs at night, and Cumberland Falls (dubbed the "Niagara of the South") serves up this optical phenomenon on clear, moon-bathed nights. There's no pot o' gold at the bow's end, but the romantic reward of a moonlit kiss should prove satisfying enough.
6
Chicago's Navy Pier Ferris Wheel, Illinois
Take to the sky to smooch! Nighttime is prime time to whirl around, snuggled together on a swinging seat, and view Chicago's fabulous skyline from this 150-foot-tall Ferris wheel.
5
Na Pali Coast State Park, Hawaii
Heaven and Earth merge at this exquisite state park, located on the untamed northern side of Kauai. Journeying by foot (the only way to go) into the verdant rainforests and deep valleys flanked by mile-high cliffs is like stepping into untouched Hawaii. There's nothing here but you and nature. Whisper "Aloha" to each other at one of the secret crescent beaches that dot the shoreline, many perfect for a little au naturel action.
A sun-kissed beach certainly qualifies as a smooching spot, but if lovers want more drama, Amelia Island delivers. More than just sand and surf, the island increases the pucker-up potential with delights of the Deep South: gnarled oak trees dripping with Spanish moss, footbridges crisscrossing windswept dunes, and wide, unspoiled Atlantic beaches. Study the birds and the bees while kayaking through gentle tidal creeks where egrets and herons await.
3
San Juan Skyway, Colorado
Reach the height of romance on this high and mighty scenic loop in south central Colorado. The 14 summits along the route -- all above 14,000 feet -- lead lovers toward the sky and to unsurpassed vistas. Even at lower elevations, there's no romantic letdown. The old mining towns of Durango, Telluride, and Silverton -- all mother lodes of romantic ambience -- highlight this 236-mile stretch of highway.
2
Mendocino Headlands State Park, California
If the town of Mendocino wasn't tantalizing enough for romance, there's the adjacent state park where kissing spots are as common as tidal pools. Explore gentle pathways leading along rugged coastline to secluded beaches, hidden grottoes, and sea arches. On foggy days, a cool mist caresses cheeks and lips, so snuggle up to stay warm.
1
Verde Hot Springs, Arizona
Hot passions won't cool off at these secluded hot springs. Wintertime water temperatures reach 96ºF and soar higher in summer. Soak in pools fit for two or in seclusion underneath cliff overhangs.
CONTRIBUTING WRITERS:
Helen Davies, Marjorie Dorfman, Mary Fons, Deborah Hawkins, Martin Hintz, Linnea Lundgren, David Priess, Julia Clark Robinson, Paul Seaburn, Heidi Stevens, and Steve Theunissen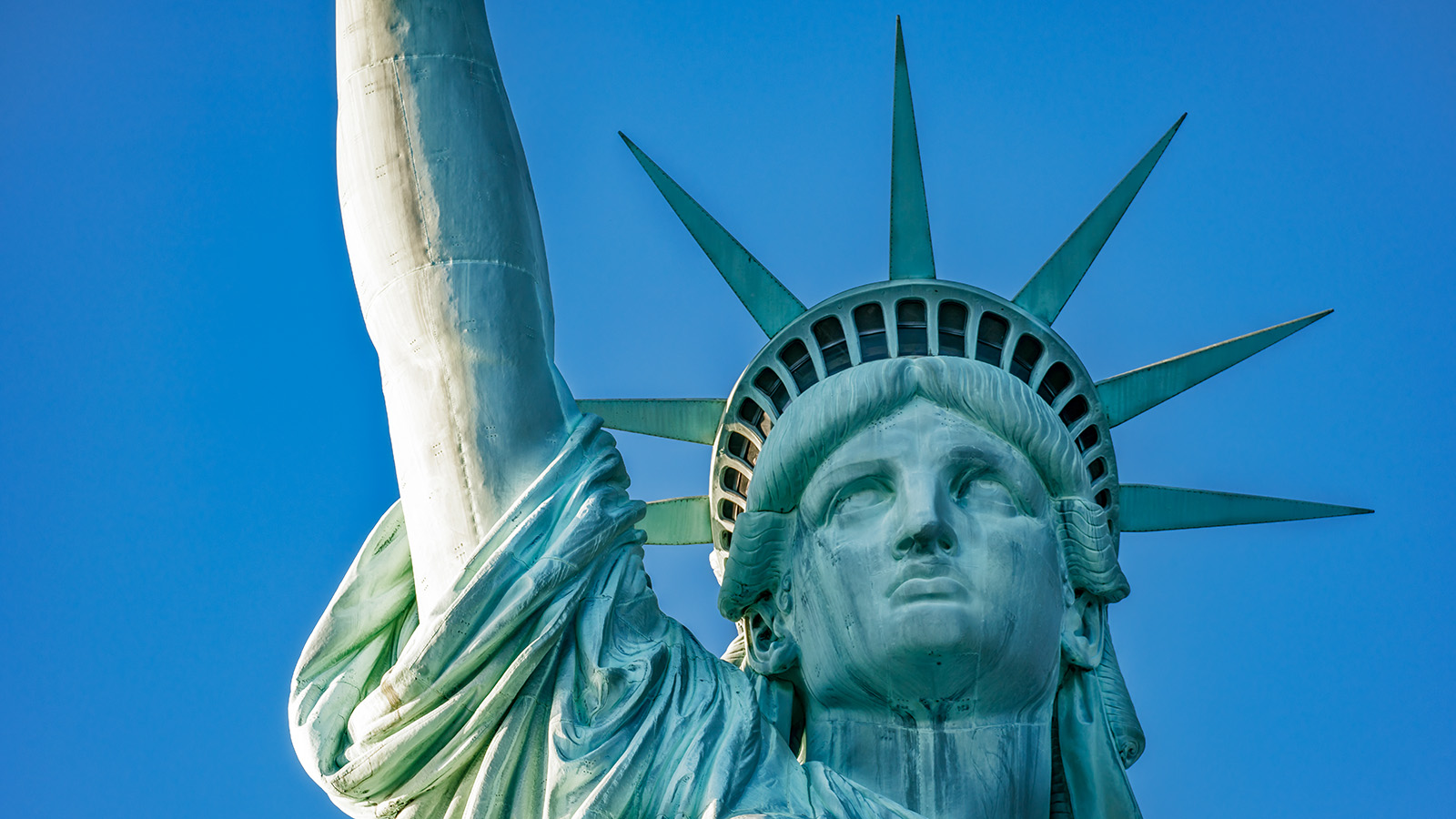 Up Next
The Statue of Liberty was given to the U.S. by France to symbolize freedom. HowStuffWorks breaks down some fun facts about this symbolic statue.
---
Related HowStuffWorks Articles