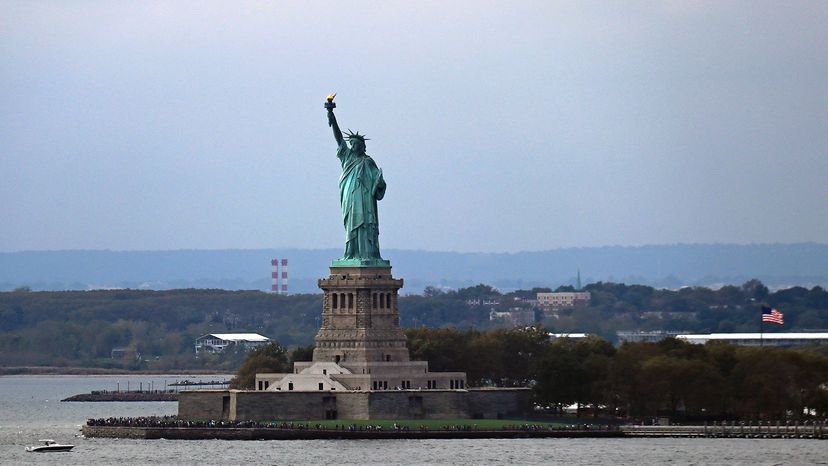 The Statue of Liberty is a massive copper sculpture gifted from France to the United States in 1886.
Zen Rial/Getty Images
Since being dedicated by President Grover Cleveland on Oct. 28, 1886, the Statue of Liberty has been recognized across the world as a beacon of freedom. It was conceived in the 1860s by French antislavery activist Édouard de Laboulaye. He enlisted French sculptor Frédéric Auguste Bartholdi who wanted to create a magnificent monument that would represent an alliance between America and France — one that symbolized freedom and liberty for people all over the world.
Today the Statue of Liberty sits on Liberty Island in New York Harbor facing southeast where she has stood as a welcoming symbol for visitors and immigrants for more than a century. ­Check out the list below to learn more about Lady Liberty's story, including how she was paid for, who protested her dedication in 1886 and how you can visit her today.
1. Her Designers Were Ambitious
Lady Liberty was designed by a French sculptor named Frédéric Auguste Bartholdi who enlisted the help of structural engineer Alexandre Gustave Eiffel (he also was behind the structural engineering of Eiffel Tower) to make the massive piece a reality. The model for the face of the statue is thought to be the sculptor's mother, Charlotte Bartholdi.
2. Construction Wasn't Easy
Construction on the statue began in France in 1875. Bartholdi's original goal was to complete the statue by 1876, in time for the centennial of the American Declaration of Independence. But the statue wasn't completed until July 1884. It was delivered from France in 350 pieces to New York Harbor in June 1885.
3. "The New Colossus" Helped Pay for Her
The poem "The New Colossus" is etched into a bronze plaque located in the pedestal of the Statue of Liberty. The words "Give me your tired, your poor, your huddled masses yearning to breathe free" that we've come to equate with the Statue of Liberty are part of this sonnet, written in 1883 by fifth-generation American Jew Emma Lazarus. She wrote the poem at the request of a friend to be auctioned off to help raise funds for the statue's pedestal.
4. She Has a Lot of Names
The Statue of Liberty has a full, proper name: The Statue of Liberty Enlightening the World. But you probably know her as the Statue of Liberty or Lady Liberty. But she also goes by Aunt Liberty, Green Goddess, Lady of the Harbor and Mother of Freedom.
5. Americans Were Slow to Embrace Her
It took years to raise the funds to support Bartholdi's massive statue. That's one reason the construction and assemblage of the project dragged on for more than a decade. American suffragettes even protested the Statue of Liberty's unveiling in October 1886. The groups denounced this new enormous female statue that would represent liberty, when American women had no right to vote.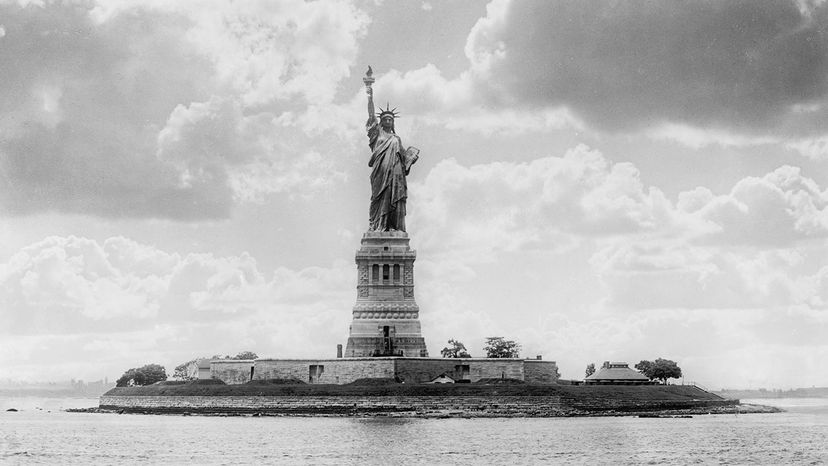 Many Americans were slow to warm to the massive new statue in New York Harbor (seen here circa 1905).
LOC
6. She's Taller Than Many Buildings
Lady Liberty is massive. She stands 111 feet (34 meters) tall, and reaches 305 feet (93 meters) if you include her pedestal and torch. That's the equivalent height of a 22-story building.
7. Don't Joke About Her Weight
Lady Liberty's not only tall, but she also weighs a ton, too. Well 31 tons (28 metric tons) to be exact. All the weight is from her iron-and-steel frame skeleton and from the 300 layers of hand-hammered copper coating that is 3/32 inches thick (about 2.5 millimeters). That's about the same thickness as two pennies placed together.
8. Those Are Not Dainty Hands
Lady Liberty has some seriously large digits. Her hands are about 16.5 feet (5 meters) long, and her index fingers are 8 feet long (2.4 meters). Oh, and her sandals are 25 feet (7.6 meters) long, making her shoe size 879!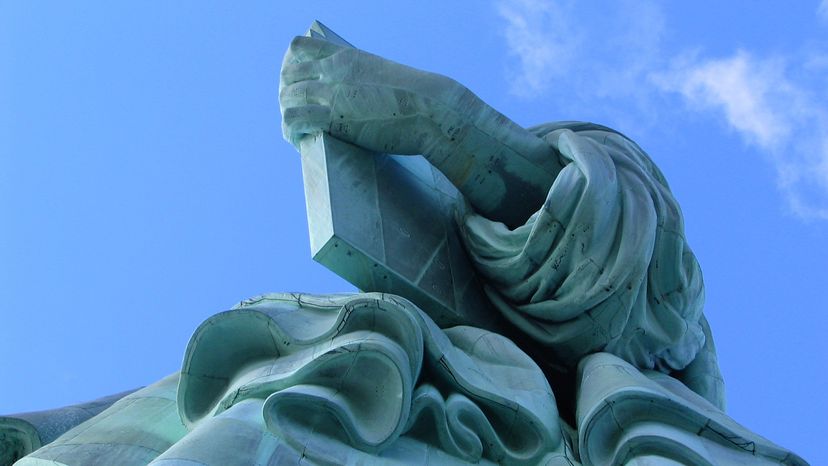 The Statue of Liberty's hands are about 16.5 feet (5 meters) long, and her index fingers are 8 feet long (2.4 meters).
NPS
9. Her Insides Are Awesome
One of the most popular attractions for tourists visiting the Statue of Liberty is climbing up her interior, all the way up to her crown, which has 25 windows overlooking New York City and the harbor. It's not a climb for the weak of heart. It's up a tight spiral staircase, but those who take it are rewarded with panoramic views of Brooklyn, as well as structural designer Alexandre Gustave Eiffel's original supporting iron-and-steel framework.
10. Her Torch Lights the Way
The Statue of Liberty's torch was meant to be a symbol of freedom and enlightenment, fitting for a statue that lights the path for all those who come to America. The current torch includes a copper flame covered in 24k gold. It reflects the sun's rays during the day but is lit up at night. This torch was added during the 1986 renovation. The original torch is on display at the Statue of Liberty Museum.
11. The TorchCam Has Killer Views
The torch has been closed to the public since 1916, after the Black Tom explosion of July 30, 1916. While you can't climb to the torch, you can get a virtual view of and from the torch via Ellis Island's TorchCam. It's the next best thing to being there. And you don't have to climb all those stairs.
12. She's Crowned With Symbolism
As we mentioned, visitors can climb up to the crown of the Statue and get breathtaking views of New York harbor from the 25 windows. But the crown has a lot of meaning, too. It has seven points, which are meant to be a halo, and symbolize the seven continents and seven seas. She's also wearing shackles at her feet that are broken, representing her freedom from oppression. The Statue is holding a tablet in her left hand. It's inscribed with the date July 4, 1776 in Roman numerals (July IV MDCCLXXVI). The Statue of Liberty also faces southeast, which is a strategic position for ships entering the harbor to see her as a welcoming symbol.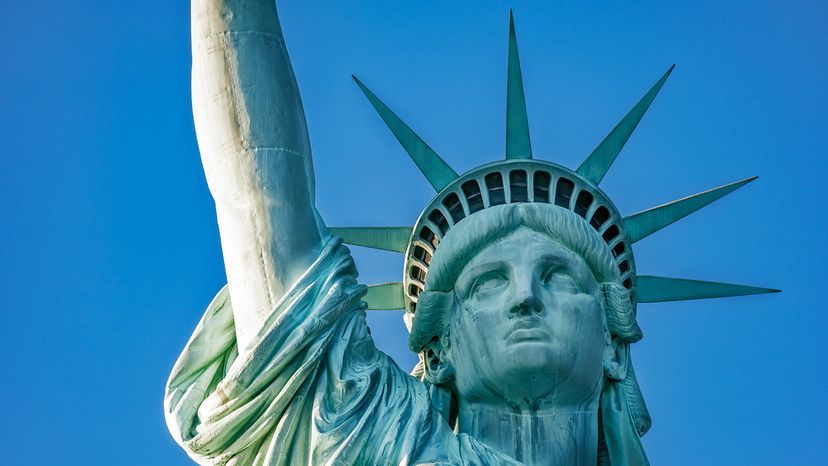 Lady Liberty's crown has seven points, which are meant to be a halo, and symbolize the seven continents and seven seas.
Achim Thomae/Getty Images
13. She Originally Shined Like a New Penny
We've already mentioned that the Statue of Liberty is coated with 31 tons (28 metric tons) of copper. So why is she green? That's because of the natural oxidation of that copper coating. When the Statue of Liberty was completed in 1886, she actually was more the color of a copper penny. But after about three decades, the oxidization took over and created the patina we know today.
14. She Once Was a Lighthouse
The Statue of Liberty did serve as a functioning lighthouse from 1886 to 1902. An electric plant on the Liberty Island generated power for the light, which could be seen as far as 24 miles (38 kilometers) away.
15. The '80s Were Her Glam Years
The Statue of Liberty underwent a multimillion-dollar renovation in the mid-1980s before being rededicated on July 4, 1986. During the renovation, Lady Liberty received that new torch we discussed, because the old one was corroded beyond repair.
16. 9/11 Closed Her for Years
After the terrorist attacks of Sept. 11, 2001, Liberty Island was closed for 100 days. And because of safety concerns, the Statue of Liberty was closed to visitors for three years. It wasn't until Aug. 3, 2004, that Lady Liberty was reopened, but only to the base of the statue. Visitors were still barred from climbing to the crown. That didn't reopen until July 4, 2009, nearly eight years after the terrorist attacks.
17. Lightning Does Strike (Her) Twice
Lady Liberty gets struck by lightning many times each year. The National Park Service actually doesn't even know how often it happens. Because she's so tall, and made of metal, it makes her quite the lightning rod standing out in the middle of New York Harbor. But it's not quite as bad as it sounds. The Statue of Liberty is also grounded because of the massive concrete and granite pedestal she stands on.
18. Paris Has Several Small-scale Replicas
A quarter-scale bronze replica of Lady Liberty was erected in Paris in 1889 as a gift from Americans living in the city. The statue stands about 35 feet (10 meters) high and is located on a small island in the River Seine not far from Eiffel Tower. The Musée d'Orsay also has a 9.4-foot-tall (2.8-meter) copy cast by Bartholdi. Another bronze replica that same size is outside the Musée des Arts et Métiers.
19. She Has a New Museum
On May 16, 2019, the National Park Service opened the Statue of Liberty Museum. It's a freestanding museum with three gallery spaces: an immersive theater, an engagement gallery and an inspiration gallery. It's also home to the Statue of Liberty's original torch.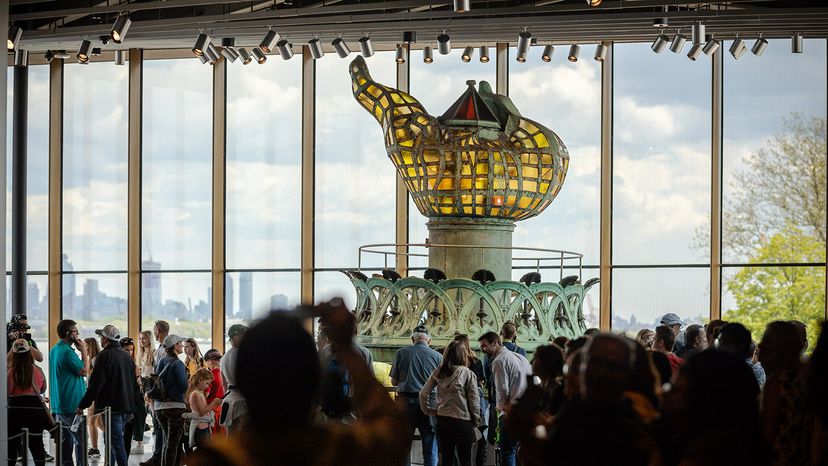 The new Statue of Liberty Museum is home to the Statue of Liberty's original torch.
Statue of Liberty Museum
20. She's an Iconic Attraction
Today, the Statue of Liberty is a major attraction for visitors from all over the world. Nearly 4.5 million people make the trip to see her each year by ferry service. Ferry tickets include access to the Statue of Liberty Museum and Ellis Island National Museum of Immigration.
Originally Published: Aug 30, 2019