The Globe Theatre famously served as the initial stage for many of William Shakespeare's plays, some famous, others forgettable. A few of the famous plays performed at the Globe included:
"Antony and Cleopatra"

"Cymbeline Shakespeare"

"Hamlet"

"Henry V"

"King Lear"

"Othello"

"Macbeth"

"Romeo and Juliet"
Shakespeare shared the limelight with a handful of other early 17th century playwrights, including John Fletcher, with whom Shakespeare is believed to have co-penned Henry VIII [source: Dawkins]. Infamously, during a production of Henry VIII in 1613, a cannon fired for theatrical effect set the roof of the Globe on fire and forced an impromptu evacuation, burning down the theater but taking no victims. The theater was rebuilt a year later to the day, but because of anti-theater politics at the time, the Globe was reportedly taken down in 1644 [source: Gurr].
A handful of theaters based on the original Globe have popped up, including permanent ones in London and Chicago. The replicas are based on a single drawing that survives from 1596 of the Swan Theatre, one of the Globe's three sister theaters in London. The drawing is the most accurate depiction of what Shakespeare's theater might have looked like [source: Shakespeare Resource Center].
For more on these famous locales and other related information, take a look at the links below.
Related Articles
More Great Links
Sources
Anderson, Jim. Photography of the Grateful Dead playing Roosevelt Stadium. Photog.com. (Oct. 1, 2011) http://www.photog.com/gdead/70s/76/Roosevelt/index.html

Balinese Room. "History of the Balinese Room." 2006. (Oct. 1, 2011) http://balineseroom.net/historyofBalinese.htm

Dalley, Stephanie. "Ancient Mesopotamian Gardens and the Identification of the Hanging Gardens of Babylon Resolved." Garden History. Vol. 21, No. 1. Summer 1993. (Oct. 1, 2011) http://www.jstor.org/pss/1587050

Dawkins, Peter. "Shakespeare Collaboration." The Francis Bacon Research Trust. July 2005. (Oct. 1, 2011) http://www.fbrt.org.uk/pages/essays/essay-shakespeare%20collaboration.html

Emerson, Jim. Editorial Review. Amazon.com. (Oct. 1, 2011) http://www.amazon.com/Con-Air-Blu-ray-Carl-Ciarfalio/dp/B000X418UO

Francis R. Treves Architect, LLC. "Redefinition of the Old Man of the Mountain, New Hampshire: HISTORY." Nhomm.com. 2010. (Oct. 2, 2011) http://www.nhomm.com/Sub.01_History.html

Gurr, Andrew. "Globe Theatre." Encyclopedia Britannica. 2011. (Oct. 1, 2011) http://www.britannica.com/EBchecked/topic/235433/Globe-Theatre

Hanging Gardens of Babylon. (Oct. 1, 2011) http://hanginggardensofbabylon.org/

Hawthorne, Nathaniel. "The Great Stone Face and Other Tales of the White Mountains." Boston: Houghton Mifflin. 1889. http://books.google.com/books?id=6nOJwP-RxxkC

Illustrated London News. "The Destruction of One of the World's Landmarks: The Drama of the Crystal Palace Fire at Its Height -- Water Jets Playing Near the South Tower, Which Threatened to Collapse." Dec. 5, 1936. (Oct. 2, 2011) http://bp1.blogger.com/_fwqjwK7vVzQ/RjDmpDrHQcI/AAAAAAAAADs/WPY9loQL6sU/s1600-h/iln-cpfire.jpg

The Institute for Advanced Technology in the Humanities, University of Virginia. "The Crystal Palace." 2001. (Oct. 1, 2011) http://www2.iath.virginia.edu/london/model/index.html

Krasner-Khait, Barbara. "Survivor: The History of the Library." History Magazine. October / November 2001. (Oct. 1, 2011) http://www.history-magazine.com/libraries.html

Internet Movie Database. "Con Air." (Oct. 1, 2011) http://www.imdb.com/title/tt0118880/trivia

Internet Movie Database: "Ocean's Eleven (1960)." (Sept. 27 2010) http://www.imdb.com/title/tt0054135/

Karnoutsos, Carmela. "Roosevelt Stadium." New Jersey City University. 2007. (Oct. 1, 2011) http://www.njcu.edu/programs/jchistory/Pages/R_Pages/Roosevelt_Stadium.htm

Library of Congress. Historical American Buildings Survey. Department of the Interior. (Sept. 27, 2010) http://lcweb2.loc.gov/cgi-bin/ampage?collId=pphhdatapage&fileName=nj/nj1000/nj1029/data/hhdatapage.db&title2=Roosevelt%20Stadium,%20State%20Route%20440%20%26%20Danforth%20Avenue,%20Jersey%20City,%20Hudson,%20NJ&recNum=0

London Daily Telegraph. "Martin Stern." Sept. 8, 2001. (Oct. 1, 2011) http://www.telegraph.co.uk/news/obituaries/1339871/Martin-Stern.html

Lyrics Domain. "ZZ Top: Balinese Lyrics." (Oct. 2, 2010) http://www.lyricsdomain.com/26/zz_top/balinese.html

Macy, Robert. "Time Runs out for the Sands." June 29, 1996. (Oct. 2, 2010) http://news.google.com/newspapers?nid=1310&dat=19960629&id=B0lWAAAAIBAJ&sjid=JesDAAAAIBAJ&pg=6417,7404371

Management Today. "How he Made his Pile: Sheldon Adelson, casino entrepreneur." Feb. 1, 2009. (Oct. 2, 2011) http://www.managementtoday.co.uk/news/876028/Made-Pile-Sheldon-Adelson-casino-entrepreneur/?DCMP=ILC-SEARCH

Manning, Mary. "Las Vegas Showgirls: Show and (a lot to) tell." Las Vegas Sun. May 15, 2008. (Oct. 2, 2011) http://www.lasvegassun.com/news/2008/may/15/showgirls-may-be-fewer-numbers-will-always-be-icon/

McDowell, Edwin. "At Trade Center Deck, Views Are Lofty, as Are the Prices." The New York Times. April 11, 1997. (Sept. 27, 2010) http://query.nytimes.com/gst/fullpage.html?res=9802EED7133CF932A25757C0A961958260

Old Man of the Mountain Legacy Fund. 2011. (Oct. 2, 2011) http://www.oldmanofthemountainlegacyfund.org/

Philo of Byzanteum. Unknown work about Hanging Gardens of Babylon. Reprinted by Alaa K. Ashmawy, Dean of Engineering at American University in Dubai. Site: authenticwonders.com. (Sept. 27, 2010) http://web.archive.org/web/20100430014754/http://www.authenticwonders.com/Wonders/gardens.html

Rice, Harvey. "Riding on the waves of change." Houston Chronicle. Jan. 2, 2010. (Oct. 2, 2011) http://www.chron.com/disp/story.mpl/metropolitan/6795188.html

Shakespeare's Globe Center (USA) Research Archive. University of Maryland. Updated Nov. 16, 1999. (Oct. 2, 2011) http://www.sgc.umd.edu/

State of New Hampshire. "The Old Man of the Mountain Memorial." 2006. (Oct. 2, 2011) http://www.nh.gov/visitors/oldman.htm

The Shakespeare Globe Trust. London. 2010. (Oct. 2, 2011) http://www.shakespeares-globe.org/

Tsao, Emily. "Galveston's Balinese Room washed away by Ike." Dallas News. Sept. 13, 2008. (Oct. 2, 2011) http://weatherblog.dallasnews.com/archives/2008/09/galvestons-balinese-room-washed-away-by.html

United States Mint. "New Hampshire State Quarter -- 2000." (Oct. 2, 2011) http://www.usmint.gov/historianscorner/?action=coinDetail&id=29223

Waxmann, Laura. "Frugal foodies flock to Cliff House." Golden Gate X-Press. (Oct. 2, 2011) http://xpress.sfsu.edu/archives/arts/013454.html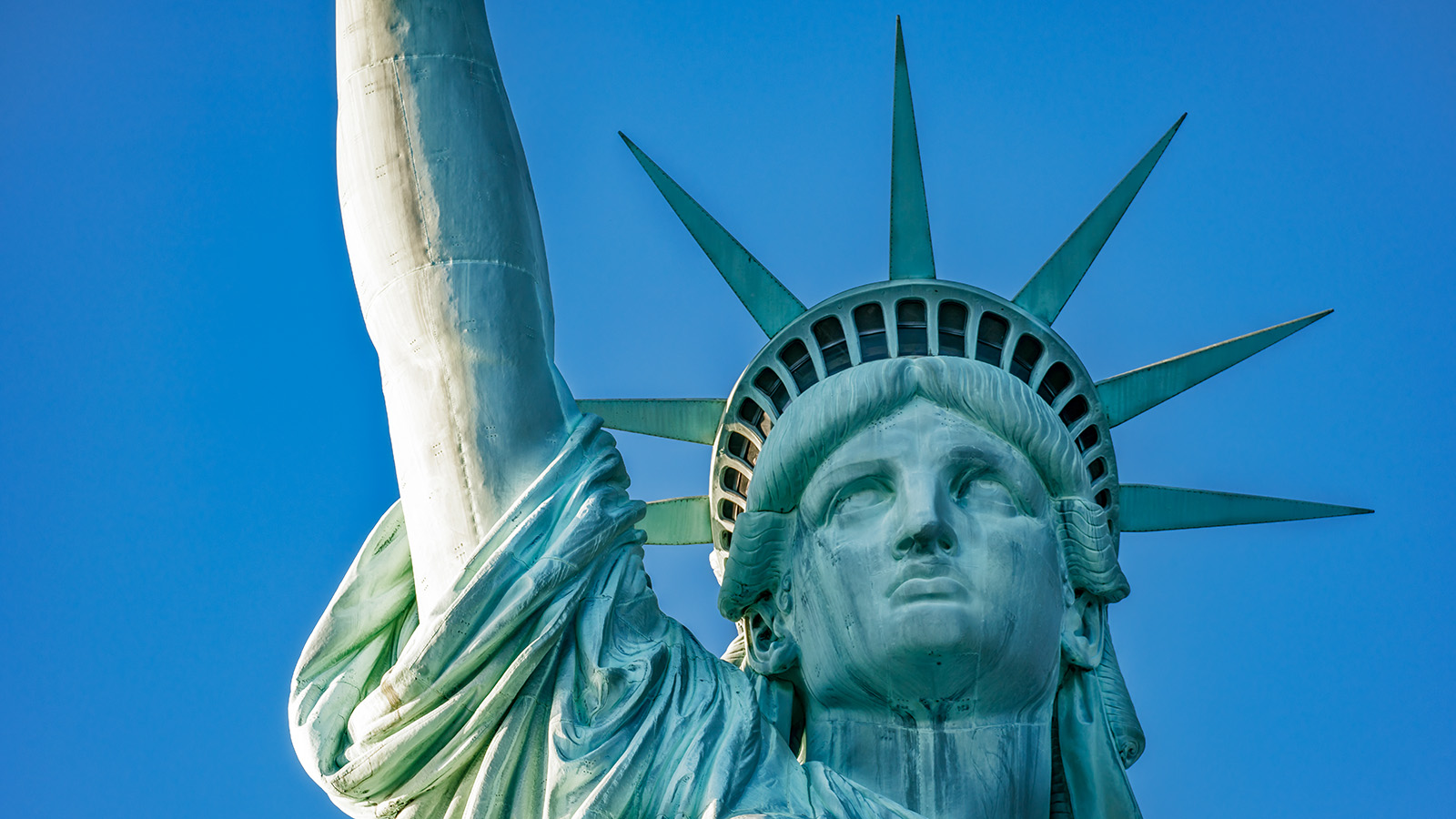 Up Next
The Statue of Liberty was given to the U.S. by France to symbolize freedom. HowStuffWorks breaks down some fun facts about this symbolic statue.
---