1
Maharajas' Express in India
People often compare traveling on the Maharajas' Express to a luxury cruise on land. You make the trip from Bombay to Delhi in total comfort. India has a number of luxury train lines, but as of this writing, the Maharajas' Express is the newest and most opulent.
Whenever passengers enter or exit the train, the Maharajas' Express literally rolls out the red carpet. The staff on the train wears traditional Indian dress complete with turbans. The carriages feature rich details, and the train's passenger cabins all have individual air conditioning, TVs, DVD players and Internet access.
Passengers on this eight-day train trip get the royal treatment. It stops often for tours and museum visits, and you even get to share meals and high tea with different maharajas. During a stop in Jaipur, you get to play polo while riding on an elephant's back. Later in the trip, there's a planned photo opportunity with a tiger. Of course, no royal tour of India would be complete without a visit to the Taj Majal.
For more about riding the rails and other topics, make an excursion over to the next page.
Related Articles
More Great Links
Sources
Baca, Ricardo. "A great train ride through Australia." Denver Post. March 23, 2010. (Nov. 21, 2011) http://www.denverpost.com/travel/ci_14710195

BBC News. "In pictures: Qinghai-Tibet Railway." July 1, 2006. (Nov. 21, 2011) http://news.bbc.co.uk/2/hi/in_pictures/5128684.stm

The Blue Train. "The Blue Train Experience." (Nov. 21, 2011) http://www.bluetrain.co.za/experience.htm

Engle, Jane. "Amtrak's Coast Starlight train classes up its act." Los Angeles Times. June 11, 2008. (Nov. 21, 2011) http://qa.travel.latimes.com/daily-deal-blog/index.php/amtraks-coast-starli-2029/

Eurail. "Bernina Express (Switzerland)." (Nov. 21, 2011) http://www.eurail.com/eurail-scenic-bernina-express

Exploring Ecuador. "Chiva Express Train Tour." (Nov. 21, 2011) http://www.exploringecuador.com/en_ar_chiva_express.htm

Hutchinson, Alex. "World's Fastest Train You Can Ride Dumps Energy Like a Prius." Popular Mechanics. Oct. 1, 2009. (Nov. 21, 2011) http://www.popularmechanics.com/science/4219935

Hynson, Colin. "A History of Railroads." Milwaukee, Wisc.:Gareth Stevens Publishing. 2006.

Kerr, Michael. "India's Maharajas' Express rail journey." The Telegraph. May 22, 2010. (Nov. 21, 2011) http://www.telegraph.co.uk/travel/journeysbyrail/7748567/Indias-Maharajas-Express-rail-journey.html

Ladatco Tours. "Chiva Express: Quito-Cuenca." (Nov. 21, 2011) http://www.ladatco.com/EC%20UIO-Chiva%20UIO-CUE.htm

Lambert, Anthony. "Switzerland: Rail, Road, Lake." Guilford, Conn.: The Globe Pequot Press Inc. 1996.

Okamoto, Isao. "Shinkansen Bogies." Japan Railway and Transport Review. Vol 6. pp. 46-53. March 1999. (Nov. 21, 2011) http://www.jrtr.net/jrtr19/pdf/Technology.pdf

Rhatische Bahn. "Bernina Express - From Glaciers to Palms." (Nov. 21, 2011) http://www.rhb.ch/index.php?id=33?&L=4

Smith, Mark. "Venice-Simpon Orient Express." The Man in Seat Sixty-One. October 2011. (Nov. 21, 2011) http://www.seat61.com/Venice-Simplon-Orient-Express.htm

Southerden, Louise. "To the Roof on Rails." The Sydney Morning Herald. April 2, 2010. (Nov. 21, 2011) http://www.smh.com.au/travel/to-the-roof-on-the-rails-20100330-raew.html

VIA Rail Canada. "Toronto-Vancouver Train -- Overview." (Nov. 21, 2011) http://www.viarail.ca/en/trains/rockies-and-pacific/toronto-vancouver-canadian

Wolman, David. "Train to the Roof of the World." Wired. July 2006. (Nov. 21, 2011) http://www.wired.com/wired/archive/14.07/chinarail.html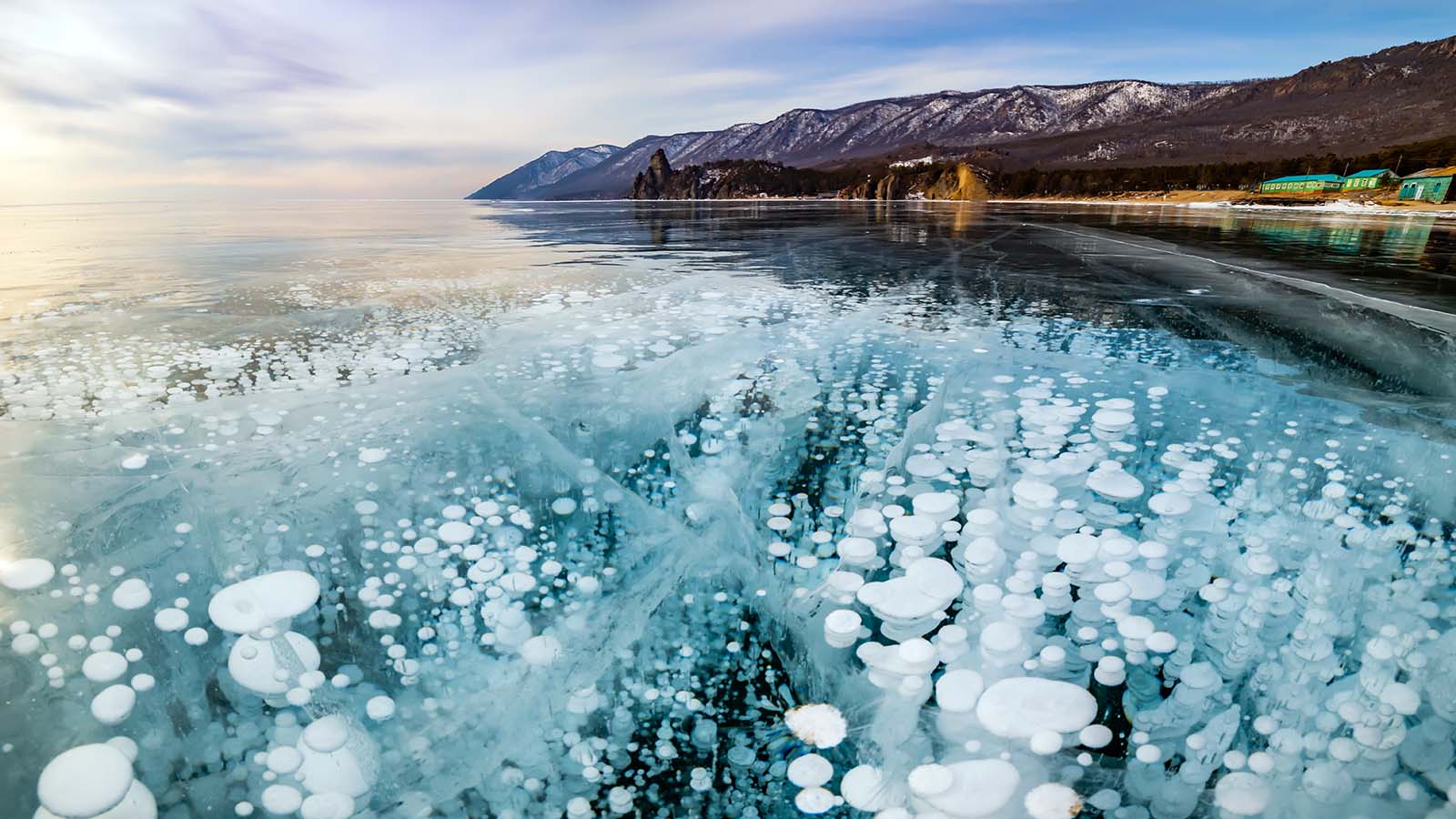 Up Next
Lake Baikal is a massive, ancient lake in Siberia. It's home to nearly 4,000 different species, earning it the nickname the 'Galapagos of Russia.'
---