1
Remember to Enjoy the Experience
This might sound like a no-brainer, but think about it. How many times have you been on a "fun" excursion only to have the joy extinguished by one person's neurosis, complaints, slavish devotion to the itinerary, disorganization, laziness (insert your own traveling pet peeve here)?
If you answered more than "zero," congratulations, you're normal! Still, you don't want that on an adventure cycling trip, where you might have to put up with someone for weeks or months on-end. While you can't necessarily control other people's behavior, you can focus yourself on appreciating each moment of your adventure cycling trip.
When stress intrudes -- someone's chain breaks, or a sign tells you it's 30 miles (48 kilometers) to your next encounter with civilization, those are perfect moments to laugh, snap a photo or roll your video camera. Life (and vacation photos) without some tension is boring!
Take advantage of the abundant reflection time in the saddle. We live today in an over stimulated world, where it's hard to pay attention to any one thing. On an adventure cycling trip, you'll enjoy long stretches where the only inputs are the sun and wind on your face, the view of the countryside rolling by, and the sounds of your own breathing accompanied by a background chorus of birds and insects. You'll be free to daydream or think about nothing at all.
When the trip comes rolling to an end, you will have returned, literally a changed person: enriched by exposure to a different culture, more appreciative of our natural environment, and imbued with a sense of pride at your achievement.
Author's Note: 10 Tips for Adventure Cycling Trips
Many people go on vacation to relax, only to endure major stress a month later when the credit card bill comes due. When you tally the costs of transportation (both getting to the destination and getting around once you're there), lodging, meals and excursions, the cost of getting away from it all really starts to add up. To add physical insult to financial injury, there's also the possibility the pounds could add up as well -- from all that liberal vacation eating with little exercise.
"Adventure" cycling offers antidotes to all these problems that more traditional leisure travel presents. For one, it doesn't take a big budget to get started. For another, being on a bike provides you mobility and independence. And if anything, you'll likely end your trip in better physical shape than when you began. On top of all that, it's environmentally friendly.
Over the years, I've ridden, loved, lost, abused, rehabilitated and communed with countless bicycles, but never built a vacation around one. Learning the tips and stories of so many resourceful and intrepid cyclists for this article showed me you don't need a bunch of hoity-toity equipment or unlimited time off to enjoy the adventure of a lifetime. As someone often in need of a vacation but with just modest means for taking one, adventure cycling sounds just my speed.
Related Articles
Sources
Adventure Cycling Association. "Supported Tours." (June 10, 2012) http://www.adventurecycling.org/tours/tourdescription.cfm?id=999902&menu=ev&t=ev&gclid=CJqOoNKt2LACFYeo4AodSnbM1w

American Association of State Highway and Transportation Officials. "AASHTO Committees Approve New U.S. Bicycle Routes." May 21, 2012. (June 11, 2012) http://news.transportation.org/press_release.aspx?Action=ViewNews&NewsID=437

Barnes, Tim. "Choosing a Bike -- Expedition Bikes." The Adventure Cycling Guide. 2007. (June 13, 2012) http://www.adventure-cycling-guide.co.uk/bike5.htm

Barnes, Tim. "Choosing a Bike -- Technical Guide." The Adventure Cycling Guide. 2007. (June 11, 2012) http://www.adventure-cycling-guide.co.uk/bike2.htm

Barnes, Tim. "Introduction to Adventure Cycling." The Adventure Cycling Guide. 2007. (June 11, 2012) http://www.adventure-cycling-guide.co.uk/about.htm

Diskin, Larry. "Choosing a Bike for the Great Divide." Adventure Cycling Association. (June 10, 2012) http://www.adventurecycling.org/features/bikeforthedivide.cfm

Diskin, Larry. "Choosing a Touring Bike for the Road." Adventure Cycling Association. (June 10, 2012) http://www.adventurecycling.org/features/bikefortheroad.cfm

Gorman, Jim and Howells, Robert Earle. "Bike the Continental Divide Trail, Multistate." National Geographic. March/April 2009. (June 11, 2012) http://adventure.nationalgeographic.com/adventure/trips/americas-best-adventures/bike-continental-divide-trail/

Hostetter, Kristin. "Ask the Expert: Real GPS Unit vs. Smartphone GPS Apps." Backpacker.com. February 2012. (June 13, 2012) http://www.backpacker.com/gear/ask_kristin/319

Mayo Clinic. "Water: How much should you drink every day?" (June 14, 2012) http://www.mayoclinic.com/health/water/NU00283

McLean, Juliette and McLean, Mark. "Information for cycle tourists." McCleans' personal web site. (June 7, 2012) http://www.mark-ju.net/bike_ride/countries/index.htm

Sathre-Vogel, Nancy, and Vogel, John. "Journal from biking the PanAmerican Highway from Alaska to Argentina." Familyonbikes.org. March 20, 2012. (June 10, 2012) http://familyonbikes.org/blog/journal/journal-entries/

Sathre-Vogel, Nancy. "Gatorade Angels: Random acts of kindness." Familyonbikes.org. Jan. 31, 2012. (June 10, 2012) http://familyonbikes.org/blog/2012/01/gatorade-angels-random-acts-of-kindness/

Symmes, Patrick. "Who Pinched My Ride?" Outsideonline.com. Jan. 9, 2012. (June 10, 2012) http://www.outsideonline.com/outdoor-adventure/biking/Who-Pinched-My-Ride.html?page=all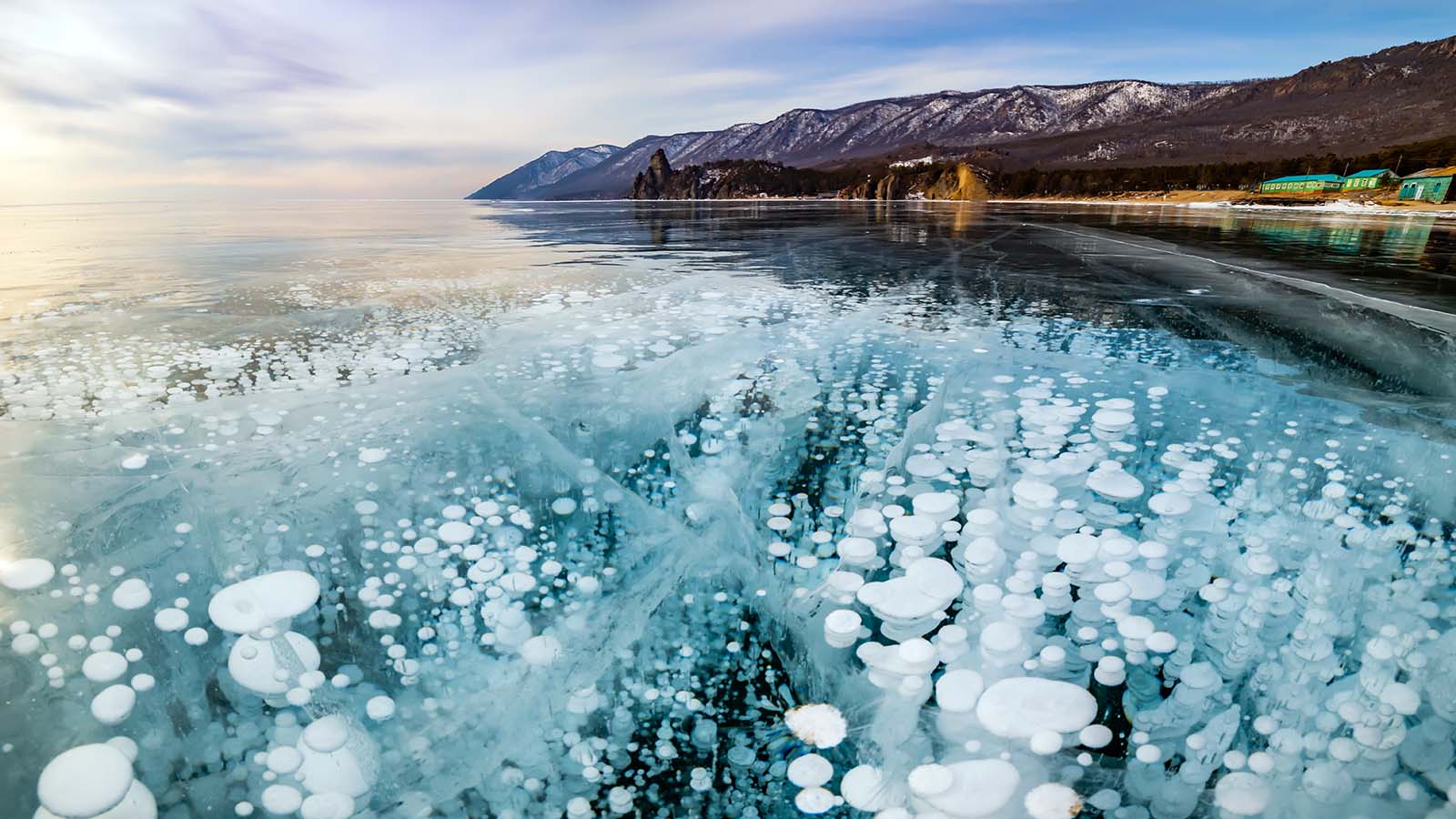 Up Next
Lake Baikal is a massive, ancient lake in Siberia. It's home to nearly 4,000 different species, earning it the nickname the 'Galapagos of Russia.'
---