1
Great Glen Canoe Trail, Scotland
We wrap up our worldwide tour with a destination for canoeists who like their outdoor adventure seasoned with a dash of city life and culture. The Great Glen Canoe Trail takes you across the Scottish Highlands from Fort William in the west to Inverness near the northeastern coast. Of the Trail's 60 miles (96 kilometers), 40 miles (64 kilometers) traverse the country's lochs (lakes), including Loch Ness, reputed home of the Loch Ness Monster. The remainder is on connecting canals.
The Highlands are known for their rugged beauty. Broad, tranquil waterways pass through rolling, verdant hills and unkempt fields of wildflowers. Mist-shrouded mountains rise in the distance. For added adventure, bypass the portages and take to the rivers.
The Trail takes about five days to paddle, but you'll want to allow time for other attractions. You might take a day to tour the 1,500-year-old Urquhart Castle that overlooks Loch Ness, for example. Or, get cleaned up for an evening at Inverness' Eden Court. The state-of-the-art theater hosts musical, dance and dramatic performances, and its restaurant serves a gourmet menu with an emphasis on local foods, including lamb, haddock and the legendary Scottish haggis. Given this steamed pudding's esteemed status in Scottish lore, some people consider eating it an adventure in its own right.
Author's Note: 10 Places to Take a Canoe Adventure Journey
Much like planning a real round-the-world trip, trying to pick out just 10 destinations for this list was exhausting. Each one sounds better than the last. And most of them aren't well-known except to the people who live there. It's another reminder that just about every place on Earth has beauty and appeal all its own.
Related Articles
Sources
AmericanWhitewater.org. "Tellico, Tennessee, U.S." (June 25, 2012) http://www.americanwhitewater.org/content/River/detail/id/1791/

Baobab Travel. "Mozambiqu -- Places to Stay: Explore Moja Wilderness Mobile Camp." (June 25, 2012) http://www.baobabtravel.com/destinations/mozambique/places_to_stay/explore_moja_wilderness_mobile_camp/

Bedard, Luc. "Canada's Nahanni River A Solo Paddle in Canada's Northwest Territories." Jan. 23, 2008. (June 25, 2012) http://www.canoekayak.com/canoe/nahanni-river-canoe-solo-paddle/

Bienvenu, Marcelle. "Smothered with Success." Acadiana Profile. February-March 2011. (June 25, 2012) http://www.acadianaprofile.com/Acadian-PProfile/February-March-2011/Smothered-With-Success/

Belize.com. "Baron Bliss -- Belize's Greatest Benefactor." (June 25, 2012) http://www.belize.com/baron-bliss

Belize.com. "La Ruta Maya Belize Canoe Race." (June 24, 2012) http://www.belize.com/la-ruta-maya-belize-canoe-race

Bradtke, Birgit. "Katherine Gorge Canoe Hire." Outback Australia Travel Guide. (June 25, 2012) http://www.outback-australia-travel-secrets.com/katherine_gorge_canoeing.html

Canadian Heritage Rivers System. "South Nahanni River." (June 25, 2012) http://www.chrs.ca/Rivers/SouthNahanni/SouthNahanni-F_e.php#

Canoe Saskatchewan. "Rapids Classification." (June 24, 2012) http://www.canoesaskatchewan.rkc.ca/rapids.htm

Canoeing.com. "Canoe Terminology." (June 24, 2012) http://www.canoeing.com/canoes/terminology/

Canoeing.com. "Canoe Materials." (June 25, 2012) http://www.canoeing.com/canoes/choosing/materials/htm#royalex

Canoeing.com. "Types of Canoes." (June 24, 2012) http://www.canoeing.com/canoes/choosing/types.htm

Central Intelligence Agency. "The World Fact Book." https://www.cia.govlibrary.publications/the-world-factbook/geos/bh.html

City of St. Martinville. "Frequently Asked Questions." (June 25, 2102) http://www.stmartinville.org/questions.html

City of Venice. "Vogalonga: May 27, 2012." (June 24, 2012) http://www.commune.venezia.it/flex/cm/pages/ServiceBLOB.php/L/EN/IDPagina/55820

Eden Court. "About Eden Court." (June 25, 2012) http://www.eden-court.co.uk/tickets-and-information/

Eden Court. "Eating and Drinking." (June 25, 2012) http://www.eden-court.co.uk/tickets-and-information/eating-drinking/

Gaither, Carl C., and Alma E. Cavazos-Gaither. "Gaither's Dictionary of Scientific Quotations." Springer Science + Business Media, LLC. New York. 2012. http://www.amazon.com/Gaithers-Dictionary-Scientific-Quotations-v/dp/0387495754

Gilbert, Sarah. "The Elephant Who Came to Tea." The Guardian. Jan. 30, 2009. (June 25, 2012) http://guardian.co.uk/travel/2009/jan/31/mozambique-safari

Grace, John. "Ain't Louie Fest." CanoeKayak.com. April 2, 2011 (June 25, 2012) http://www.canoekayak.com/canoe/aint-louie-fest/

Great Glen Canoe Trail. "Great Glen Canoe Trail: Full Trail." (June 25, 2012) http://greatglencanoetrail.info/plan-a-paddle/full-trail-info/

Hennig, Rainer. "Northern Mozambique Becomes 'Charter' Destination." afrol News. June 20, 2011. (June 24, 2012) http://www.afrol.com/articles/13418

Himalaya Journeys. "Kayaking & Canoeing in Kashmir." (June 24, 2012) http://www.incrediblehimalayas.com/kayaking-canoing-kashmir.html

Hindman, Nathan. "Classic Expedition: La Ruta Maya." Oct. 29, 2010. (June 25, 2012) http://pangaea-expeditions.com/classic-expedition-la-ruta-maya/

Historic Scotland. "Urquhart Castle." (June 25, 2012) http://www.historic-scotland.gov.uk/propertyresults/propertyabout.htm?PropID=pl_297&PropName=Urquhart Castle

Imboden, Cheryl, and Imboden, Durant. "San Marco by the Numbers." Venice for Visitors. (June 24, 2012) http://europeforvisitors.com/venice/articles/san_marco_by_the_numbers.htm

Keswani, Sumeet. "MP Teams Strike Gold at Canoe Polo Event." The Times of India. May 6, 2012. (June 25, 2012) http://articles.timesofindia.indiatimes.com/2012-05-06/delhi/31596827_1_kayaking-andcanoeing-polo-jammu-and-kashmir

Kocieniewski, David. "On Venice's Grand Canal in a Kayak." The New York Times. June 1, 2008. (June 24, 2012) http://travel.nytimes.com/2008/06/01/travel/01journeys.html?pagewanted=all

Machan, Teresa. "Kayaking in Venice: Who Needs a Gondola?" The Guardian. Sept. 25, 2009. (June 24, 2012) http://www.guardian.co.uk/travel/2009/sep/26/kayaking-venice-city-break

Mihell, Connor. "Single Bladers' Spring Break." Canoe & Kayak. March 16, 2012. (June 25, 2012) http://www.canoekayak.com/canoe/single-bladers%E2%80%99-spring-break/

Murphy, Hubert. "Anglers Catch Ancient Canoe in the Boyne." Independent.ie. June 25, 2010. (June 24, 2012) http://www.independent.ie/national-news/anglers-catch-ancient-canoe-in-the-boyne-2234534.html

Northwest Territory Natural Resources, Environment, the Arts, and Sports. Nitmiluk National Park Tour Guide Handbook. P. 29, 67, 113-114. (June 20, 2012) www.nretas.nt.gov.au/national-parks-and-reserves/manage/tour/nnpguide

Nowth.com. "Newgrange Methalitchic Pasage Tomb." (June 24, 2012) http://www.knowth.com/newgrange.htm

Parks Canada. "Nahanni National Park Reserve of Canada." (June 25, 2012) http://www.pc.gc.ca/pn-np/nt/nahanni/index.aspx

Sea Canoe Thailand. "How Did the Hongs Form?" (June 20, 2012) http://www.seacanoe.net/lagoon.htm

Sea Canoe Thailand. Video. (June 20, 2012) http://www.seacanoe.net/movie/daytrip_caveentrance.htm

Sea Canoe Thailand. Video. (June 20, 2012) http://www.seacanoe.net/movie/daytrip_insidelagoon.htm

Smith, Rebecca. "Phuket Leads Thailand Tourism Recovery." PRLOG. Aug. 23, 2010. (June 25, 2012) http://www.prlog.org/10879233-phuket-leads-thailand-tourism-recovery.html

St. Landry Parish. "Culinary Traditions." (June 25, 2012) http://cajuntravel.com/about-us.php?page=culinary-traditions

The Times of India. "Canoe Polo Event to Kick Off Today." May 3, 2012. (June 25, 2012) http://articles.timesofindia.indiatimes.com/2012-05-03/delhi/31555146_1_polo-canoeing-association-sport

Travel Kashmir. "Sonamarg." (June 25, 2012) http://travelkashmir.net/Places/Sonamarg.aspx

Zambezi Safari & Travel Co. "Off the Beaten Track in Mozambique." (June 24, 2012) http://www.zambezi.com/safari/off_the_beaten_track_in_mozambique

Zambezi Safari & Travel Co. "Niassa Reserve." (June 24, 2012) http://www.zambezi.com/location/niassa_reserve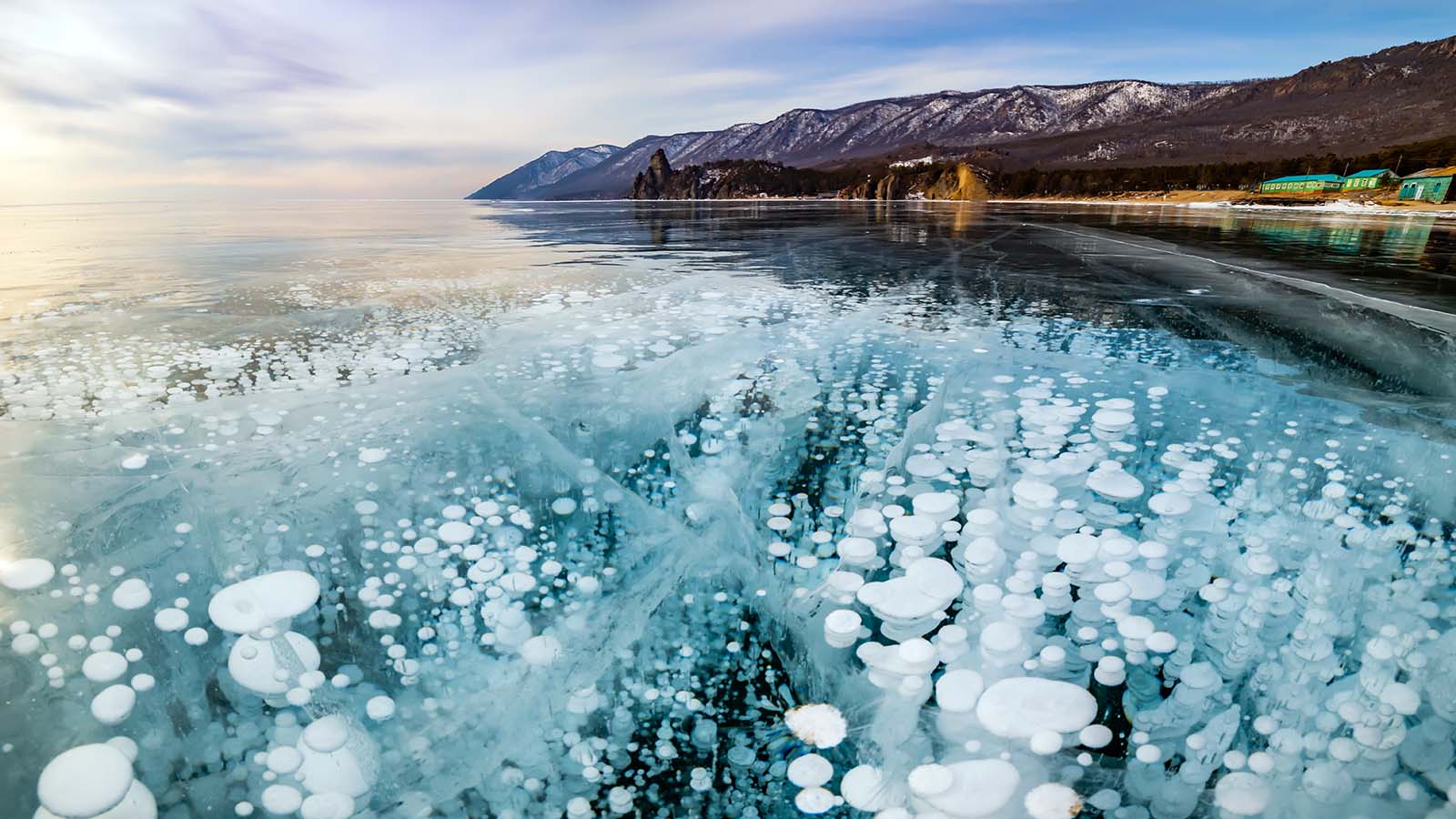 Up Next
Lake Baikal is a massive, ancient lake in Siberia. It's home to nearly 4,000 different species, earning it the nickname the 'Galapagos of Russia.'
---