Under Qiandao Lake, in Zhejiang province, China, lies Schicheng, the lost "Atlantis of the East."
Yaorusheng/Getty Images
Advertisement
For centuries, Shicheng was a bustling city in China's Zhejiang province, some 224 miles (360 kilometers) southwest of Shanghai. But in 1959, Chinese officials decided a dam and hydroelectric station needed to be built in that locale, so after relocating Shicheng's 300,000 residents, the city was flooded. And forgotten. Then, in 2001, a local tourism official proposed using the ancient city as a means of luring diving clubs. Interest in this "Atlantis of the East" quickly grew, increasing in 2011 when underwater photos of the city were published [sources: Galloway, White].
If you'd like to see Shicheng, tours are available between April and November, although you need to be a diver with deep-water, night and buoyancy experience. (Shicheng lies under roughly 100 feet [30 meters] of water.) Those who meet the criteria are in for a treat. The ancient city, which covers about 62 football fields, features ornate stonework of lions, sneering dragons and phoenixes dating from the Ming to the Qing dynasties (1368-1912). Its city walls, built around the 16th century, sport five entrance gates, not the traditional four. Amazingly, the city is quite well-preserved; wooden staircases and beams are intact, for example, along with intricate drawings. That's thanks to its watery grave, which protects it from the erosive powers of wind, rain and sun [sources: Galloway, White].
Author's Note: 10 Eerie Abandoned Cities You Can Visit
I've never visited an abandoned city, but I've been fascinated with the notion ever since reading the book "The World Without Us," by Alan Weisman. The book goes into depth parsing out what the world would look like if all of the people disappeared. I read about how quickly plants and trees fill in abandoned spaces, sprouting up in the most unlikely spots, such as tiny cracks in concrete walls. And how the seas might dramatically change once no one was fishing them, pumping oil from their beds or chugging across them in boats and ships. It's quite fascinating how quickly the earth moves on without us.
This same thread runs through many of the places in this article. The ash in Plymouth, Monserrat, continues to erase all traces of the former city, as does the sand blowing around Kolmanskop, Namibia. And lush vegetation is slowly, relentlessly, overtaking buildings, vehicles and the like in places like Beichuan and Fordlândia.
Related Articles
More Great Links
Sources
Amusing Planet. "Beichuan, The Preserved Ruins of an Earthquake Destroyed Town." June 15, 2014. (Aug. 22, 2016) http://www.amusingplanet.com/2014/06/beichuan-preserved-ruins-of-earthquake.html

Bellows, Alan. "The Ruins of Fordlândia." Damn Interesting. Jan. 15, 2013. (Aug. 28, 2016) https://www.damninteresting.com/the-ruins-of-fordlandia/

Bodie. "Bodie State Historic Park — Bodie, California." (Aug. 31, 2016) http://www.bodie.com/

Centralia Pa. "Is Visiting Centralia Pennsylvania Dangerous?" Nov. 18, 2014. (Aug. 31, 2016) http://www.centraliapa.org/visiting-centralia-pennsylvania-dangerous/

Centralia Pa. "Who Made Centralia's Residents Leave?" Oct. 14, 2014. (Aug. 31, 2016) http://www.centraliapa.org/who-made-centralias-residents-leave/

Cheney, Josh. "Visiting Centralia: Pennsylvania's Toxic Ghost Town." Uncovering Pa. (Aug. 31, 2016) http://uncoveringpa.com/visiting-centralia

Chernobyl Wel. "Retro Chernobyl Tour." (Aug. 30, 2016) http://www.chernobylwel.com/EN/14/1-day-retro-chernobyl-tour/

Coldwell, Will. "Top 10 ghost towns and modern ruins you can visit." The Guardian. Oct. 27, 2014. (Aug. 22, 2016) https://www.theguardian.com/travel/2014/oct/27/top-10-ghost-towns-visit-modern-ruins

California Department of Parks & Recreation. "Bodie State Historic Park." (Aug. 31, 2016) http://www.parks.ca.gov/?page_id=509

Dark-Tourism. "Montserrat." (Aug. 30, 2016) http://www.dark-tourism.com/index.php/montserrat-west-indies#b

Galloway, Lindsey. "China's Atlantis of the East." BBC. July 24, 2014. (Sept. 1, 2016) http://www.bbc.com/travel/story/20140711-chinas-atlantis-of-the-east

Hill, Bryan. "Craco: The Abandoned Medieval Ghost Town of Italy." Ancient Origins. Aug. 1, 2015. (Sept. 2, 2016) http://www.ancient-origins.net/ancient-places-europe/craco-abandoned-medieval-ghost-town-italy-003527

Isalska, Anita. "It's hot: Chernobyl now a tourist zone." CNN. April 26, 2016. (Aug. 30, 2016) http://edition.cnn.com/2015/04/14/travel/chernobyl-tourism/

Kolmanskop. "Kolmanskop." (Aug. 31, 2016) http://www.kolmanskop.net/

Kolmanskop. "Kolmanskop Facts." (Aug. 31, 2016) http://www.kolmanskop.net/Kolmanskop-Facts.html

Kolmanskop. "Visiting Kolmanskop." (Aug. 31, 2016) http://www.kolmanskop.net/Visit-Kolmanskop.html

NPR. "Fordlandia: The Failure Of Ford's Jungle Utopia." June 6, 2009. (Aug. 28, 2016) http://www.npr.org/templates/story/story.php?storyId=105068620

Nuwer, Rachel. "A Soviet Ghost Town in the Arctic Circle, Pyramiden Stands Alone." Smithsonian. May 19, 2014. (Aug. 30, 2016) http://www.smithsonianmag.com/travel/soviet-ghost-town-arctic-circle-pyramiden-stands-alone-180951429/?no-ist

PBS. "Ford installs first moving assembly line 1913." (Aug. 28, 2016) http://www.pbs.org/wgbh/aso/databank/entries/dt13as.html

Roadside America. "Centralia Mine Fire." (Aug. 31, 2016) http://www.roadsideamerica.com/story/2196

Skyscanner. "10 abandoned cities around the world you can visit." (Aug. 22, 2016) https://www.skyscanner.com/news/10-abandoned-cities-around-world-you-can-visit

Strochlic, Nina. "10 Abandoned Cities You Wouldn't Want to Visit Alone (Photos)." The Daily Beast. Oct. 30, 2013. (Aug. 22, 2016) http://www.thedailybeast.com/galleries/2013/10/30/10-abandoned-cities-you-wouldn-t-want-to-visit-alone-photos.html

Taylor, Alan. "Sichuan Earthquake: Five Years Later." The Atlantic. May 13, 2013. (Aug. 30, 2016) http://www.theatlantic.com/photo/2013/05/sichuan-earthquake-five-years-later/100513/

UNESCO. "Humberstone and Santa Laura Saltpeter Works." (Aug. 28, 2016) http://whc.unesco.org/en/list/1178

White, Alan. "You Can Visit An Ancient Chinese City That's 100ft Underwater." BuzzFeed. Feb. 23, 2014. (Sept. 1, 2016) https://www.buzzfeed.com/alanwhite/theres-an-ancient-chinese-city-100ft-underwater-and-you-can?utm_term=.dvkB33oLW#.se8166mja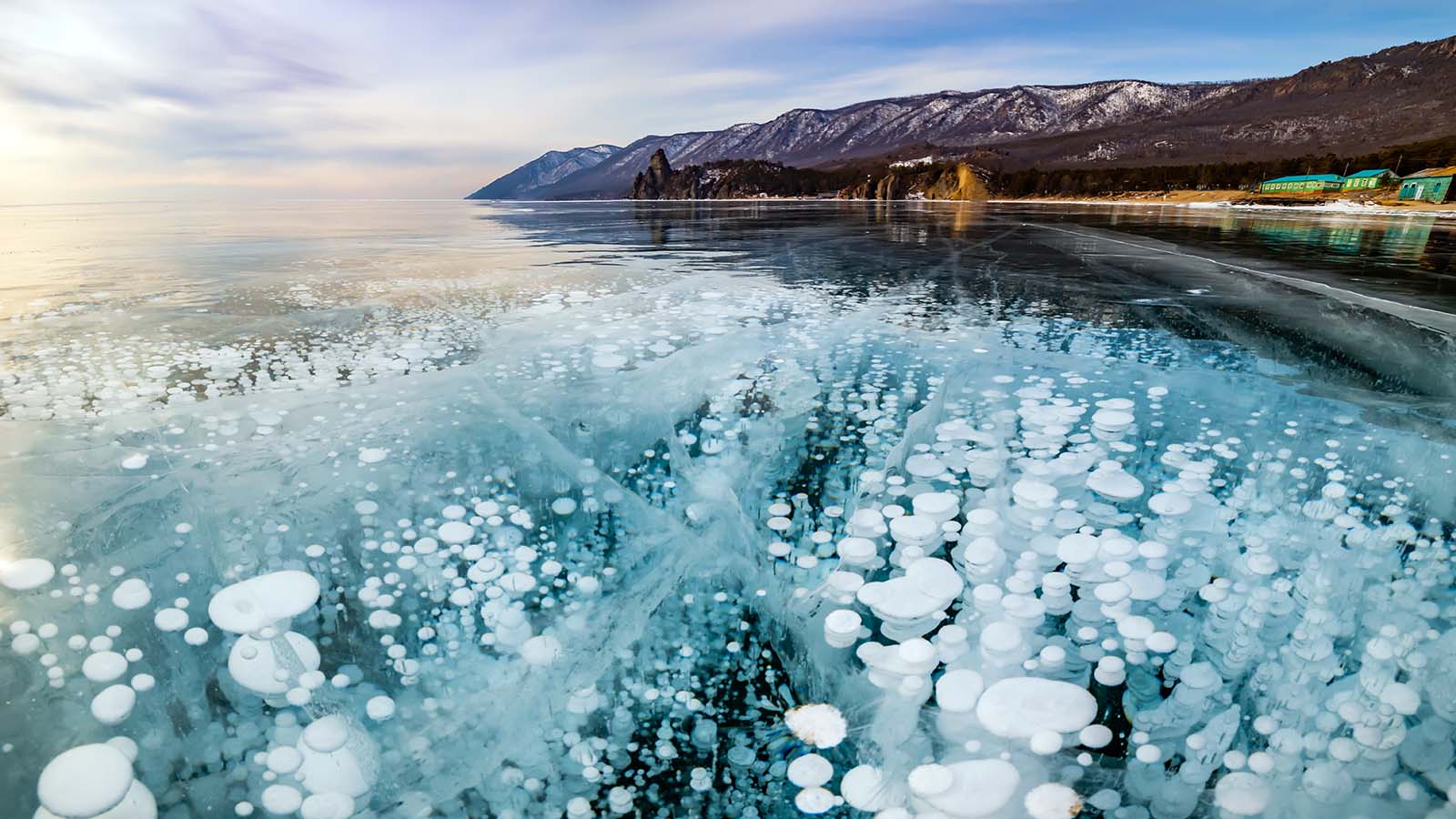 Up Next
Lake Baikal is a massive, ancient lake in Siberia. It's home to nearly 4,000 different species, earning it the nickname the 'Galapagos of Russia.'
---