Straddling the border of Nepal and Tibet, Everest towers above the earth at 29,035 feet (8,850 meters), making even the most egocentric of humans feel small in its presence [source: Encyclopedia Britannica].
As the highest peak on the planet, climbing Mount Everest is widely considered the most adventurous of all adventure trips for climbers. And taking into account the summit height, the risk of altitude sickness and the extreme cold, this is not a trip for the faint of heart. The odds of making it to the top are only one in three [source: Himalayan Rescue Association].
It's also not for the faint of pocket. The trip is expensive (about $60,000), time-consuming (takes about seven weeks), and extremely dangerous (about 225 deaths since 1953) [sources: This Week and Science Daily]. It's also very difficult to do on your own – hence the large cost for joining expedition groups who can guide you. Training and gear are also essential. The last thing you need on your ascent into the heavens is second-rate equipment.
There is no doubt that climbing Mount Everest is the ultimate in mountaineering adventure trips. But if reaching the summit of the world's highest peak isn't enough to satisfy the sportsman in you, consider a side trip of river rafting or kayaking. If you're really feeling adventurous, you could try following in the footsteps of two recent adventurers who successfully took on a summit-to-sea trip in which they climbed Mount Everest, paraglided down, and then kayaked the Ganges River to the Indian Ocean [source: National Geographic]. Not for the novice, to be sure, but perhaps it won't be long before others (including you?) attempt a similar journey.
Related Articles
Sources
Adventure Peaks. Tien Shan Peaks. (June 22, 2012) http://www.adventurepeaks.com/expeditions/tien_shan_peaks.htm

Anchorage Daily News. Things to Do. Alaska.com. (June 22, 2012) http://www.alaska.com/activities/

Anchorage Daily News. Matanuska Glacier. (June 22, 2012) http://www.alaska.com/2008/10/16/2031/matanuska-glacier.html

Alpine Ascents. Volcanoes of Mexico. (June 22, 2012) http://www.alpineascents.com/mexico.asp

Backpacker. Climbing Mexico's Iztaccíhuatl. (June 22, 2012) http://www.backpacker.com/may_2002_destinations_mexico_iztaccihuatl/destinations/4392

Bedouin Guides. Wadi Rum Jordan. (June 22, 2012). http://www.bedouinguides.com/

Bible History daily. Jordan's Wadi Rum Named a World Heritage Site. (June 22, 2012) http://www.biblicalarchaeology.org/daily/news/jordan's-wadi-rum-named-world-heritage-site/

Central Asia Travel. Khan-Tengry Peak. (June 22, 2012) http://www.centralasia-travel.com/en/expeditions/khan-tengry/

Central Asian Travel Company. Khan Tengri Mountain. OrexCA.com. (June 22, 2012) http://www.kazakhstan.orexca.com/khan_tengri_mountain_kazakhstan.shtml

Encyclopedia Britannica. Mount McKinley. (June 22, 2012) http://www.britannica.com/EBchecked/topic/354958/Mount-McKinley

Encyclopedia Britannica. Mount Olympus. (June 22, 2012) http://www.britannica.com/EBchecked/topic/428145/Mount-Olympus

Encyclopedia Britannica. Height of Mount Everest. (June 22, 2012) http://www.guardian.co.uk/world/2003/mar/30/everest.features3

Greece Travel. Climbing Mount Olympus. (June 22, 2012) http://www.greecetravel.com/trekking/mount-olympus/index.htm

Guardian news. How to Climb Everest. (June 22, 2012) http://www.guardian.co.uk/world/2003/mar/30/everest.features3

Kan Tengri LTD. Kan Tengri. (June 22, 2012) http://www.kantengri.kz/index1.html

Himalayan Rescue Association. (June 28, 2012). http://www.everester.org/BlogViewer.aspx?Id=80D71EC8F2C32941

Matanuska Glacier. Welcome to the Matanuska Glacier. (June 22, 2012) http://www.matanuska-glacier.com/

MexOnline. Legends of Popocatepetl and Iztaccíhuatl. (June 22, 2012) http://www.mexonline.com/history-popo.htm

Mount Kilimanjaro Guide. Mount Kilimanjaro Facts. (June 22, 2012).

http://www.mountkilimanjaroguide.com/kilimanjaro-facts.html

National Aeronautics and Space Administration. Popocatepetl and Iztaccíhuatl Volcanoes, Mexico. (June 22, 2012) http://earthobservatory.nasa.gov/IOTD/view.php?id=5369

National Geographic. Climb Mount McKinley, Alaska: Best American Adventures. (June 22, 2012) http://adventure.nationalgeographic.com/adventure/trips/americas-best-adventures/climb-mount-mckinley/

National Geographic. Adventurers of the Year. (June 22, 2012) http://adventure.nationalgeographic.com/adventure/adventurers-of-the-year/2012/sanobabu-sunuwar-lakpa-tsheri-sherpa/

Offices de Tourisme de Chamonix. Chamonix Valley. (June 22, 2012) http://www.chamonix.com/chamonix-valley,1,en.html

Oregon State. Iztaccíhuatl, Mexico. (June 22, 2012) http://volcano.oregonstate.edu/vwdocs/volc_images/north_america/mexico/itza.html

PeakWare. Khan Tengri. (June 22, 2012) http://www.peakware.com/peaks.html?pk=137

Science Daily. Why Climbers Die on Mount Everest. (June 22, 2012) http://www.sciencedaily.com/releases/2008/12/081209221709.htm

REI. Ice Climbing – Waterfalls and Alpine Walls. (June 22, 2012) http://www.rei.com/expertadvice/articles/ice+climbing+waterfalls+alpine+walls.html

REI Adventures. Mt. Shasta Climb. (June 22, 2012) http://www.rei.com/adventures/trips/weekend/ca_mtshasta_wend.html

Shasta Guides. Climbs. (June 22, 2012). http://shastaguides.com/climbs/

Shasta Home. Deadfall Lakes. (June 22, 2012) http://www.shastahome.com/Summer-Activities/Deadfall-Lakes.html

Scholastic. My Story: Sir Edmund Hilary. (June 22, 2012) http://teacher.scholastic.com/activities/hillary/archive/evefacts.htm

Summit Post. Mont Blanc. (June 22, 2012) http://www.summitpost.org/mont-blanc/150245

Summit Post. Iztaccíhuatl Adventure. (June 22, 2012) http://www.summitpost.org/iztacc-huatl-adventure/270675

Summit Post. Mount Shasta. (June 22, 2012) http://www.summitpost.org/mount-shasta/150188

Summit Post. Khan Tengri. (June 22, 2012) http://www.summitpost.org/khan-tengri/150339

Tanzania Adventure. Serengeti National Park Safari Tanzania. (June 22, 2012) http://www.tanzania-adventure.com/serengeti_tanzania.htm

Tanzania Parks. Mount Kilimanjaro National Park. (June 22, 2012) http://www.tanzaniaparks.com/kili.html

Thompson, David. Pauline Frommer's Alaska. 2008. (June 22, 2012) http://books.google.com/books?id=02vPnH0UbNAC&pg=PA74&lpg=PA74&dq=%22weather+hole%22+matanuska+glacier&source=bl&ots=xeNrQWQoCj&sig=mY7Fl08myquIKwJi2oj11UFgVB4&hl=en&sa=X&ei=GujmT4vGEMuH0QGbtYmNCg&ved=0CF4Q6AEwCQ#v=onepage&q&f=false

Ultimate Kilimanjaro. How Many Days are Needed to Climb Kilimanjaro? (June 22, 2012) http://www.ultimatekilimanjaro.com/days.htm

U.S. Geological Survey. Mount Shasta and Vicinity, California. (June 22, 2012) http://vulcan.wr.usgs.gov/Volcanoes/Shasta/description_shasta.html

Wadi Rum. Wadi Rum. (June 2, 2012) http://www.wadirum.org/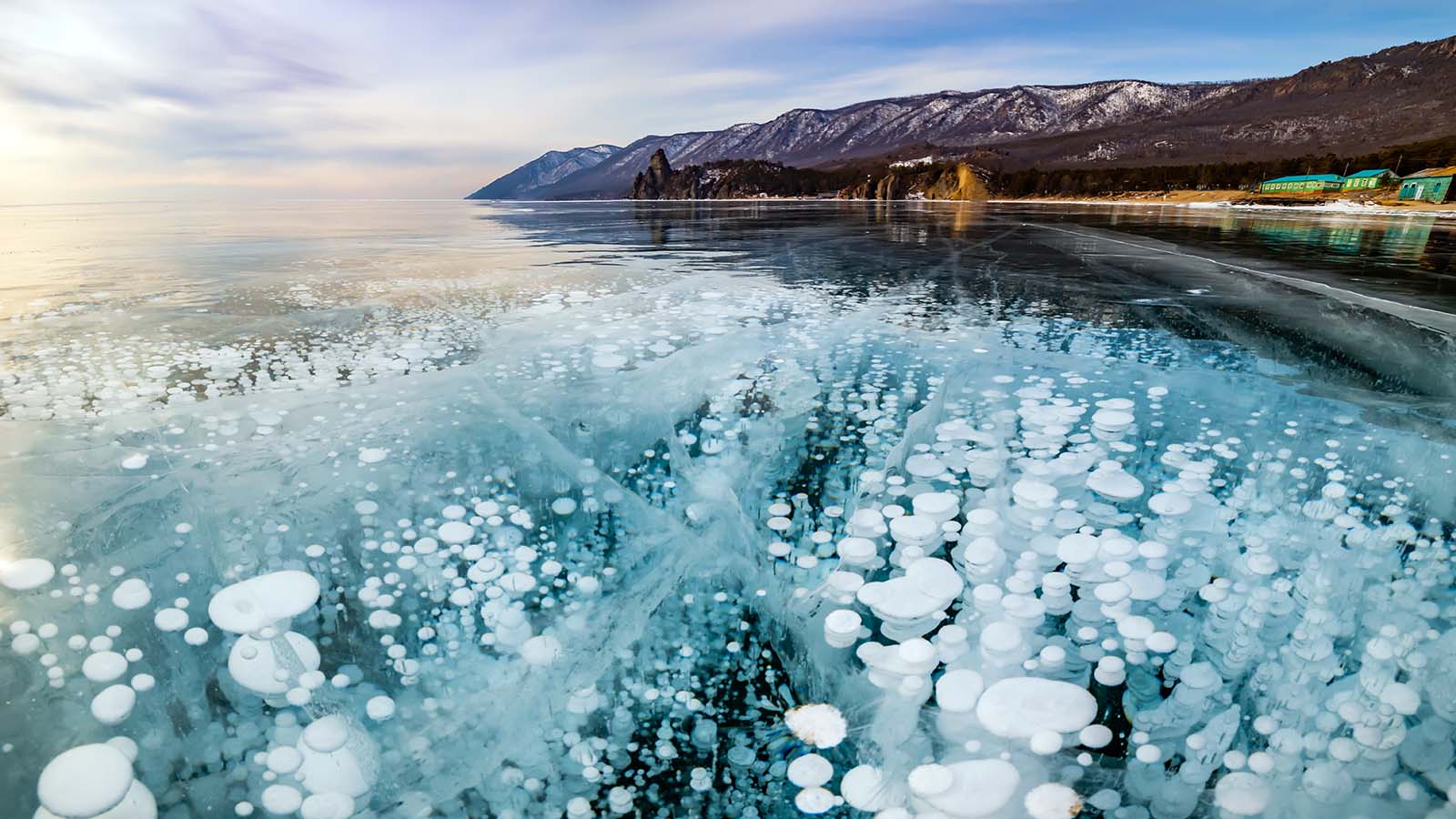 Up Next
Lake Baikal is a massive, ancient lake in Siberia. It's home to nearly 4,000 different species, earning it the nickname the 'Galapagos of Russia.'
---