Israeli Prime Minister Benjamin Netanyahu burnished his 'everyman' appeal with a stop at a falafel stand in Israel during a campaign tour in 2009. We rate falafel as one of the world's best street foods. See more
pictures of fast food
.
Uriel Sinai/Getty Images/Getty Images
Advertisement
Street food is the heart and soul of international cuisine. These are the comfort foods we crave at 1 a.m. when the bars are closing and stomachs are rumbling. Though often imitated by restaurants, they taste best when scooped onto a paper plate or wrapped in wax paper and eaten standing up, stains and all.
Street food is also the stuff of national pride. Any attempt to compose a list of the world's best street foods is bound to start a fight. There were so many amazing local delicacies to choose from, some ground rules had to be made:
Cover as much of the globe as possible. Asia alone could fill a list of the top 100 street foods, but I've tried to spread the love.

Stick to local specialties. Some of the dishes on this list can be found elsewhere on the map, but all of them are light-years better at home.

Sorry, America. Hot dogs, hamburgers and french fries are excellent street food, but we're going beyond the U.S. this time.

When in doubt, I let my personal taste be the tie-breaker. Call me biased, but I've never met a Mexican street food I didn't love.
Without further ado, let's get to the list, starting with the street food paradise called India.
A detailed view of the popular food snack
vada pav
from a Jumbo King fast-food outlet in Mumbai.
SAJJAD HUSSAIN/AFP/Getty Images
Advertisement
If you have to pick one city that epitomizes Indian street food culture, go with Mumbai (formerly Bombay). This Western coastal city is perched on the Arabian Sea, and Chowpatty Beach is the sunset destination for locals and tourists craving spicy, soul-satisfying street food [source: Dodson].
Just about everything here is going to be mind-blowing. Panipuri, bite-size balls of stuffed fried dough, are legendary in Mumbai, as is pav bhaji, a rich vegetable curry served with a crispy buttered roll. But our winner is vada pav, an iconic Mumbai sandwich.
An authentic vada pav starts with balls of spiced mashed potato dipped in a chickpea flour batter and deep-fried until golden. Next, thinly sliced green chili peppers are battered and tossed into the roiling oil. Meanwhile, soft chewy rolls are smeared with various chutneys like tamarind, mint-coriander or peanut-garlic. The roll is stuffed with one or two potato fritters, a clutch of golden chili strips and the whole beautiful mess is squished together. The result is spicy, savory and sweet and an excellent precursor to a nap.
British chef Gordon Ramsay visits owner Foo Kui Lian of the Tian Tian chicken rice stall at the Maxwell Food Centre in Singapore to learn about the dish in 2013.
Nicky Loh/Getty Images
Advertisement
The quickest way to start a fight in Singapore is to ask two or more locals who serves the best chicken rice in town. Also known as Hainanese rice — the original recipe may have come from the tiny Chinese island of Hainan — chicken rice is the unofficial national dish of Singapore, a country whose multicultural cuisine reflects the melting pot of Asian cultures that call it home.
Chicken rice is beautiful in its simplicity. The dish is nothing more than poached chicken served over rice. But the flavors combine to create one of the world's most satisfying breakfasts, lunches or dinners. The chicken is poached on a low simmer in a gingery broth until perfectly cooked, still moist and juicy. The same broth is also used to simmer the jasmine rice, after it's been sautéed in ginger and garlic. Slices of chicken are served over rice with a side of broth, sliced cucumber and hot sauce [source: Ferber].
The best place to enjoy chicken rice is in one of Singapore's ubiquitous open-air "hawker centers," which are like mall food courts, but packed with amazing curried noodle and roti stands instead of Auntie Anne's Pretzels and Orange Julius.
You can find authentic jerk chicken at Caribbean festivals all over the world, including the Caribana festival in Toronto, where this chicken was grilled.
Ken Faught/Toronto Star via Getty Image
Advertisement
Jamaica's Boston Bay is the home of jerk chicken, and you'll find it being cooked there in large BBQ pits. Real jerk chicken is smoked, not grilled, over the native pimento wood, the same tree that gives us allspice. The chicken pieces are laid directly on top of green pimento logs, covered with metal sheets and smoked to a fall-off-the-bone-tender state using indirect heat from the smoldering coals beneath [source: Rothman].
The sweet notes of the pimento smoke add complexity to the fruity heat of the jerk marinade: a blend of Scotch bonnet peppers, allspice berries, green onions and fresh ginger [source: Rothman]. Enjoy that amazing chicken with a side of Jamaican rice and peas (kidney beans, technically) and a Red Stripe beer or a fizzy grapefruit soda called Ting [source: Dodson].
Here's a shot of freshly prepared pork satay at a street vendor in the Thai capital of Bangkok.
Yvan Cohen/LightRocket via Getty Images
Advertisement
Like India, Thailand is a street food paradise. The noodle curries in coconut milk are somehow rich and light at the same time. The hand-pounded green papaya salad is shockingly vibrant. And tamarind-sweetened pad thai straight from a coal-fired wok and blanketed with a fried egg is almost a religious experience.
But if we had to choose the most iconic street food of Thailand, it has to be skewers of pork satay cooked on long charcoal grills and served with a vinegary cucumber salad and peanut dipping sauce. Authentic pork satay is marinated in a sweet and spicy paste of lemongrass, shallots, garlic, red chilies, galangal (a ginger-like spice) and fish sauce. While grilling, the pork skewers are brushed with coconut milk for a silky finish.
A traditional German currywurst, accompanied by french fries with mayonnaise, is served on a paper plate in the Prenzlauer Berg district of Berlin.
© Jens Kalaene/dpa/Corbis
Advertisement
Currywurst is German comfort food that goes perfectly with the country's other culinary obsession: beer. When the bars close in Berlin, throngs of well-lubricated revelers descend on currywurst stands for a Styrofoam plate of chopped pork sausage drowning in a thick, spiced tomato sauce dusted with curry powder.
The unlikely origin of currywurst, as explained by the Deutsches Currywurst Museum — yes, currywurst has its own museum — dates back to the rubble-strewn streets of post-war Berlin. A housewife named Herta Heuwer traded liquor for curry powder, an exotic spice at the time, with British soldiers. Heuwer added the powder to stewed tomatoes to make a kind of curried ketchup, which she poured over sausages, a cheap national staple. The combination drew crowds of construction workers to her street stand in what would become Berlin's red light district, and the currywurst craze was born [source: Kessler].
Today across Germany you'll find the classic currywurst, as well as spicier Indian and Thai versions, accompanied by a slice of white bread to mop up the juices and a mound of French fries.
Eat Mexico guide Natalia Gris (R) splits quesadillas with tourists in Mexico City in 2013. Founded in 2010, Eat Mexico is the only culinary tour operator in the country that focuses exclusively on street food and markets.
© TOMAS BRAVO/Reuters/Corbis
Advertisement
First of all, forget everything you think you know about quesadillas. A microwaved flour tortilla stuffed with cheddar cheese is about as authentically Mexican as a Dorito Loco taco from Taco Bell. When my wife and I lived in Mexico, we discovered that the soul of real Mexican food is masa, the ground-corn dough — not wheat flour — that's used to make soft corn tortillas for tacos, steamed tamales, gorditas, and innumerable regional antojitos, Mexican street snacks with deep indigenous roots.
A real Mexican quesadilla starts with that freshly ground corn masa. A large hunk of soft dough is pressed or rolled into a rough circle and laid on a hot griddle. The basic version is filled with shredded Chihuahua or Oaxacan string cheese and folded over into a half moon. But why stop with cheese? At Mexican street stalls, you'll find mouth-watering fillings like potato and crumbled chorizo sausage, nopal (cactus), squash blossoms, sautéed mushrooms, huitlacoche(an earthy corn fungus), refried beans, and all varieties of grilled or slow-cooked meats.
I've found that real-deal quesadillas are best enjoyed on a wobbly wooden bench inside a bustling open-air market with a healthy dollop of salsa verde (the tomatillo-based green salsa) and an icy agua fresca, a sugary fruit juice in every imaginable flavor ladled from giant plastic jugs.
4
Crêpes and Galettes, France
These delicious dark chocolate crepes are made with fresh cherries and Greek yogurt.
Grace Chan/Monument Open/ Getty Images
Advertisement
For a country that invented fine dining, the crêpe is astonishingly simple. There are two basic varieties, the savory galette made from dark buckwheat flour and the white-flour crêpe reserved for sweet treats. Both were traditionally eaten in Brittany in the northwest of France, but immigrants from the region brought the quick-cooked griddle cakes to Paris, where everyone from street vendors to Michelin-starred restaurants, serve the classic dish.
The traditional filling for a savory galette is country ham and melted Gruyere cheese washed down by a dry cider. The complète version of the galette includes a fried egg with a sumptuously runny yolk [source: Lebovitz]. For a sweet crêpe, there's always the hazelnut-chocolate spread Nutella (my personal favorite) or strawberries and cream, but don't miss out on salted caramel or the simple pleasure of powdered sugar.
A banh mi vendor plies her wares from a boat in Vietnam.
Jupiterimages/Photolibrary/Getty Images
Advertisement
The banh mi is the world's best sandwich. Hands down. The Cubans make a mean cubano and it's hard to argue with an Italian panini, but if you want to know what heaven on bread tastes like, hop the next flight to Hanoi and sink your teeth into one of these French-Vietnamese beauties.
Vietnam was once a French colonial outpost and arguably the only good thing that came out of that chapter of Vietnamese history was the banh mi. A world-class banh mi starts with the bread, a fresh-baked mini baguette. The baguette is sliced lengthwise and slathered in mayonnaise and a thin spread of pâté. So far, so French.
But here's where things get interesting. The meat of choice is usually barbecued pork, although Vietnamese-style pork meatballs, pork "roll" or Vietnamese salami are other solid choices [source: Lonely Planet]. Then the veggies: thin-sliced cucumber, pickled daikon radish and carrots, a handful of cilantro and enough chili sauce (or straight chili peppers) to make you sweat.
2
Burek, Bosnia-Herzegovina
This version of the
burek
is filled with cheese.
© Fondacci/Markezana/photocuisine/Corbis
Advertisement
The Bosnian people didn't invent burek, but by all accounts they've perfected it. This tubular flaky pastry stuffed with ground meat arrived in the Balkans by way of Turkey, where it's called börek.
In Bosnia, meat-filled burek is only one type of pita, the term for all rolled and stuffed pastries. Other varieties include a spinach-and-feta pita called zeljanica, an egg-and-cheese version called sirnica and a potato-and-onion-filled krompirusa. A sweet version with apples and cinnamon is called jabukara [source: Stephenson].
The best pita are still made by hand in Sarajevo, the impossibly thin dough rolled and flipped into wide ovals, then painted with oil and rolled gently around the chosen filling. (One local opined that the dough should be as soft as an earlobe.) The tubes of stuffed dough are then coiled into circles or lined up in tight rows before entering the oven until the top layers brown and blister and the savory center remains chewy and warm [source: Radio Free Europe].
A plate of falafel accompanied by some salad and hummus makes a great meal.
Weimin Liu/Monument/Getty Images
Advertisement
Falafel has become an international street food staple, the golden fried chickpea balls as ubiquitous on the streets of Paris as in New York City. But the undisputed king of falafel is Israel, particularly the modern coastal metropolis of Tel Aviv. Here you can get a warm, thick, oversized pita stuffed with fresh-fried falafel and all the fixin's any time day or night.
Falafel originated in Egypt and spread throughout the Middle East before Israelis adopted it as their national food in the late 20th century [source: Kantor]. The classic Israeli falafel is a fritter of ground chickpea spiced with cumin, coriander, paprika, raw garlic, onion, and lots of fresh parsley [source: Haaretz]. The basic toppings are tahini sauce and an Israeli salad of chopped tomato and cucumber.
At Tel Aviv falafel stands, you can also add hummus, pickled veggies, roasted eggplant salad, feta cheese, French fries (just stuff 'em in) and a wide assortment of adventurous hot sauces. I remember my first Tel Aviv falafel, steps from the beach and only hours off the plane. Confronted by the overwhelming topping choices, I did the only reasonable thing: add a little of everything. It was one of the best decisions I ever made.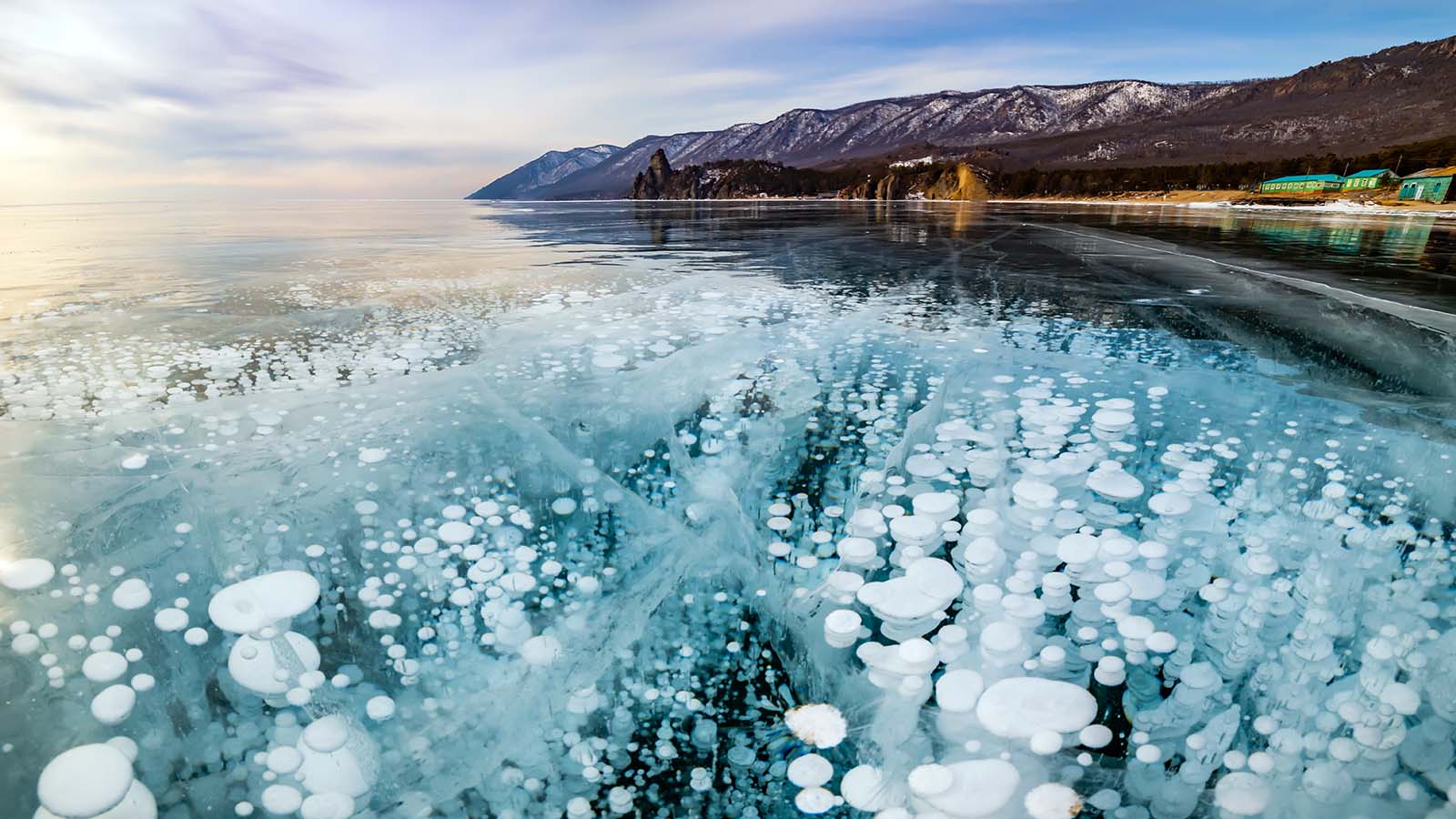 Up Next
Lake Baikal is a massive, ancient lake in Siberia. It's home to nearly 4,000 different species, earning it the nickname the 'Galapagos of Russia.'
---
Author's Note: 10 Best Street Foods from Around the World
My wife and I lived in Mexico for about six years. Having traveled around the country and sampled much of its diverse and delicious regional cuisines, I was hard-pressed to pick a favorite for this list. My first instinct was to go with tacos, which are the de facto street food of Mexico, filled with grilled steak or sliced from rotating spits of pork for tacos al pastor. But there's something deeply authentic and soul-satisfying about a freshly formed hunk of masa stuffed with cheese and a wild selection of seasonal, local fillings. Quesadillas are only one variation on this theme. Gorditas are masa cakes that are stuffed and then pan fried for a crispy-chewy treat. Huaraches and tlacoyos in Mexico City are bigger and flatter griddle cakes that are covered pizza-style with refried beans, salty cheese and other toppings. Down in Oaxaca, the monstrous tlayudas are huge rounds of flattened masa cooked over smoky fires and topped again with beans, cheese and a side of crunchy chapulines, fried crickets. In the end, I chose quesadillas because they are found at street stands across Mexico and never fail to satisfy. ¡Buen provecho!
Related Articles
Sources
Dodson, Sean. "Street food to die for." The Guardian. Feb. 15, 2008. (April 11, 2014) http://www.theguardian.com/travel/2008/feb/16/top100foodbreaks.streetfood

Ferber, Lawrence. "12 Must-Try Street Foods Around the World." Fodor's Travel. Sept. 12, 2013. (April 11, 2014) http://www.fodors.com/news/12-musttry-street-foods-around-the-world-7119.html

Haaretz. "Having a ball: The 5 best falafel joints in Tel Aviv." July 12, 2012. (April 11, 2014) http://www.haaretz.com/culture/food-wine/having-a-ball-the-5-best-falafel-joints-in-tel-aviv-1.450715

Kagan, Sarah. "Around the World in 80 Dishes: Jamaican Jerk Chicken Recipe, Video and Cooking Tips." Epicurious. (April 11, 2014) http://www.epicurious.com/articlesguides/cuisines/aroundtheworldin80dishes/jamaicajerkchickenrecipe

Kantor, Jodi. "A History of the Mideast in the Humble Chickpea." The New York Times. July 10, 2002. (April 11, 2014) http://www.nytimes.com/2002/07/10/dining/a-history-of-the-mideast-in-the-humble-chickpea.html

Kessler, Roman. "The Craze Over Currywurst." The Wall Street Journal. Aug. 27, 2009. (April 11, 2014) http://online.wsj.com/news/articles/SB10001424052970204884404574364600782551292

Lebowitz, David. "Where to Get the Best Crepes in Paris." March 23, 2006. (April 11, 2014) http://www.davidlebovitz.com/2006/03/the-best-crpes/

Lonely Planet and Johnson, Richard. "The world's best street food." The Guardian. Feb. 24, 2012. (April 11, 2014) http://www.theguardian.com/travel/2012/feb/24/worlds-best-street-food-lonely-planet

Radio Free Europe. "Burek, Bosnia's Favorite Food, Earns World Recognition." May 16, 2013. (April 11, 2014) http://www.rferl.org/media/video/24990080.html

Stephenson, Kathy. "A broomstick and dough: Making Bosnian pita is a family tradition." The Salt Lake Tribune. Jan. 14, 2013. (April 11, 2014) http://www.sltrib.com/sltrib/entertainment2/55043824-223/dough-causevic-oil-pita.html.csp