Snowboarding is one of fastest growing winter sports. In the 2006 to 2007 season, about 55 million people visited a ski or snowboarding area, and 28 percent of ski-area visitors were snowboarders [source: Snowboarding Statistics]. Additionally, snowboarders made up almost half of the ski-resort population in the American West in 2002 [source: Lee].
What factors should you consider when deciding on the perfect location to experience this fast-paced and popular sport? If you're a freerider, you'll be interest in "the freshies," the untouched white stuff most prevalent in the backcountry of the West. If you're a freestyler, you'll be interested in terrain parks where there's room to practice your rails, jibs, jumps and other snowboarding maneuvers. Carvers prefer fast, groomed, and well-marked land where you can sweep along the the mountain.
The following sweet spots for snowboarding will suit a variety of boarders with all experience levels.
Big Sky, Mont., located about an hour away from Bozeman, the nearest town, is ideal for boarders who want to shred some slopes while still having plenty of opportunities to check out the local scene. Home to about 20 restaurants and bars, a snowboard store and several lodges, Big Sky offers boarders about 3,500 acres (14 square kilometers) of land and two mountains, Lone and Andesite.
Although Lone Peak is a challenging peak for even experienced boarders, Big Sky also features intermediate and beginner slopes. Ever since a tram was installed in 1995 to the peak of Lone Mountain, this site has become a favorite of advanced boarders.
Big Sky receives lots of snow from storms heading in from the West and Southwest, and both the Lone and Andesite peaks pick up lots of snow from those storms. In the winter months, temperatures range from 42.8 to 84.2 degrees Fahrenheit (6 to 29 degrees Celsius), so bundle up for boarding fun.
Kirkwood, covering 2,300 acres (9.3 square kilometers), is home to four terrain parks that are ideal for boarders of all experience levels. This resort in the Tahoe region of California is isolated in the southwest ranges of Tahoe over Carson Pass, so it requires a little extra effort to get there, but the fresh powder and dynamic boarding scene make it worth it.
At the Adventure Land Beginner Park, snowboarders can learn the ropes, and even kids can learn the sport. At the Rip Curl Playground, intermediate snowboarders check out jumps, boxes and a halfpipe. At the expert-level Rip Curl/ Stomping Grounds, advanced snowboarders can try out even more jumps and rails.
The season lasts from November to April, and the average annual snowfall is about 480 inches (12 meters). The Kirkwood Resort's highest peak towers at 9,800 feet (2,987 meters).
Located in the north section of Lake Tahoe, Alpine Meadows is an ideal snowboarding location for boarders looking to shred the slopes. In addition to boarding, guests may also check out the beautiful lake views. Because Alpine Meadows is located at a high base elevation of about 6,840 feet (2,084 meters), the powder is usually drier and allows for fewer soggy days on the slopes.
Alpine Meadows is home to The Shreadows, a newly updated terrain park. The Shreadows makes use of banks, rolls and other natural features of the mountain, allowing boarders to board, ride, jump and rail, all on the same run.
Ranked in 2007 by Transworld Snowboarding as a top value resort, Alpine Meadows features 2,400 acres (9.7 square kilometers) of terrain to board [source: Tahoe Best]. About one quarter of the runs are suitable for beginners, while 40 percent are intermediate level and 35 percent are for expert boarders.
7
Mount Hood Meadows, Ore.
Located on the sunny and wind-protected east side of Mount Hood, Mount Hood Meadows offers boarders a variety of trails ranging from smooth beginner runs to steep slopes for advanced riders. On average, Mount Hood Meadows sees about 430 inches (10.9 meters) of snowfall every year.
With more than 2,150 acres (8.7 square kilometers) of terrain to snowboard, Mount Hood features six different freestyle terrain parks, including Park Place, Rose City Slopestyle, The Zoo, Shipyard, Superpipe and Forest Park, so you'll be sure to find an area that suits your ability level and boarding interests. The new Superpipe is 500-feet-long (152 meters) with an 18-foot-high (5.4-meter) pipe. It's lighted for night riding and is open early in the season because not much snow is required to ride it.
Schweitzer in Sandpoint, Idaho, covers a wide expanse of 2,500 acres (10.1 square kilometers). The largest resort in Idaho, it's long been a retreat favored by snow enthusiasts. Advanced and expert snowboarders can enjoy the Outback Bowl and Glade-iater, two of the resort's natural chutes and bowls. The Stomping Grounds Terrain Park covers a vast 50 acres (0.2 square kilometers), offering a variety of terrain for beginner, intermediate, advanced and expert riders and more tabletops, jumps and rails than you can imagine.
Located between the Selkirk and Cabinet Mountains and overlooking Lake Pend Oreille, the view from Schweitzer is breathtaking. Although the mountain is not as elevated as the Rockies, it gets plenty of snow from the Selkirks. The snow here is not too dry and not too wet, giving it the nickname "Panhandle Premix."
5
Mount Bachelor Ski Resort, Ore.
Mount Bachelor, a sleeping volcano located in Bend, Ore., gets about 370 inches (914 centimeters) of snowfall each year. Of the 3,683 acres (14.9 square kilometers) of terrain, about 15 percent suits beginners, 25 percent suits intermediates and 60 percent suits advanced and expert boarders.
In addition to the great boarding at Mount Bachelor, you should also check out the stunning natural features of the area such as the Cirque Bowl, a steep about five minutes from the summit. Be sure to have your camera handy; these stunning views are some of the best North American skiing photo-ops.
Adventurous boarders love Mount Bachelor's 400-feet-long (121-meter) superpipe with 17-feet-tall (5.2-meter) walls. Additionally, the Air Chamber Terrain Park extends for a mile, covers 20 acres (80,937 square meters) and includes quarterpipes, spines, hips, tabletops, jumps and rails. The Sunshine Park has beginner and kid features and even includes a mini-halfpipe.
4
Mammoth Mountain, Calif.
Mammoth Mountain definitely lives up to its name. With a peak elevation of 11,053 feet (3,368 meters) and more than 3,500 acres (14.2 square kilometers) of terrain, Mammoth is the tallest ski resort in California. Winter becomes a six-month season at Mammoth, which welcomes about 400 inches (1,016 centimeters) of snowfall annually, and the boarding season lasts from about November until June. Even though it's chilly, Mammoth gets about 300 days of sunshine every year, making it the perfect destination for snowboarders seeking an everlasting winter.
Mammoth Mountain features a 600-foot-long (182-meter) and 22-foot-tall (6.7-meter) Super Duper Pipe, one of only a few halfpipes of this size in the world. In addition to the Super Duper Pipe, Mammoth also has the Mini Pipe and the Super Pipe, making it the only resort in North America with three different sized halfpipes. Its terrain parks are also consistently ranked among the world's best [source: Mammoth Mountain].
Located in Olympic Valley, Calif., about 45 minutes from Reno, Nev., Squaw Valley is a mountain village surrounded by six peaks and 4,000 acres (16 square kilometers) of terrain. The host of the 1960 Winter Olympics, Squaw Valley has evolved into a state-of-the-art snowboarding facility. With an annual snowfall of 450 inches (1,143 centimeters) and 300 days of sunshine, Squaw Valley offers great conditions for snowboarders of all skill levels.
Be sure to ride the KT-22, a mountain named for the number of kick turns it took a skier to reach the valley from the summit. Even if you're not up for the KT-22, you're sure to find the perfect place for your skill level. Seventy percent of Squaw Valley's terrain is geared for beginner and intermediate snowboarders.
At night, you can ride under the stars on the 3.2-mile (5.1-kilometer) Mountain Run, which is open until 9 p.m.
2
The Canyons Resort, Utah
The Canyons Resort in Utah was the first resort in the Park City area to allow snowboarding, although snowboarding is common throughout the area now. The Canyons still is a favorite among snowboarders who love to shred its 16-acre (64,749-square-kilometer) award-winning terrain park.
Utah's largest resort, The Canyons resort features more than eight peaks, 163 runs, two terrain parks and six natural halfpipes. The tallest vertical drop is 3,190 feet (972 meters). And you'll never run out of area to board at The Canyons with its 3,700 acres (14.9 square kilometers) of terrain to explore. In addition to the snowboarding, The Canyons resort features many shops, restaurants and places for music and entertainment. The state-of-the-art lodges provide the perfect spot for rest and relaxation after a long day of shredding the slopes.
1
Park City Mountain Resort, Utah
Although Park City Mountain Resort hosted the 2002 Olympic Games, you don't need to be an Olympian to check out this snowboarder's paradise. Located about 35 minutes from Salt Lake City International Airport, Park City Mountain Resort is easily accessible for boarders of all skill levels.
With an average snowfall of 360 inches (914 centimeters) and four terrain parks, Park City Mountain resort offers 3,300 acres (13.3 square kilometers) of terrain. Park City is consistently ranked in the top 10 of family resorts in North America each year. Additionally, Park City's four terrain parks have been ranked by Transworld Snowboarding in the top 10 for five consecutive years [course: Utah.com]. Park City's Eagle Superpipe hosts the World Superpipe Championships each year. But don't worry; you don't have to be a world champion to navigate these slopes. Park City offers terrain for every level of boarder.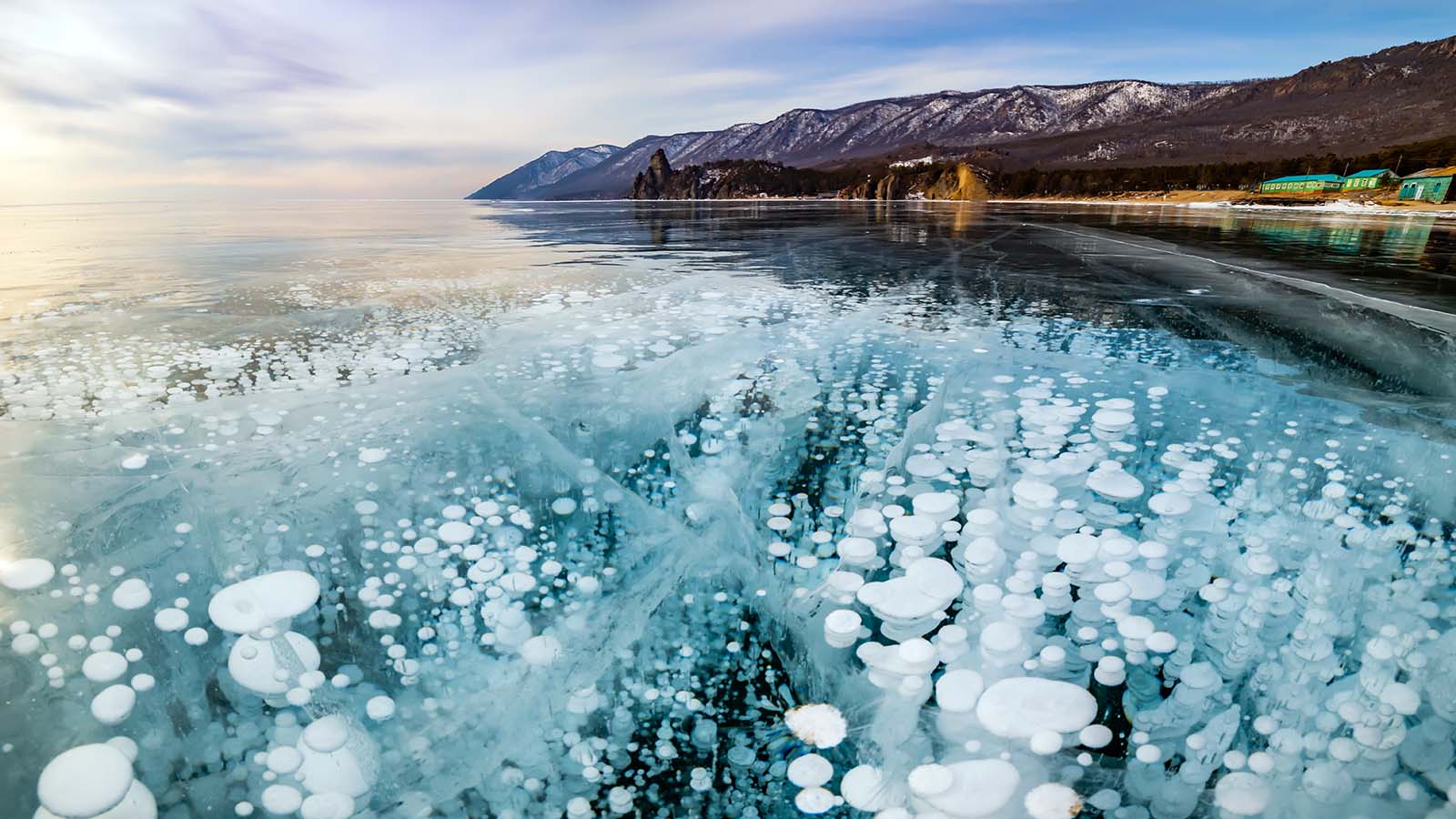 Up Next
Lake Baikal is a massive, ancient lake in Siberia. It's home to nearly 4,000 different species, earning it the nickname the 'Galapagos of Russia.'
---
Related HowStuffWorks Articles
Sources
"Alpine Meadows Ski Resort." Tahoe Best.http://www.tahoebest.com/skiing/alpine_meadows.htm

Andrejewski, Robert. "The Best Spots to Snowboard in North America." Gorp.http://gorp.away.com/gorp/publishers/wildernesspress/board_na.htm

Big Sky Resort.http://www.bigskyresort.com/

The Canyons.http://www.thecanyons.com

"The Canyons." Utah.http://www.utah.com/ski/snowboard/canyons.htm

Kirkwood.http://www.kirkwood.com/

Lee, Heather. "Sweet Spots to Shred." Via Magazine. November 2003.http://www.viamagazine.com/weekenders/shred03.asp

Mammoth Mountain Ski Area.http://www.mammothmountain.com/

Mount Hood Meadows Ski Resort.www.skihood.com.

"Mount Hood Meadows Overview." On the Snow.http://www.onthesnow.com/oregon/mt-hood-meadows/profile.html

Park City Mountain Resort.http://www.parkcitymountain.com/winter

"Park City." Ski Snowboard.http://www.skisnowboard.com/parkcity/index.html

"Park City Mountain Resort." Ski Utah.http://www.skiutah.com/winter/members/park_city_mountain_resort/resort

"Park City Ski Resort." Utah.http://www.utah.com/ski/resorts/park_city.htm

Schweitzer Mountain.http://www.schweitzer.com/

"Schweitzer Mountain." Ski Snowboard.http://www.skisnowboard.com/schweitzer/index.html

"Snowboarding Mount Bachelor."http://www.skicoupons.com/groups.cfm/r/44/g/113/s/history

"Snowboarding Zone- Schweitzer."http://www.skicoupons.com/groups.cfm/r/20/g/94/s/history

Squaw Valley.http://www.squaw.com/

"Squaw Valley." Ski Snowboard.http://www.skisnowboard.com/squawvalley/index.html

"Vacations: Big Sky, Wyoming." Places Online.http://www.placesonline.com/north_america/united_states/montana/big_sky/introduction.asp

"Vacations to Tahoe: Squaw Valley Ski Resort."http://www.thevillageatsquaw.com/mountain/index.htm