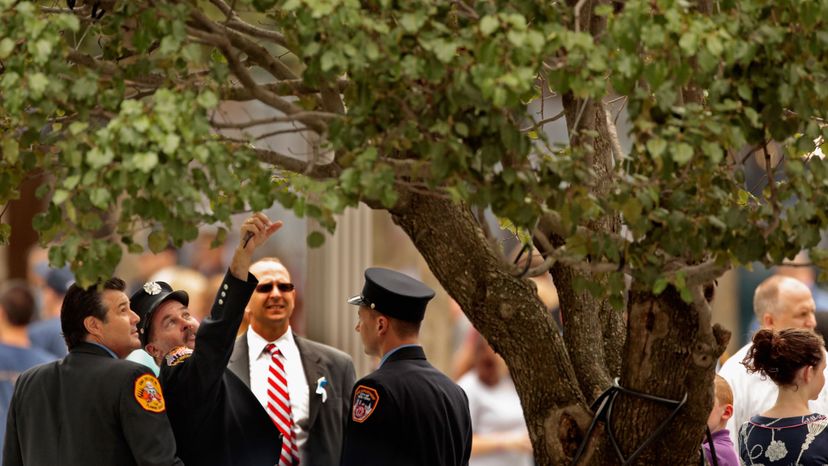 The last living thing to come out of the Ground Zero rubble was a tree. And at the time, it was just a stump that looked dead. But the badly damaged Bradford pear tree was nursed back to health and replanted as part of the 9/11 Memorial & Museum site.
"People line up for upwards of 20 to 30 minutes to be photographed in front of this tree," says Charles Birnbaum, the founder and CEO of the Cultural Landscape Foundation, in an interview for the podcast The Stuff of Life. "To have that tangible connection to something that survived that day, it's incredibly powerful."
The 9/11 Survivor Tree is what's known as a "witness tree," a living entity that's witnessed one or more historic events. There are witness trees that stood in the American Civil War battlefields at Manassas and Gettysburg. An ancient yew tree in England is believed to have witnessed the signing of the Magna Carta.
"When we have something that is living — like a tree — and the tree was there for an event, it becomes a portal or a lifeway," says Birnbaum.
Survivor trees are a special subset of witness trees whose flowering branches embody a message of hope rising from despair. Visitors to the Oklahoma City National Memorial & Museum in Tulsa instinctively hug the leafy Survivor Tree, which was never removed from the federal building site, even after sustaining heavy damage from the 1995 bombing that claimed 168 lives.
After the catastrophic 2011 earthquake and tsunami along the eastern coast of Japan, a lone pine tree, known as the Miracle Pine, remained standing in the devastated seaside town of Rikuzentakata. The rehabilitation of the 250-year-old tree was central to the villagers' efforts to rebuild their lives after the disaster.
Nature and public spaces as emotional bridges to the past. For this episode of The Stuff of Life, titled "Wired," host Julie Douglas explores the deep and unexpected ways that we as humans are all interconnected. Prone to tribalism and nationalism, we're quick to recognize our differences, but slow to realize the shared humanity bound up in our very biology.
In addition to her conversation with Birnbaum, Douglas speaks with a DNA expert from Ancestry.com who explains how closely related we are to just about everybody on the planet, and a NASA astronomer who is awed by our "universal" history, literally born of the stars. To hear this episode, download "Wired."